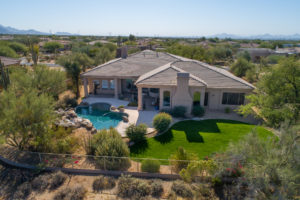 Selling your home during the holidays is loaded with pros and cons. Your agent may recommend keeping your home on the market because "you'll know the buyers are serious." That may be true in some areas, but keep in mind that real estate agents always want your home on the market, regardless of whether it's the right time to sell or not. If your home isn't on the market, agents don't have the opportunity to make a sale, and it's as simple as that. They could also worry that, if you cancel a listing during the holidays, you might relist with a different agent in the new year.
On the other hand, some people do need to sell over the holidays, and some buyers have no alternative but to buy a home during the holidays. Whether or not it's best to keep your home on the market will come down to personal preference, but there are some benefits and drawbacks you should consider as you make your decision.
Drawbacks to Selling Your Home Over the Holidays
There are potential drawbacks to keeping your home on the market throughout the holiday season. Not all of them will apply to you, but it's best to be prepared for everything that could go wrong with a holiday home sale—then be pleasantly surprised when not all of these negatives apply to you.
First-time home buyers, not knowing any better, could think you are desperate. Buyers might try to negotiate or give you a lowball offer.
It's inconvenient during the holidays to always be ready for a home showing at a moment's notice. Not everybody wants to keep the house spic and span when cooking, wrapping gifts, and throwing parties.
You're appealing to a much smaller inventory of buyers who have specific needs that your home might not match.
It's almost impossible to close a financed transaction in December if the offer is received mid-month. Buyers who want to close after the New Year will probably make offers in January.
If you remove your home from the market, it can return as a brand new listing in January, thereby drawing more traffic because it's fresh and exciting.
Your agent might be on vacation in December and unavailable as the market moves into a seasonal slowdown. Other real estate professionals might be unavailable when you need them as well.
Benefits to Selling Your Home Over the Holidays
Some sellers insist on leaving their homes on the market through the holidays. This can work out great for sellers in some cases, but it all depends on factors like local customs, what neighbors are doing, and how real estate activity is viewed by others during the holiday season in your area. Every town is different.
Reduced inventory over the holidays generally means less competition. However, the pool of buyers also drops. In parts of the country where it snows, buyers may think twice about bundling up and trudging through the snow to go looking at homes, when they'd rather be gift shopping or staying at home in front of the fireplace. On the other hand, if you live in an area with a milder climate, buys could be undeterred, and you will only benefit from the lack of inventory on the market through the holidays.
If you have a hard-to-sell home with drawbacks and defects (like a bad location, for example), you might get shoved to the bottom of the showing list if you wait until spring to sell your home. There might be too many other much nicer homes for sale at that time. Your hard-to-sell home might rise to the top when there are fewer homes for sale over the holidays.
Scale Back the Holiday Decorations
If you decide to keep your home on the market, back off on the decorations. Too many decorations can be overwhelming and distracting. Don't make the mistake of thinking buyers will "see past it," because they can't. As agents sometimes say, "the eye buys."
Minimizing decorations will make your home feel more spacious and keep pathways clear. When buyers enter your home, you want them to imagine putting their furniture in each room, making it theirs, and they can't do that if your holiday decorations dominate the stage. Not to mention that, by avoiding excessive family pictures and personalized decorations, you are protecting your privacy during home showings.
Holiday Decorating Compromises for Stubborn Sellers
You don't have to altogether avoid putting up a Christmas tree, menorah, or any other seasonal displays, but you should aim to keep the decorations to a minimum. Here are some tips for sellers who can't resist the urge to decorate for the holidays:
Don't block or cover up important selling features such as fireplace mantels, stairs, or stained-glass windows.
Tone down the size of the tree, if you plan on getting one. In place of a 10-foot tree, try decorating a table-top, four-foot version.
Stack wrapped presents in one corner or a closet.
Use more splashes of red than green—red is an emotionally appealing color.
Resist the urge to hang banners, and use greenery instead, such as evergreen or rosemary garlands.
Display centerpieces made from pine cones or other wintry pieces of nature.
Set a plate of cookies on the counter, next to festive paper napkins for guests.
Simmer spicy apple cider on the stove, and set out cups and serving utensils.
Consider hiring a home stager to do seasonal home staging with the buyer in mind.
Please note that this Scottsdale Real Estate Blog is for informational purposes and not intended to take the place of a licensed Scottsdale Real Estate Agent. The Szabo Group offers first-class real estate services to clients in the Scottsdale Greater Phoenix Metropolitan Area in the buying and selling of Luxury homes in Arizona. Award winning Realtors and Re/MAX top producers and best real estate agent for Luxury Homes in Scottsdale, The Szabo group delivers experience, knowledge, dedication and proven results. Contact Joe Szabo at 480.688.2020, [email protected] or visit www.scottsdalerealestateteam.com to find out more about Scottsdale Homes for Sale and Estates for Sale in Scottsdale and to search the Scottsdale MLS for Scottsdale Home Listings.