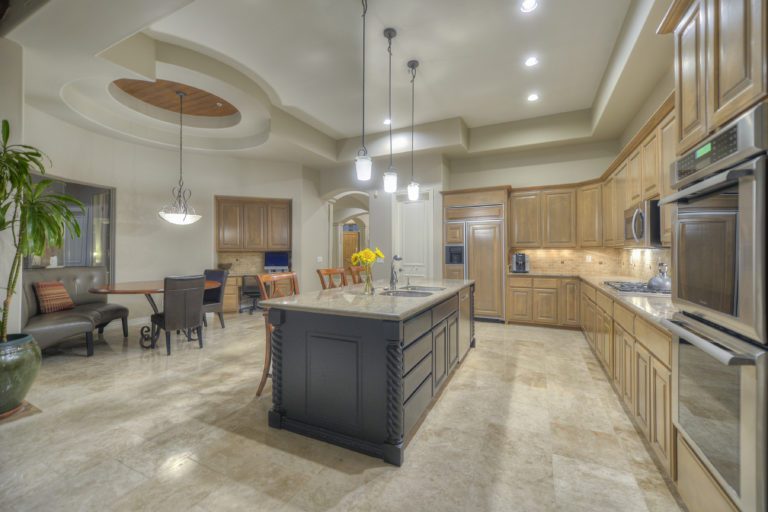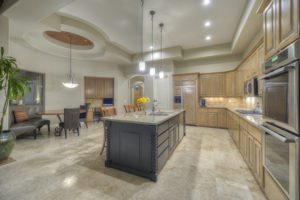 For many families, entertaining and eating is done right in the kitchen, which means that not only do you want a clean kitchen for cooking, but you'll also want space for having company over and be able to find everything quickly!
Use closet racks as cabinet organizers. Trim the racks to length with a hacksaw and then mount screws to the back side of the face frame to hold the racks in place. The back side of the rack simply rests against the back of the cabinet. Now you can easily find your soup and check the rest of your inventory at a glance.
T-molding designed for wood floor transitions makes a perfect rack for stemware. Just cut it to length, predrill screw holes and screw it to the underside of a shelf. For a neater look, use brass screws and finish washers. Prefinished T-molding is available wherever wood flooring is sold. A 4-ft. section costs about $25.
If your spices are jammed into a drawer with only the tops visible, this nifty rack that slips neatly into the drawer will solve the problem. And it only takes an hour to build. Make it with scraps of 1/4-in. and 1/2-in. plywood.
Small spice containers use shelf space inefficiently and are difficult to find when surrounded by taller bottles and items. Use a small spring-tension curtain rod ($3) as a simple shelf. It's easy to install and strong enough to support the spices.
Free up drawer space by hanging measuring cups inside a kitchen cabinet onr on the back of a pantry door . Position and mount a wood strip so that the cups will hang between the shelves and allow the door to close completely. Mount a second strip for your measuring spoons, then screw in cup hooks on both strips.
Please note that this Scottsdale Real Estate Blog is for informational purposes and not intended to take the place of a licensed Scottsdale Real Estate Agent. The Szabo Group offers first-class real estate services to clients in the Scottsdale Greater Phoenix Metropolitan Area in the buying and selling of Luxury homes in Arizona. Award winning Realtors and Re/MAX top producers and best real estate agent for Luxury Homes in Scottsdale, The Szabo group delivers experience, knowledge, dedication and proven results. Contact Joe Szabo at 480.688.2020, [email protected] or visit www.scottsdalerealestateteam.com to find out more about Scottsdale Homes for Sale and Estates for Sale in Scottsdale and to search the Scottsdale MLS for Scottsdale Home Listings.