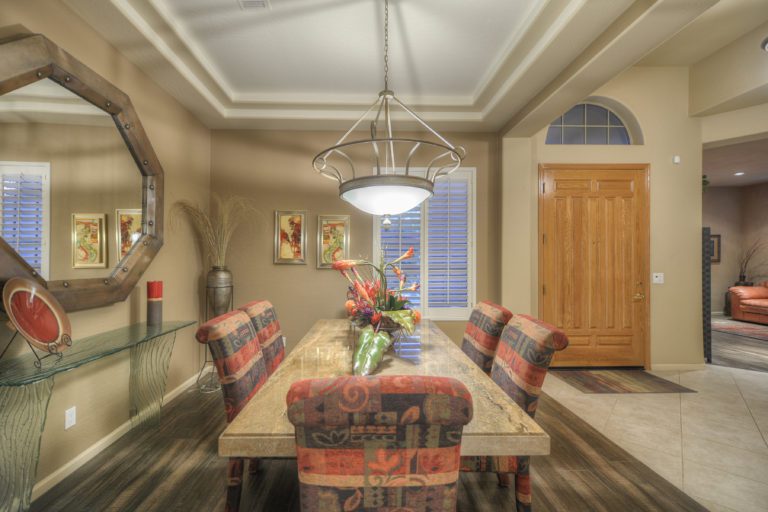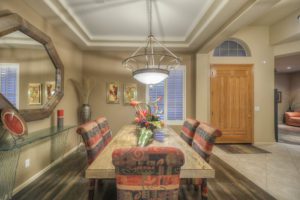 If your house has a formal dining room and a breakfast nook, the dining room may not see a ton of use. This plus the fact that it usually has a large flat surface– the table– can make it a prime dumping ground for clutter. We're going to remedy that this month!
Dining rooms tend to have storage pieces with lots of drawers and cabinets (like buffets and china cabinets), so try to go through each and everyone to make sure to have everything from the day's category all in one place. I also scan the tops of surfaces because they tend to collect a bunch of stuff.
Things like decorative items or fancy serving pieces that we got as wedding gifts are easy to throw into the bottom of the china cabinet and not think about, but they could be taking up valuable space that we could be using to hold the items we actually use and love. Or clearing them out could leave more open space, which is also great too! Things like gifts can be hard to part with because we feel that twinge of guilt that comes with getting rid of something that someone else gave to us, but if we're not using it and loving it, it will be much better off in the home of someone who will, so we can donate or sell the item guilt-free. And just think how great you'll feel when your dining room is looking all neat and tidy!
If you're still feeling the guilt, do a test run where you put the item away in a bin in a storage area for a while. Set a reminder on your phone to check back in on it in a month or two. If you haven't missed it at all, it's probably safe to let it go for good. The biggest battle in the dining room can often be keeping the surfaces uncluttered. It is so easy to walk in the house and throw things right onto the dining room table– it's big and flat and practically BEGGING to hold our excess papers and bags and books, right…
Please note that this Scottsdale Real Estate Blog is for informational purposes and not intended to take the place of a licensed Scottsdale Real Estate Agent. The Szabo Group offers first-class real estate services to clients in the Scottsdale Greater Phoenix Metropolitan Area in the buying and selling of Luxury homes in Arizona. Award-winning Realtors and Re/MAX top producers and best real estate agent for Luxury Homes in Scottsdale, The Szabo group delivers experience, knowledge, dedication and proven results. Contact Joe Szabo at 480.688.2020, [email protected] or visit www.scottsdalerealestateteam.com to find out more about Scottsdale Homes for Sale and Estates for Sale in Scottsdale and to search the Scottsdale MLS for Scottsdale Home Listings.