by Joe Szabo, Szabo Group
Wildlife World Zoo & Aquarium is located in Litchfield Park. The Wildlife World Zoo & Aquarium has a large collection of exotic animal, most of which come from Africa. A few of the animals you'll find are wild cats, monkeys, lots of exotic birds and more, in an open natural environment.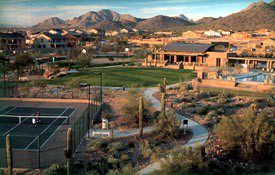 A definite highlight is the giraffe feeding platform. Purchase the food and step right up for the animals to take it right out of your hand! (Adults can do this too if they want).
You can take the fifteen minute Safari Train Ride through the African Wildlife exhibits or for an aerial view of the park, take the fifteen minute Sky Ride. If neither one of those rides excites your kids, there's also a carousel, Australian boat ride which features red and gray kangaroos, the emu and the kookaburra; or log flume ride. Additional fees are charged for rides. Check the website for pricing.
There are three separate aquarium buildings and they are: The Diversity of Life in Water, The Wild and The Wonderful, and Predators. The Diversity of Life in Water features upside down jellyfish, the American alligator, some touch tanks and more. The Wild & Wonderful features a poison dart frog, clownfish and lionfish to name just a few. When you get to the Predators, you can see a piranha, giant moray eel, a white albino alligator and more.
If you want a neat dining experience, check out either the Tiburón Restaurant or Flamingo Lounge which provides great views of the sharks and other fish at the aquarium.
The Wildlife Zoo & Aquarium is located at 16501 W. Northern Ave. in Litchfield Park. For more information visit: www.wildlifeworld.com
The Szabo Group offers first class real estate services to clients in the Scottsdale Greater Phoenix Metropolitan Area.  Award winning Realtors and Re/MAX top producers, The Szabo group delivers experience, knowledge, dedication and proven results. Contact Joe Szabo at 480.688.2020 or visit www.scottsdalerealestateteam.com
Tags: