With a heady series of updates, the return of printed wallpaper remains high on most decorators design agendas, with continued interest going into 2019. For 2019 expect to start seeing inspiring wallpaper updates to bring life and great design to any space, from commercial to residential. Unique floral prints and patterns are also making a big comeback as we're noting more botanical-inspired wallpapers on the market. Texture also features heavily for the best wallpaper options for 2019, helping to create an interesting, cozy environment in your home.
We are also seeing a move back towards more traditional wallpaper designs inspired by the past; there is plenty of flocked inspired paper available, and we are seeing more traditional designs and colors make a refreshing come back as well. There's such a wide variety of things going on in the world of wallpaper at the moment (even sustainable and eco-friendly options) that are certain to inspire you. Here's our take on the most stylish wallpaper ideas for 2019 and beyond.
BIRD PRINTS
Add a sense of play in any room in your home with bold bird printed wallpaper with an oversized scale to really maximize the look. Our interior designers love Salamndre's iconic and wildly popular flamingo and various bird prints.
They're great for adding depth in a room via an accent wall or for small areas like powder rooms and entryways.
GRAPHIC GEOMETRY
Channel the heady spirit of the Art-Deco era with a graphic and symmetrical geometrically printed wall covering that'll be sure to never go out of style while adding a sense of every day glamor in your home.
To get the look right and keep it timeless, go for classic colors that you won't tire of as trends come and go.
PERSONALITY-FILLED
Another playful and iconic print, take a cue from Fornasetti's hanging plate-inspired graphic wallpaper that'll energize even the simplest of spaces.
It'll be sure to spark conversations and create a lot of daily joy thanks to its witty and bold print.
BOLD STRIPES
Go graphic with bold stripes that'll never feel dated as long as you stick with classic colors that are easy on the eye. Think warm neutrals and strong colors for a crisp look.
Stripes are also great for making a small space appear to be larger than it really is and pair well with all kinds of furnishings and just about every design style.
CHEVRON
Though a perennial classic, modern and unexpected updates and breaks in otherwise straightforward chevron prints feel fresh and boast conversation-starting power to boot.
As illustrated above, if the chevrons were filled in and not spaced apart, the wall might come off as heavy. Instead, it retains a unique look that's bolstered by a trio of complimentary colors that are easy on the eyes.
BATIK
Batik rugs, linens, and wallpaper have been trending over the past few years thanks to their muted prints with a lived-in feel, graphic symmetry, and small scaled patterns.
We love how the decorator realizing the room featured above took the pattern a step farther by creating a rich yet subtle mix of various batik patterns and prints for a densely rich, layered look. And as you can see, batik bedroom wallpaper designs are a great direction when looking to create a soothing oasis that's still rich in print.
SOLID/TONAL
By going completely solid or tonal, you'll give any space a more polished and sophisticated feel while adding distinctively rich texture. Plus, by going tonal you'll be able to keep walls looking more fresh with ease than say, compared to an all white painted wall.
Ultimately, tonal wallpaper will work to illustrate your attention to detail while celebrating the joys of elegant, quiet design.
ASIAN INSPIRED
It may come as a surprise to see Asian-inspired styles when considering modern wallpaper for your home as they haven't been popular since the early 90's, but there's always an exception when traditional styles get glorious updates.
From metallic finishes to intricate details, there's something to said about the beauty of Chinoiserie flora and fauna elevating a room. And if Asian-inspired wallpaper wasn't inspiring enough, look at how clever the placement the dining room wallpaper featured above is. By only placing the wallpaper within molded rectangles, the look comes off as though they are traditional screens. Pretty clever indeed.
SILHOUETTES
Though cameos and silhouettes have gone in and out of popularity since the Victorian-era, blame it on artist Kara Walker's large scale cut paper and wall covering works featuring a bastion of surprising silhouettes, for the resurgence of silhouette wallpaper.
And while Kara Walker's are deeply thought provoking while touching on darker parts of American history, there's no reason to not take a cue from her expressive work when say, considering the best wallpaper for girls, or options that will lend a giddy sense of play to any room. Be on the lookout for unmistakable yet intriguing elements hidden throughout with modern silhouette wallpaper.
TERRAZO
With Terrazo, that 80's era marble-inspired flecked print, seriously trending over the past few seasons on everything from upholstery to bathroom accessories, it was only a matter of time that it would appear as a riotous contender when considering modern wallpaper for your home.
Playful, abstract, and forever-cool, Terrazo wallpaper ideas are great for a home with transitional or mid-century modern interior design as it works perfectly with the era's and mood of both. Plus, since its background is usually based around a common neutral, it will help any room appear larger and brighter.
ANIMALIER
Perfect for sultry bedroom wallpaper designs, animal prints from cheetah to leopard to zebra can lend any space a distinctive sense of elevated glamor that's not for the tame at heart.
Rev a room up a notch by bringing in a full-on print or an accent wall featuring a sumptuous animal print that will make any area or room a stand-out to be remembered.
ILLUSION WALLPAPER
For conversation-starting wallpaper ideas, consider going for a trompe l'oeil or illusion wallpaper for an unexpected and playful approach. From faux foliage to doors like the paper panel pictured here from Maison Martin Margiela, there's plenty of fun options to bring into your home.
The key here is that they should feel photo-realistic and should not be intended to replicate nature scenes like a 70's era rumpus room would. No pond scenes, no faux brick prints. Instead, keep it elegant with a print that evokes the familiar for a grown-up take on playful interior design elements.
LARGE-SCALE FLORALS
Though it sounds prehistoric to reserve floral wallpaper for girls (exclusively) in this day and age, there's something to be said about the intriguing, modern effect over-scaled florals can lend a more feminine space instantly.
From a small bathroom to a grand bedroom, bold, oversized floral blooms will make any room appear larger, more pulled-together, and unique.
MARBLEIZED
When it comes to exciting and unexpected wallpaper ideas, our interior designers were unanimous in their appreciation for the organic feel marbleized printing techniques lend some of today's most interesting options.
And with marble a forever-trend in our books, it comes as no surprise. From marble effect printed linens to marble drawer pulls, the veiny appeal of the stone brings with it some inspiring design cues. And when it comes to wallpaper ideas, marble options are sure to create a mesmerizing effect like no other print will.
METALLIC
By now, metallics and high-shine finishes have made their way through every design facet of a modern home, and when it comes to brilliant bedroom wallpaper designs, metallics are sure to introduce everyday glam into any room with ease.
The key here is to source metallic wallpaper that features either a more classical or Art-Deco inspired graphic print and motifs so the wall covering comes off as soothing and visually light as anything else will lend the risk of appearing too busy and confusing. Even better, when paired with chair rail molding as illustrated here, the eye gets a break to keep it focused on great design rather than being distracted.
ARTIST'S SKETCHBOOK
As though they were lifted from iconic fashion illustrator Antonio Lopez's sketch book, the collage effect pictured above is full of visual wit and a terrific sense of inspiring play.
Frankly, there's nothing like it and a similar wallpaper is certain to make your home as unique as you are. And while the style is not for the shy, go ahead and take a risk every now and then as sometimes happy accidents can be found in unexpected routes.
THE ULTIMATE MATCH-ALL WALLPAPER
Speaking of risks, with a vibrant, colorful wallpaper similar to the room illustrated here, you'll be able to bring in just about any colored items and furnishings you want as the sky is the limit when it comes to mixing and matching.
And since the pattern here is minuscule, you won't need a heavy hand or oversaturated hues to bring it all together. In fact, with such a heady print, you could even bring in a classic beige sofa and finish it off with coordinating pillows and throws for continuity.
A MODERN MURAL
While we aren't ones to recommend preprinted murals, there's something to be said about the unexpected and intimate appeal of the wallpaper featured here as it boasts a wonderful collage of varied buildings and fruit for the ultimate in unique, graphic wallpaper that no one else will have.
The key in making it work is to again, go for subtle colorways to keep the look light handed and refreshing. Perfect for an accent wall or trim, a modern mural will have guests scanning the surface with a sense of intrigue that they'll never forget.
OVERSIZED PAISLEY
A more classic wallpaper option for 2019 and beyond, bold oversized paisleys will give a room a sense of feminine play while riffing on historic silhouettes to boot.
PALM LEAVES
Continuing to gain traction over the past few years, palm leaves are still a heavy-duty wallpaper trend continuing into 2019. More textures and details are being introduced into modern wallpapers, and the intricate details of the palm make for a chic option. Palm printed wallpaper is available in all manner of designs – whether you are looking for something more masculine, something bright and bold, or something more calming.
Palm fronds don't have to be all out 70's inspired. We are loving the depth and coziness that a palm wallpaper with a black background lends a space and the light airiness that a white paper with bold green palms provides.
COPPER/GOLD TONES
Copper and gold tones are an easy way to add instant glamor to any room and are heavily featured throughout wallpaper ranges; whether as a statement-making copper textured paper or embedded within a design. Warm metallics like these haven't been popular for decades, but they are back, and feel so fresh this time around. Copper and metallic gold tones warms up modern wallpaper and add a touch of luxury to easily elevate any space.
Imagine a stunning gold wallpaper with a geometric white pattern across it – this look would evoke everyday glamor and an art-deco spirit– especially when teamed with unexpected colors and details like the neon painted beds above.
MUTED STRIPES
Stripes saw a return on modern wallpaper designs 2019. The tones are more muted than we've seen in the past with striped wallpaper, but they look just as sharp. If you want something to make your walls more interesting, but without all too much color, choose a graphic grey and white stripe. For something more fun, but not too obvious, consider modern wallpaper with green, pink, and white stripes?
This will add a touch of luxury to any room, while at the same time helping you introduce color (this will look great with in otherwise muted and neutral room). Stripes also evoke a put-together feel when teamed with soft neutrals, perfect for creating a warming and inviting space.
SUSTAINABLE WALLPAPER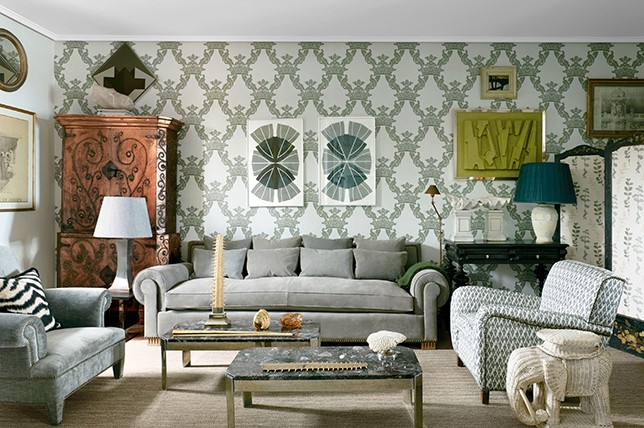 With more and more concerns over the environment being raised, increasing the level of sustainable products being produced, and making an effort to be more eco-friendly is on everyone's agendas. Manufacturers of wallpaper are recognizing this, and modern wallpaper ranges are beginning to feature eco-friendly production, which is less harmful and impactful on the environment.
More and more wallpapers are available printed on recycled paper with water-based inks, making them much less environmentally detrimental. You also have the option to choose materials such as linen, burlap, and bamboo as an interesting alternative to standard wallpaper ideas.
BOTANICAL INSPIRATION
Think unique botanicals; not just traditional floral wallpaper with a repeated pattern covering it. This is more of an homage to the beauty found in nature – think a beautiful meadow, rather than a bouquet of flowers. Consider wallpaper that looks more like a water color painting than a basic floral print. You can go bold with colors like vibrant blues, greens, pinks, reds, and oranges, or for something a little less bold, choose more muted tones of creams, lilacs, and soft pinks.
This type of design is perfect for a feature wall; adding a touch of nature and natural form to your space. If a colorful floral design isn't for you – there are some beautiful botanical inspired designs available in grays and neutrals alike.
FLORAL WALLPAPERS
You're probably as surprised as we are to see more traditional floral wallpaper with classic pinks and purples on a floral wallpaper making a comeback. Think festive wallpaper designed with glorious, vibrant patterns, and plenty of color.
Designs like this make the perfect wallpaper for girl's rooms – creating a charming, relaxing, and inspiring space. You can opt for cheery colors, or something more muted for a monochrome and minimalist room.
TEXTURED GREYS
Wallpaper designs 2019 are all about depth and texture. If you aren't a big fan of color, then textured grays are a great option for you. While keeping your color scheme muted and monochromatic, they'll add much-needed depth and warmth to a room.
From busy, intricate patterns to more everyday striped patterns, texture is the key to making a rooms wall coverings feel more distinctive.
FLOCK WALLPAPER
Flocked wallpaper is also making a comeback, with new modern wallpaper designs updated for today. Keeping the traditional feel of flocking, the new designs keep it fresh and modern while embracing the traditional, luxurious elements of flocked wallpaper. Flocked wallpaper is often intricately detailed, with a great depth of color; making it perfect for bedroom wallpaper designs.
Wallpaper like this will add a touch of elegance and sophistication to any room, and a whole room papered in flocking will cocoon you in luxury. How about a shade of champagne, for a seriously glamorous and luxurious wall covering? But, don't be fooled into thinking that all flocked wallpaper is dark and dramatic – there are some beautiful designs out there in off-whites and light blues and greens, which are absolutely refreshing.
DARK PATTERNS
Not everything has to be light and bright, and the same can be said for trending wallpaper 2019. Think deep blues and greens with contrasting patterns in neutral tones. Perfect for a masculine bedroom, or a room where you are looking to introduce a dark feature wall.
The neutral pattern tones work alongside the depth of color to create interesting wallpaper ideas, which help a room feel cool at the same time as cozy and warm.
BRIGHT AND BOLD
Bold, bright, and compelling wallpaper designs are seeing a comeback – living room, dining room, and bedroom wallpaper designs alike are trending and are more imaginative than ever before. Bright colors and extravagant prints are here to create an unforgettable statement. Forgo the quiet wallpaper popular as of late, because making an impact is back on trend.
Punchy greens and yellows are key trends, as are bold blues and pinks. If you want any room to stand out, then the sky's the limit.
Please note that this Scottsdale Real Estate Blog is for informational purposes and not intended to take the place of a licensed Scottsdale Real Estate Agent. The Szabo Group offers first class real estate services to clients in the Scottsdale Greater Phoenix Metropolitan Area in the buying and selling of Luxury homes in Arizona. Award winning Realtors and Re/MAX top producers and best real estate agent for Luxury Homes in Scottsdale, The Szabo group delivers experience, knowledge, dedication and proven results. Contact Joe Szabo at 480.688.2020, [email protected] or visit www.scottsdalerealestateteam.com to find out more about Scottsdale Homes for Sale and Estates for Sale in Scottsdale and to search the Scottsdale MLS for Scottsdale Home Listings.