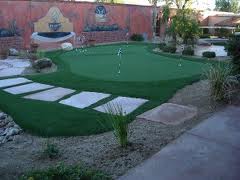 By Joe Szabo, Scottsdale Real Estate Team
Do you ever worry about how you are going to entertain the huge group of friends and family you have coming over for the big game? Is entertaining something you do on a regular basis? Do you enjoy the game of golf? If you answered yes to any of these questions, you should consider having Scottsdale putting greens installed in your yard. Your house will quickly become the place to watch the game or where to have the next family get together because everyone will have fun in the backyard.
Scottsdale putting greens can provide you and your guest's hours of fun while practicing or just having a friendly putting competition. Why not make your house the place to be when there is a big game or event going on? Everyone will want to come over and you get the added bonus of getting to stay home if you prefer to not go out. Not everyone enjoys going out and with a custom designed putting green in your backyard, you won't have a reason to have to go somewhere else to have a party.
If you have been considering making a change to your yard, Scottsdale putting greens are a great choice. You can be involved in every step of the design process if you want. Many companies feel it is important to get as much help and input from the customer as possible so you can feel like it is truly your design. You can even choose the pin placement when the time comes. Why not have hours of built in entertainment in the comfort and privacy of your own backyard.
Just think how great it would be to be able to practice whenever the mood strikes you. If weather is not great or if you just want to go out for a few minutes you can, and you don't have to pay any kind of greens fees to do it. Entertaining will be more enjoyable for you and your guests. Another great benefit to having Scottsdale putting greens in your yard is that they are easy to clean and virtually maintenance free. So if you have a party and things get spilled or messes happen, you can just hose it off and it is taken care of.
Overall, the choice to have Scottsdale putting greens installed in your yard is a great one. They are easy to take care of, look amazing and will keep you and your guest's entertained for hours. It is also a great choice because a great putting green will last for years to come.
Please note that this Scottsdale Real Estate Blog is for informational purposes and not intended to take the place of a licensed Scottsdale Real Estate Agent. The Szabo Group offers first class real estate services to clients in the Scottsdale Greater Phoenix Metropolitan Area in the buying and selling of Luxury homes in Arizona. Award winning Realtors and Re/MAX top producers and best real estate agent for Luxury Homes in Scottsdale, The Szabo group delivers experience, knowledge, dedication and proven results. Contact Joe Szabo at 480.688.2020, info@ScottsdaleRealEstateTeam.com or visit www.scottsdalerealestateteam.com to find out more about Scottsdale Homes for Sale and Estates for Sale in Scottsdale and to search the Scottsdale MLS for Scottsdale Home Listings.