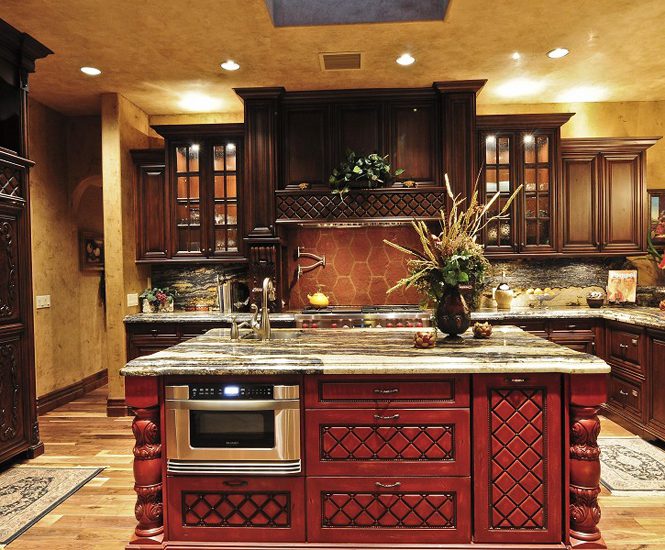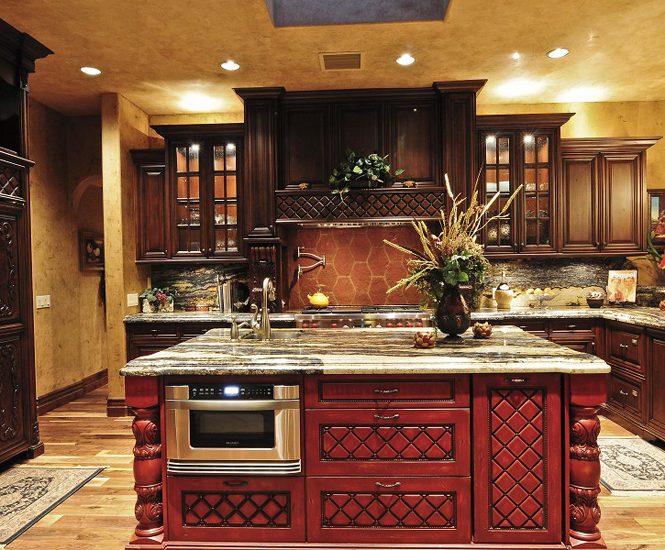 By Joe Szabo, Scottsdale Real Estate Team
Kitchens are an important and practical part of the home, becoming more and more customized each day. Whether your tastes include an oversized island, or stone flooring, here are some things to consider when designing and decorating your kitchen.
First, if you look at your kitchen and it seems empty, use extra counter space to display different items. Perhaps a collection of antique tea pots, or different plant pots. This can also help add a theme and give a kitchen personality.
Second, the area of a kitchen between the cabinets and top of the counter (or backsplash) is an area that you see a lot of, but is often disregarded. Try colorful tiles, or a small tile mural.
Third, the kitchen of a home is often center of attention and can make a great gathering place for company. Whether you kitchen is larger or smaller, try not to take up all its space with one large table. A love seat is a great idea because it is small, comfortable, and adds a more welcoming feel than the wood chairs of a dinning room table.
Fourth, cabinet doors in a kitchen can get old and worn out, but that does not mean there is always the money to run out and replace them. Try decorating them with a splash of paint, or maybe fill in the inset of cabinet doors with bamboo rods. Chicken wire will enhance the look of a country style kitchen and a deep wood staining for a more elegant look.
Fifth, organization is the best way to keep a kitchen from looking cluttered or messy. Try separating spoons, whisks, spatulas, and other kitchen items into beakers or decorative pot. Set aside a drawer for mismatched utensils and place all spices and bottles of oil and vinegar in a basket or spice rack. Also, a lidded tin or another kind of container can help hide pasta packages and keep things more simple.
Sixth, plants can add a fresh, softer look to a room and help make a kitchen feel more welcoming. Try plants that match the theme of your kitchen, or artificial plants for those who have allergies or no time to water and take care of a plant.
Seventh, good lighting is vital to a kitchen, especially in older homes where the lighting fixtures are worn out. Try replacing older lighting with track lights, which move light where it is most needed; or try adding smaller fixtures just under the lip of a cabinet, for more focused light.
Eighth, if you love the look of granite but not its huge price tag, try using it in just a select area, like an island or peninsula. Granite tiles are also cheaper, and engineered quartz products are always an option. These products also require less maintenance than granite.
Ninth, hanging attractive kitchen ware, such as pots, can open up more room and add a personal essence. A wrack hung from the ceiling, or a rod installed over a stove is popular spots to hang these items.
Tenth, flooring is a big part of a kitchen and can make or break its hard earned look. Old, scratched up linoleum will not mesh so well in a formal kitchen with a chandelier, where business dinners are held. If you like the looks of wood, stone, or other more pricy floorings, try a laminate that looks just like the real stuff, but does not break the bank.
.
Please note that this Scottsdale Real Estate Blog is for informational purposes and not intended to take the place of a licensed Scottsdale Real Estate Agent. The Szabo Group offers first class real estate services to clients in the Scottsdale Greater Phoenix Metropolitan Area in the buying and selling of Luxury homes in Arizona.  Award winning Realtors and Re/MAX top producers and best real estate agent for Luxury Homes in Scottsdale, The Szabo group delivers experience, knowledge, dedication and proven results. Contact Joe Szabo at 480.688.2020, [email protected] or visit www.scottsdalerealestateteam.com to find out more about Scottsdale Homes for Sale and Estates for Sale in Scottsdale and to search the Scottsdale MLS for Scottsdale Home Listings.