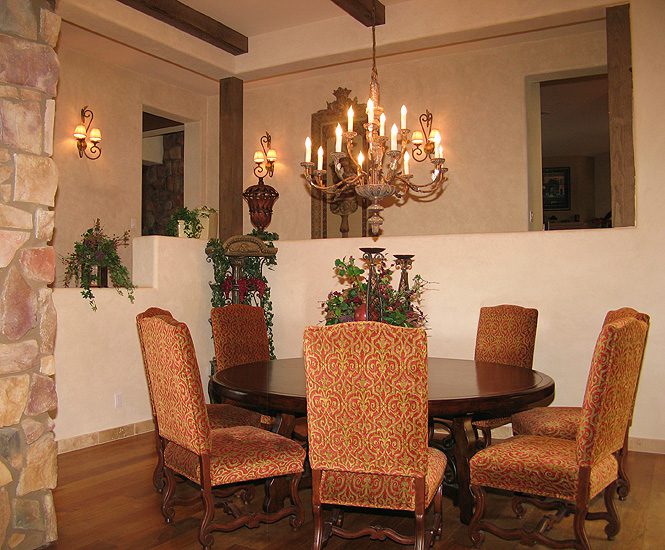 By Joe Szabo, Scottsdale Real Estate Team
Modern feng shui recognizes that our relationship to a space is most strongly influenced by how we move through it.  Therefore, the entrance to a room should be located so that it aligns with the Career area (our life path) of the ba gua map, while the Fame area (meaning future vision) lies ahead:
| | | |
| --- | --- | --- |
| Wealth | Fame | Marriage |
| Family | Tai Chi | Children & Creativity |
| Knowledge | Career | Mentors & Travel |
The ba gua map applies to your entire property as well.  The beginning of your driveway is the "entry" to your property Keep in mind that each area occupies roughly one third of the length and width of each room.  They blend in to each other, rather than changing abruptly.  As you identify how the ba gua fits over your floor plan, use the walls and hallways to identify which rooms are in which areas.
Each level in a multi-story house will have its own ba gua.  If there's more than one entrance to a level, it's okay to apply ba guas for every room. If your house is irregularly shaped, some parts may stick out from the ba gua.  Extensions expand the energy of the area they extend from, and are often a good place for feng shui enhancements.
If the extension seems to be pulling positive energy away from the house, however, one cure would be to place a large mirror in the back wall of the room. If you live in a house that's missing a certain area, it may have a negative effect on that aspect of your life.  The best way to cure this problem is by adding a porch or patio, or if that's not possible at least adding feng shui enhancements, like plants, wind chimes, or crystals, to the corresponding areas in the other major rooms of the house.  These will help balance and stabilize the house's energy. We hope you enjoy the information provided by The Szabo Group as we strive to offer information valuable to homeowners and prospective homeowners in the Scottsdale area.
The Szabo Group offers first class real estate services to clients in the Scottsdale Greater Phoenix Metropolitan Area.  Award winning Realtors and Re/MAX top producers, The Szabo group delivers experience, knowledge, dedication and proven results. Contact Joe Szabo at 480.688.2020, [email protected] or visit www.scottsdalerealestateteam.com to find out more about Scottsdale Homes for Sale and Estates for Sale in Scottsdale, Arizona.