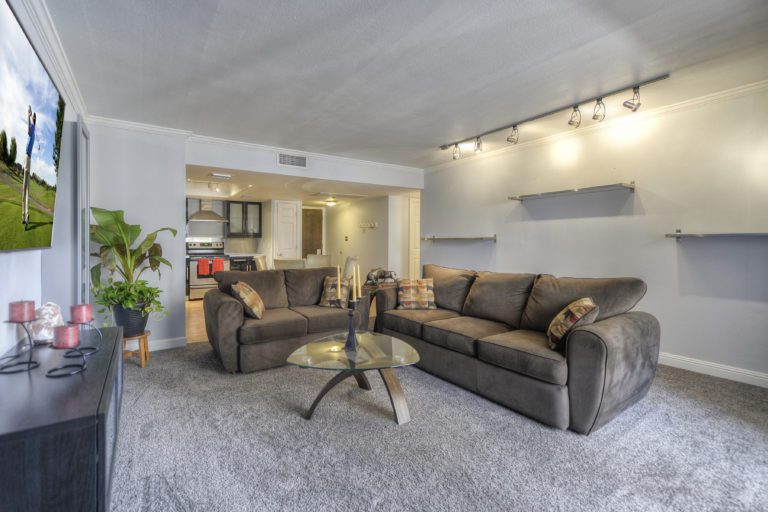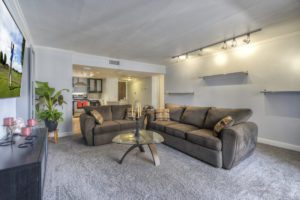 Decorating a home is a great way to make it cozy, comfortable, and inviting, but it's easy to go overboard and end up with a messy, cluttered looking space. Here are five decorating mistakes that make your home look messy and how to avoid them!
1. Using Too Many Colors
Decorating with too many colors is guaranteed to make a home look cluttered and messy. Use one or two hues combined with neutral colors to give your home a cohesive, relaxed look. This living room has been decorated with various shades of blue to create a gorgeous, cohesive space. The neutral-color walls, rug, window coverings, and furnishings allow the room to breathe as well as make the room look more spacious and open.
2. Adding Too Many Accent Pillows
Placing too many accent pillows on a sofa or bed will instantly create a haphazard and untidy look. This living room looks pulled together and well-decorated because the sofa isn't laden with numerous decorative pillows. Two accent pillows on each end of the sofa are the perfect amount to decorate this room with beautiful color and pattern.
3. Pushing Furniture Against Walls
Arranging all of your furniture up against the walls will make the space look cluttered and messy. Solution? Pull the furniture away from the walls and toward the center of the room as in this living room seating arrangement. This grouping of four chairs around a coffee table creates the perfect conversation area. Ground the furniture with an area rug.
4. Placing Too Much Decor On Tables
Placing too many decorative accents on the entire surface of a table will make a room look cluttered. Instead, edit the number of decor accessories and then decorate the table in a vignette style (one grouping) or create two groupings as in this photo. First, edit what you already have on the table top. Only display what you love and what is functional (for example a small dish for storing car keys and sunglasses) and remove the rest. Group many small objects in a jar or bowl. Elevate small objects on a stack of two or three books to give it a purposeful look.
5. Hanging Pictures Randomly
Pictures and wall art hung in haphazard fashion across a wall will make a room look chaotic. Group pictures in a gallery wall arrangement; the space will instantly look organized and balanced. The art hung above the headboard in this bedroom, demonstrates how several pieces can be hung to create a visually pleasing and curated look.
Please note that this Scottsdale Real Estate Blog is for informational purposes and not intended to take the place of a licensed Scottsdale Real Estate Agent. The Szabo Group offers first class real estate services to clients in the Scottsdale Greater Phoenix Metropolitan Area in the buying and selling of Luxury homes in Arizona. Award winning Realtors and Re/MAX top producers and best real estate agent for Luxury Homes in Scottsdale, The Szabo group delivers experience, knowledge, dedication and proven results. Contact Joe Szabo at 480.688.2020, [email protected] or visit www.scottsdalerealestateteam.com to find out more about Scottsdale Homes for Sale and Estates for Sale in Scottsdale and to search the Scottsdale MLS for Scottsdale Home Listings.