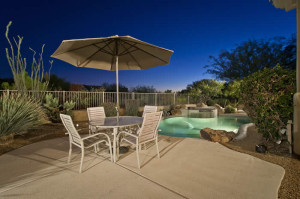 By Joe Szabo, Scottsdale Real Estate Team
If you've been out there house hunting, you're likely aware of the many challenges and obstacles that come with the territory. A major factor driving this fiercely competitive market is the lack of for-sale inventory, especially in the lower end.
Want to have the upper hand? Here are some ways to gain that competitive advantage.
Find properties before everyone else does
Time is key in a competitive market with very little for-sale inventory. To expand your search and get the edge on the competition find properties before they hit the market. Try using Zillow's new Coming Soon feature, which allows you to search for properties that will be listed for sale within 30 days but are not yet on the market. This is especially useful in competitive markets where inventory moves quickly and bidding wars are all too common.
Make an all-cash offer
While the cash-buyer trend is happening nationwide, it's most predominant at the lower end of the market and specifically in markets such as Tampa, Detroit and Miami. In those metros, more than 80 percent of all sales in the lowest price bracket during the first quarter were cash deals, according to a recent analysis by Zillow. Have the money in hand? Not waiting for a loan approval or to collect that down payment from relatives? From the sellers' perspective, an all-cash offer is going to be hassle-free, and at the end of the day, that's what they want, regardless of whether they're in a rush to close.
Be well-qualified
If you're a serious buyer, you'll only be taken seriously if you're well-qualified one — i.e., you're gainfully employed, able to make a substantial down payment (20 percent or more) and, of course, have good credit (think: mid-700s). This is really important in general, but particularly if you're up against the aforementioned cash buyer. It's your best defense.
Write a personal letter
Are you perhaps interested in buying the home you once grew up in? Does it evoke fond memories of happier times? Have you found your perfect abode? Why is it so perfect for you and your family? Let the seller know, particularly if there are multiple offers on the property. A personal, handwritten letter expressing your love for the home and the beautiful surroundings could be just the thing you need to tip the scale in your favor.
Please note that this Scottsdale Real Estate Blog is for informational purposes and not intended to take the place of a licensed Scottsdale Real Estate Agent. The Szabo Group offers first class real estate services to clients in the Scottsdale Greater Phoenix Metropolitan Area in the buying and selling of Luxury homes in Arizona. Award winning Realtors and Re/MAX top producers and best real estate agent for Luxury Homes in Scottsdale, The Szabo group delivers experience, knowledge, dedication and proven results. Contact Joe Szabo at 480.688.2020, [email protected] or visit www.scottsdalerealestateteam.com to find out more about Scottsdale Homes for Sale and Estates for Sale in Scottsdale and to search the Scottsdale MLS for Scottsdale Home Listings.