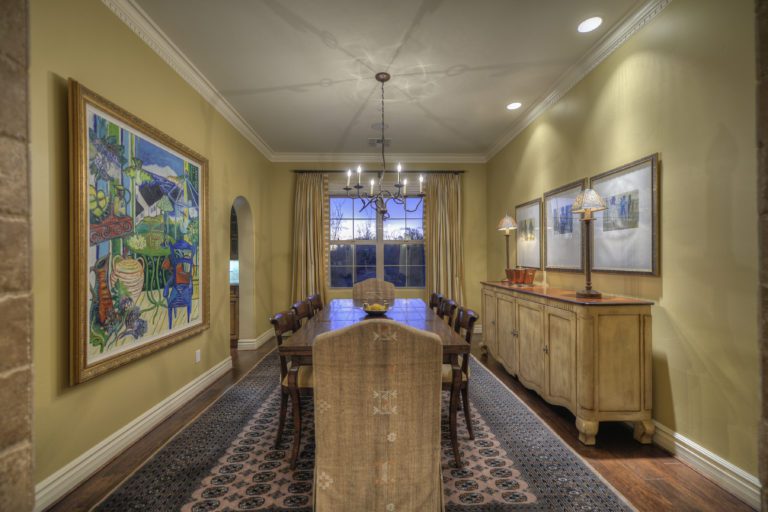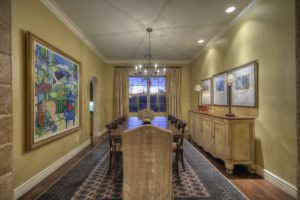 The biggest enemy of a clean dining room is the everyday clutter that tends to collect there.
Each Night Clear off your Table before things have time to build up. When your table is the heart of your home, everything gravitates there—books, paper piles, purses and gadgets. The best way to battle this beast is simple: Every night before dinner, dump everything into a basket and tuck it away at the edges of the room. Later that night, you can put those things away. Or not. Let the basket be a permanent stand-in for the table top and collect the things you like to keep close by.
For things that can't be picked up between meals, like an especially tough puzzle or a craft project that needs to be left to dry for hours, try this trick: Before diving in and spreading out on the table, get yourself a big sturdy craft mat and lay that down first. When dinnertime rolls around, you can lift and carry the whole project over to the floor or bed for a little while you enjoy a clutter-free meal.
If you're able to migrate your dining room's non-essential activities to another place, rule number one should be "Not at the table." But sometimes coloring and craft projects do need their space. To better regulate the table time share, mentally and verbally put your dining room on a schedule. Think to yourself, or say out loud to your housemates—"Ok, we'll start the puzzle right after lunch, but it has to be cleaned up by dinner.
Please note that this Scottsdale Real Estate Blog is for informational purposes and not intended to take the place of a licensed Scottsdale Real Estate Agent. The Szabo Group offers first-class real estate services to clients in the Scottsdale Greater Phoenix Metropolitan Area in the buying and selling of Luxury homes in Arizona. Award-winning Realtors and Re/MAX top producers and best real estate agent for Luxury Homes in Scottsdale, The Szabo group delivers experience, knowledge, dedication and proven results. Contact Joe Szabo at 480.688.2020, [email protected] or visit www.scottsdalerealestateteam.com to find out more about Scottsdale Homes for Sale and Estates for Sale in Scottsdale and to search the Scottsdale MLS for Scottsdale Home Listings.