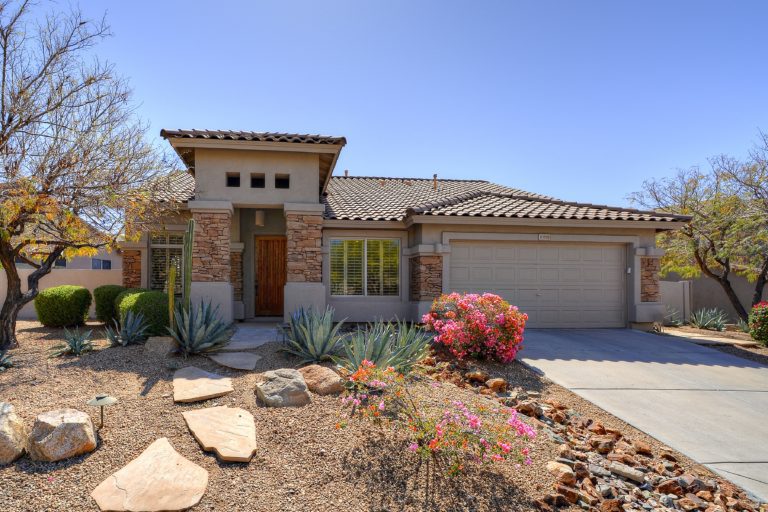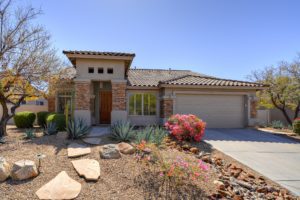 By Joe Szabo, Scottsdale Real Estate Team
They say you only get one first impression, and the same is true for your house and potential buyers. Some buyers will simply drive away if the exterior of the house doesn't inspire them to spend their precious time looking inside. Even if you're not selling, the look of your home from the street makes a strong statement. Here are 10 easy ways to up your curb appeal.
1. Clean up light fixtures
Outdoor light fixtures have a way of becoming dirty, broken, rusted and covered in cobwebs almost overnight. If the fixtures themselves are in good repair, a little elbow grease and some cleaning products make this a quick fix. Polish 'em up, replace the bulbs and make that glass sparkle. Don't forget back porch lights, garage lights, motion-activated lights and post lights in the yard.
2. Welcome them home
Make your potential buyers — and any guest who enters your house — immediately feel at home with a brand new welcome mat and some shiny new house numbers. You might even think about replacing the doorbell or door knocker, particularly if they are weathered or broken. You may not use your front entrance very often, but remember this is where many people enter your home.
3. Paint the door
Speaking of the door, give it a good wipe-down to get rid of any built-up grime. Then see if it could do with a fresh coat of paint. Chances are the answer is yes. Does it need new hardware? Are the locks rusted, sticky or outdated? Now is the time to replace them with contemporary pieces that will enhance the look of even the most basic door. If there are windows in the door or surrounding it, be sure they are clean and remove stickers or window-clings.
4. Add flower power
Color attracts the eyes of the potential buyers and can add instant cheer, both good things when you're trying to get someone to buy your house. The easiest way to add color is to purchase a few new freestanding pots or planters and fill them with flowering annuals. If you have window boxes, be sure they are freshly painted or have new liners and are filled with colorful flowers.
5. Replace the mailbox
A mailbox is an easy-to-forget daily-use item, but replacing it makes a big visual impact. Be sure to choose one that is simple, useful and suits the house as well as fits your local regulations. This sleek modern mailbox is attractive to buyers and matches the overall feel of the entry.
6. Finish outdoor projects
Is your deck half-painted? Is there a pile of gravel you intended for the driveway? Now is the time to finish those incomplete projects. Not only will home buyers be impressed with the results, they'll be glad to not see a project they need to do themselves. When finishing outdoor projects, it is important to consider your climate as well. For example, drought-friendly landscaping is a big selling point for many home buyers.
7. Cover up eyesores
That tangled, old garden hose needs to go. Put the trash bins in the garage. If you can, paint electrical boxes to match the house so they disappear to the eye. Camouflage the AC system with a small fence or a large plant. Toys for the children should be put away, including bicycles and sandboxes. Outdoor furniture that shows any sort of wear is best tucked into the garage, as are rakes and other outdoor implements. Also, clean the yard of any pet toys, waste or damage.
8. Add a new element
One simple element, such as a new path from the porch to the garage, can make a huge difference. A newly-completed project shows people you care for and maintain your home. It needn't be a huge project. It can simply be an added element, such as landscape lighting or patio furniture to make things look festive and fresh.
9. Edge walkways and tend garden beds
This is one of the quickest and easiest ways to add more curb appeal. There is something so appealing about a nicely lined lawn—and absolutely pull those pesky weeds in walkway cracks! A bit of fresh mulch also makes a big difference in your curb appeal. No need to re-do the entire bed with a truck-load of mulch, but a few bags mixed in to keep things looking cared-for will do the trick. Be sure to trim up hedges and bushes while you're at it.
10. Freshen up garage doors
Garage doors are the workhorse of the house exterior, and they're often missed when it comes to minor repairs. Fix any dents, dings or scrapes. Add a fresh coat of paint, if possible. Clean off spiderwebs and grime and make the windows spotless if there are any. A garage is a big part of curb appeal, so make sure it looks appealing.
Please note that this Scottsdale Real Estate Blog is for informational purposes and not intended to take the place of a licensed Scottsdale Real Estate Agent. The Szabo Group offers first class real estate services to clients in the Scottsdale Greater Phoenix Metropolitan Area in the buying and selling of Luxury homes in Arizona. Award winning Realtors and Re/MAX top producers and best real estate agent for Luxury Homes in Scottsdale, The Szabo group delivers experience, knowledge, dedication and proven results. Contact Joe Szabo at 480.688.2020, [email protected] or visit www.scottsdalerealestateteam.com to find out more about Scottsdale Homes for Sale and Estates for Sale in Scottsdale and to search the Scottsdale MLS for Scottsdale Home Listings.