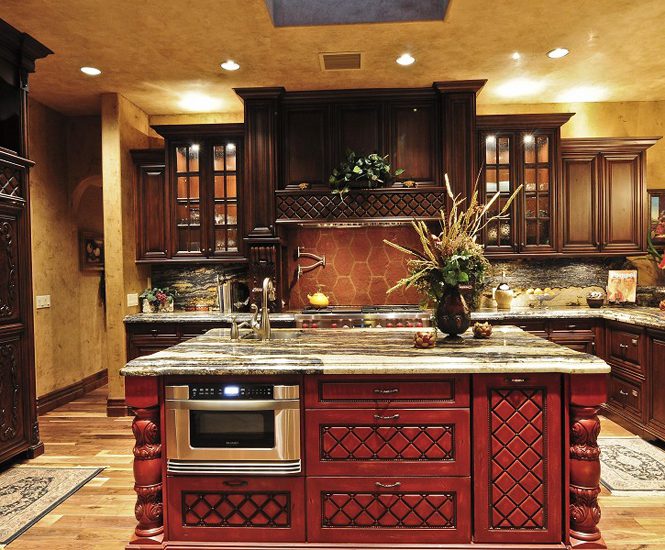 by Joe Szabo, Szabo Group
Granite is a popular choice for countertops because of its rich, deep colors and many variations. It's a tough, durable stone that requires little maintenance.
It has a very dense grain, which makes it virtually impervious to stains, because it has very little porosity. It takes a highly polished finish and once polished it is completely resistant to liquids.
Other benefits of kitchen granite countertops are the mirror-like finish. Granite countertops can resist extreme heat from frying pans.
A granite kitchen countertop is very easy to maintain and care for. For daily cleaning you just wipe with a soft cloth or paper towel with soapy water.
Some other advantages to having a kitchen granite countertop are that they are affordable, beautiful, the stone changes appearance in different light during the day. One thing you have to watch for is than each granite stone is unique. This can mean that the color in the granite can look different from one day to the next depending on the lighting situation. Lighting can cause a reflection in the granite making one color more dominant. So in picking a color it is a good idea to choose from actual slabs not samples. – Taken from www.kitchendesignersideas.com/kitchen_granite_countertops.html
There are more than 1,000 varieties of granite colors and textures. Colors include white, cream, pink, yellow, red, blue, green, gray and black.
To see the range of colors and styles, visit www.marble.com/materials/granite
There are two types of granite styles to consider when choosing countertops. "Consistent" granite has the same pattern throughout each piece. "Variegated" granite has veins that vary from piece to piece. They're attractive, but the veins make it more difficult to match sections.
Taken from www.ehow.com/about_5087961_types-granite-counters.html#ixzz13T3c9qHo
The Szabo Group offers first class real estate services to clients in the Scottsdale Greater Phoenix Metropolitan Area.  Award winning Realtors and Re/MAX top producers, The Szabo group delivers experience, knowledge, dedication and proven results. Contact Joe Szabo at 480.688.2020 or visit www.scottsdalerealestateteam.com