Today's choices in flooring are more varied than ever, running the gamut of styles, finishes and installation options. Product innovation is clearly blurring the lines between many flooring categories, and the raw materials used to create flooring types include gin bottles, corn sugar and the staves from old wine barrels. The winner in this underfoot mash-up is the consumer, who benefits from an astonishing array of choices that fit any lifestyle and budget.
Hardwood flooring is renowned for its natural beauty and durability. Its classic good looks harmonize with any architectural theme or interior design, and it's an especially good choice to create visual room-to-room continuity for homes with open floor plans.
Hardwood flooring comes as strips 1-1/2 to 2-1/2 inches wide or planks 4 to 8 inches wide. Domestic species include oak, maple and black walnut. Regional varieties, such as pecan, chinquapin and mesquite, are not widely distributed but offer distinctive grain patterns.
The availability of exotic species of hardwoods varies with market conditions, and popular imported varieties include Brazilian cherry, purpleheart, and African pedauk. To make sure the wood flooring you buy is harvested from sustainable, managed forests, look for certification from the FSC (Forest Stewardship Council) and the SFI (Sustainable Forest Initiative).
Coatings for prefinished hardwood have benefited from technological advancements, and finishes may include additives such as ceramics, aluminum oxide, and acrylic monomers that produce incredibly tough surfaces.
Kitchen Flooring Trends
 Learn about flooring options from hardwoods to budget-friendly vinyl.
Solid wood must be nailed to a subfloor. An advantage of solid wood is that it can be refinished many times over its lifespan.
Hardwood costs $3 to $8 per square foot, and exotic varieties may be as high as $14 per square foot. Expect to pay $5 to $12 per square foot for professional installation.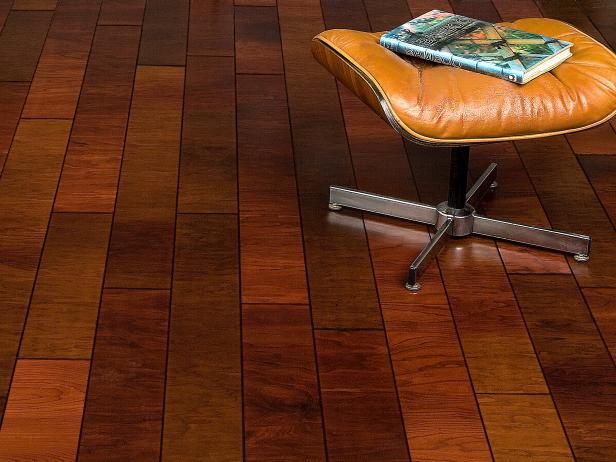 Smith and Fong
Engineered wood flooring
Engineered wood features a top veneer of real wood backed by layers of cheaper plywood. This construction makes the flooring more stable and much less susceptible to changes in temperature and humidity than solid wood.
Instead of plywood backing, some newer varieties have substrates made from recycled wood fiber mixed with stone dust to provide extreme dimensional stability. Engineered wood is a good choice for kitchens and basements, as well as for installation over in-floor heating systems.
Engineered wood can be nailed, glued or installed as a floating floor over a cushioned pad. More manufacturers are producing self-locking, or "clickable," engineered wood flooring that installs without glue or nails. Clickable flooring comes as planks or parquet squares and makes a good DIY project. Prices are comparable to solid wood.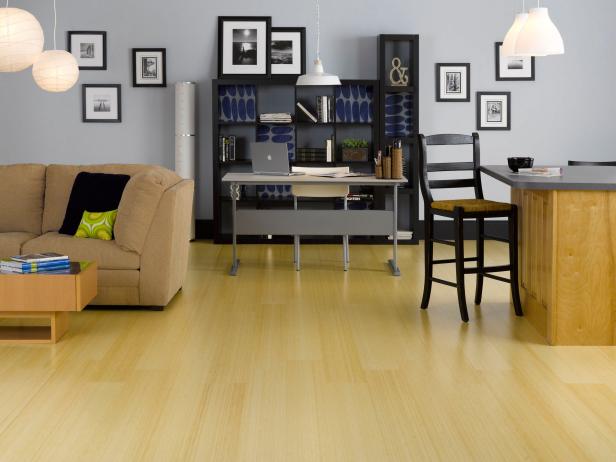 US Floors
Bamboo flooring
This increasingly popular flooring material is often thought of as wood, although it isn't a hardwood but a grass. Bamboo strands are glued together to form solid strips or engineered planks, just like hardwood. Cost to purchase and install are comparable to wood products.
Grain patterns include flat, vertical and woven. Flat grains display the intermittent growth nodes characteristic of the grass; vertical grains pack the strands closely together to produce a fine-grained appearance. Woven types have sinewy patterns.
Bamboo is tough and durable. Because it comes from plants that are easy to grow and regenerate quickly, bamboo is considered a sustainable material and an environmentally friendly flooring choice. Nevertheless, most bamboo is imported from Asia, and environmentalists point to the energy required to transport bamboo to the U.S. as a factor to consider when selecting green flooring.
Expect to pay $3 to $8 per square foot for bamboo flooring, and $7 to $12 per square foot installed.
Laminate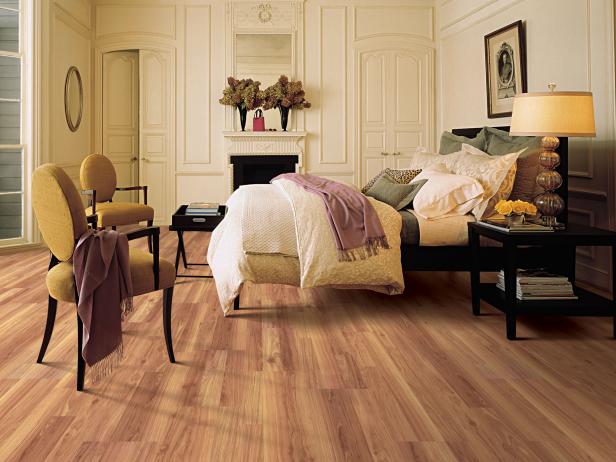 Low-maintenance laminate flooring offers an enormous variety of styles, colors and patterns. It's similar to engineered wood in that a top wear layer is backed by layers of plywood or compressed fiber backing that is extremely stable. The big difference is that the top layer is not real wood but a plastic coating applied over a photograph. The photo-realism technology that's used produces look-alike finishes indistinguishable from real wood and other materials such as stone, ceramic tile, even stained concrete.Laminates comes as planks or tiles. Most are floating floor systems, meaning they can be installed directly over old existing flooring without glue or nails — no tear-out is necessary. Laminate is a popular DIY flooring, but it's wise not to overestimate your skills — installing around corners and between door jambs takes patience and ingenuity.
Quality varies, and laminate flooring costs $1 to $7 per square foot. Installation adds $2 to $5 per square foot, depending on difficulty.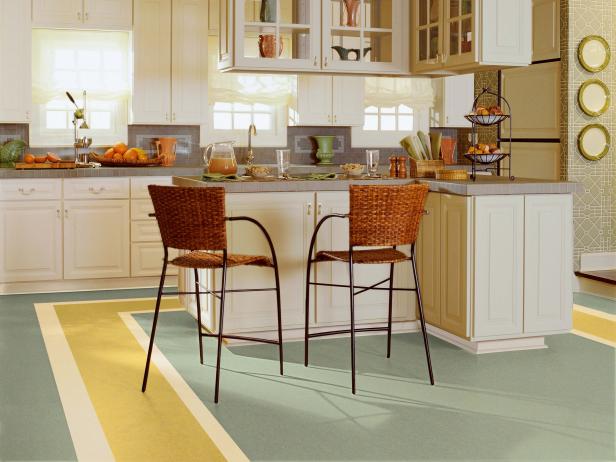 Armstrong
Linoleum flooring
Linoleum is made with renewable, biodegradable materials including linseed oil and cork. Mineral pigments are added to produce rich, vibrant colors. Linoleum produces no harmful vapors and is considered a top environmentally friendly flooring choice.
Linoleum comes as sheet goods designed for glue-down installation and as laminated planks and tiles that install as a floating floor system. Some manufacturers provide a protective coating that prevents staining and helps the product stand up to foot traffic. Linoleum without this coating should be refinished every two years.
Expect to pay $2 to $5 per square foot and $7 to $12 per square foot installed.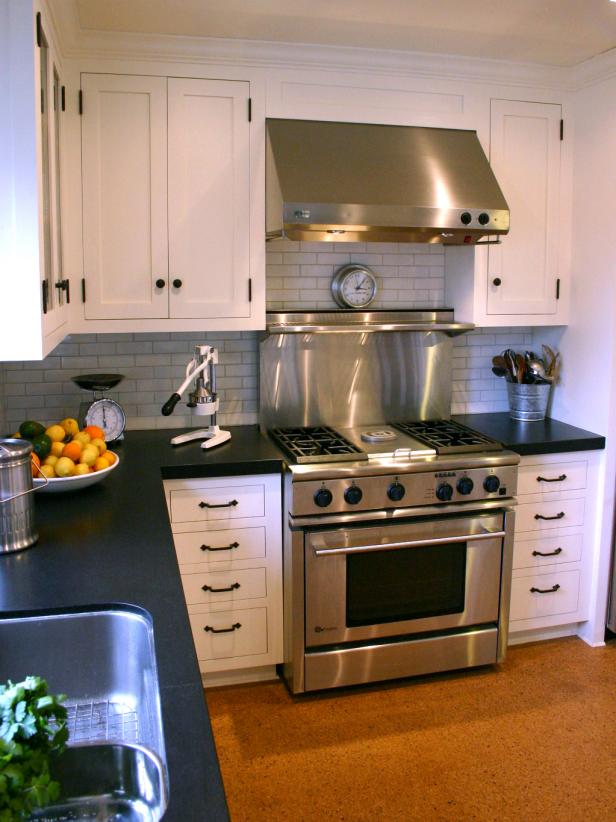 Cork flooring. Design by Linda Maglia
Cork comes from the bark of a tree. The bark is harvested every eight to 10 years and is a sustainable material, meaning the tree is not destroyed but is allowed to regenerate new bark that can be harvested repeatedly. Typically, cork-producing countries regulate production to ensure future harvests, so the impact on the environment is low.
Cork has a warm, natural appearance and is comfortable underfoot. It has unusual grain patterns featuring whirls and speckles. It comes in tiles or planks with a laminate construction — a top wear layer glued to a stable core material. Cork flooring is either glued down or installed as a floating floor. Cork flooring costs $2 to $6 per square foot; add $3 to $5 per square foot for installation.
Most cork flooring products are prefinished; however, they should be resealed every few years to renew the wear layer, guard against stains and seal out moisture. Polyurethane and wax are both good sealers for cork. Buy water-based polyurethane that's nontoxic or has low volatile organic compound content.
The many shapes, sizes, colors and textures of ceramic tile make it easy to create custom, one-of-a-kind patterns. Cost varies widely, and you'll find tile priced anywhere from $1 to $100 per square foot. Complementary decorative trim pieces and mosaic inlays quickly raise the total price of a tile installation. Expect to pay experienced tile-setters $4 to $12 per square foot.
Ceramic tile is made from a mixture of clay and shale that is baked and hardened in a kiln. Dry pigments added to the mixture gives the tiles earthy tones that range from ocher to deep red. Be sure to purchase only tile that is rated for use on floors.
Ceramic flooring tile comes as one of four basic types:
Glazed ceramic has a glasslike coating that is applied prior to firing. The coating gives the tile an unlimited variety of colors and textures and makes the material virtually maintenance-free.
Quarry tile is unglazed ceramic tile. Colors come from pigments added to the clay mixture. Quarry tile has a slightly rough texture that provides better slip-resistance than glazed tile.
Porcelain tile is fired at extremely high temperatures. The result is a tile that's especially hard and durable. Porcelain tile is resistant to staining and is a good choice for exterior applications. It's available either glazed or unglazed.
Terracotta is an unglazed tile with earthy colors and rustic appearance. It is not as durable as other tiles and must be sealed periodically to prevent staining.
Some ceramic floor tiles come with an anti-slip finish that provides excellent traction even when wet. Choose tiles that meet the slip-resistance standards of the Americans With Disabilities Act.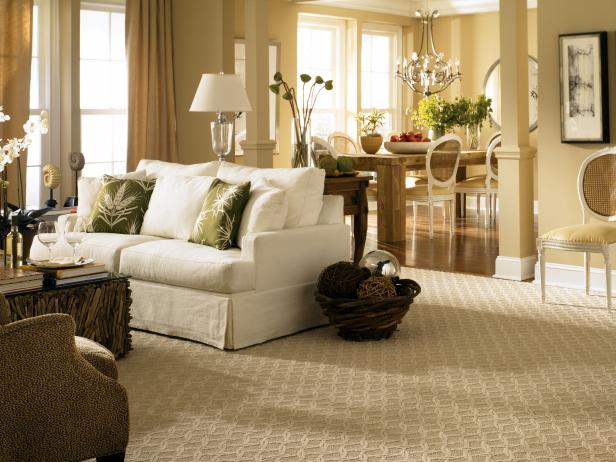 Carpeting is one of the most versatile of all flooring options, featuring more colors and textures than any other type of flooring. When judging carpet quality, a simple rule of thumb is to ask about the density of the fibers used to make the carpet — the more fibers per square inch, the more durable the carpet.
Most carpeting is made by pulling the fibers through a woven backing; then additional layers of backing are glued on to provide strength and thickness. A carpet pad adds cushioning and helps prolong the life of the carpet. Indoor/outdoor carpeting withstands weather and usually is installed without a pad.
Some carpets use a rating system that indicates the product's ability to withstand wear and tear. Found on the carpet label, the system is graduated from 1 to 5, with 5 being the best. A rating of 3 to 4 is considered normal.
Carpeting costs $2 to $12 per square foot. Add 50 cents to $2 per square foot for padding and installation, depending on the complexity of the job.
Wool carpeting is the standard of quality. It's naturally durable and resistant to moisture and stains, and it's considered to have the best feel against hands and bare feet. With the exception of wool, most carpets are made of synthetic fibers. Various types include the following:
Nylon is exceptionally strong and resistant to wear. Make sure the carpet you buy is treated to reduce static electricity.
Acrylic has physical properties that approximate wool. It resists wear, crushing and mildew, and it's inhospitable for insects.
Polyester produces bright colors and is highly resistant to moisture, but stains can be difficult to remove.
Polypropylene olefin is used for indoor/outdoor carpeting. It's extremely resistant to stains, moisture and mildew.
If you're looking for a little touch of luxury, stone floor tile provides quality, at a premium price. You'll pay from $2 to $100 per square foot for natural stone tiles made of granite, marble, limestone, slate and travertine. Installation adds $5 to $10 per square foot.
The ability of stone to resist moisture and staining depends on its hardness. Softer stones such as sandstone and limestone must be finished every few years with a stone sealer. Harder stones, such as granite and marble, should be sealed every four to five years.
Honed and polished stone tile can be slippery when wet, so choose stone that has a textured, skid-resistant surface for kitchens and master bath applications.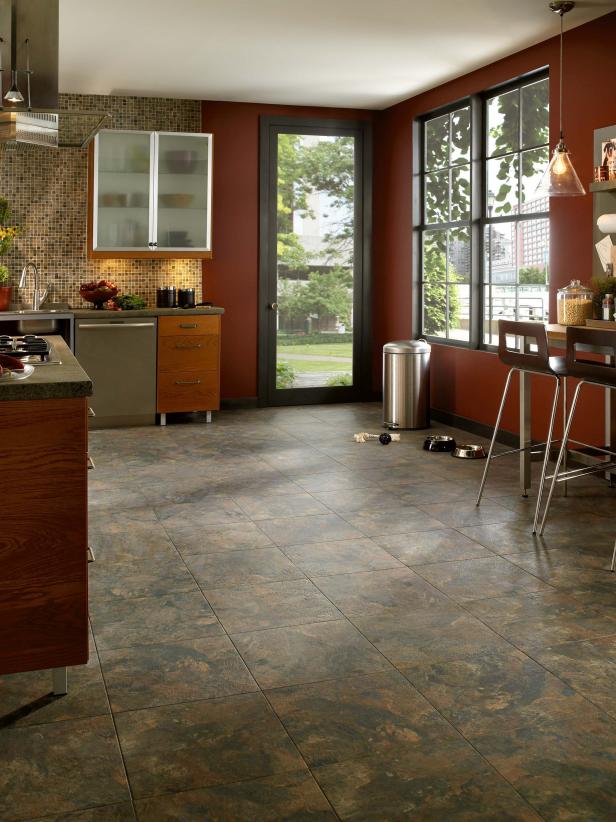 Vinyl tiles and sheet goods are called resilient flooring — they're flexible and slightly soft underfoot. They're tough, durable and virtually maintenance-free. Vinyl comes in an array of colors and patterns at relatively modest cost. Although you'll pay as little as $1 per square foot, there are fewer style options among the less-expensive types.Vinyl products are backed with a layer of felt. Cushioned vinyl is backed with a thin layer of foam that offers an extra measure of comfort and safety. In general, a thicker vinyl surface means better quality and higher price. Thicker vinyl can have a textured surface that looks like real stone and wood.
Vinyl flooring has a wear layer on its upper surface that helps resist stains and scratches. The best vinyl products provide warranties on the wear layer of as much as 15 years, and you can expect good-quality vinyl to last 20 years.
Vinyl tiles and sheet goods cost $1 to $5 per square foot. Installation adds $1 to $2 per square foot, depending on the complexity of the project.
Unique Recycled Hardwood Floors
Reclaimed wood creates floors that are truly one-of-a-kind and Mother Nature-friendly.
Recycled cherry wood has been cut into end-grain blocks for use in their basement game room area. A chandelier hangs above a billards table next to bar stools. Two chairs, a table, and a TV are against a brick wall.
If you love the richness and warmth of wood floors but are concerned about depleting the environment, try reclaiming a bit of history to get those beautiful and truly unique floors without ravaging nature in the process. Using salvaged wood is the ultimate in recycling, and it's a growing trend that's not only eco-friendly but stylish, too.
Reclaimed wood was harvested anywhere from 100 to 300 years ago and was used to build railroad trestles, old barns, industrial warehouses and other structures. Wood salvaged from the demolition of these structures can have a new lease on life in your kitchen floor as well as its walls, ceilings, cabinets and countertops. Sustainability isn't this wood's only advantage; reclaimed wood is denser, more stable, adds instant history to your home and is the only source for such bygone species as heart pine and chestnut.
Reclaimed wood comes with plenty of history and character, which is what people value about reclaimed wood, says interior designer Elizabeth Schultz of DesignWorks in Bozeman, Mont. For one client's kitchen, Elizabeth used reclaimed Douglas fir from an old railroad trestle that ran over the Great Salt Lake.
"The colors of the planks vary quite a bit," says Elizabeth. "This is due to the effects of the salt in the air. Personally, I think this adds to its character. Part of the beauty of the trestle wood is its variation in color and that so many other wood tones such as cabinets, beams, furniture, etc. will easily blend or coordinate with it."
David Foky of Mountain Lumber of Ruckersville, Va., agrees with Elizabeth that the major draw of reclaimed wood is its looks. He cites its "wow" factor and calls reclaimed-wood floors "trophy floors," because they're so gorgeous.
"If reclaimed wood still had all these advantages but looked bad, no one would buy it," David says.
They're not just another pretty floor, however. There's also the eco-factor, and then the storytelling element. Mountain Lumber gives you a printed history of your floor. So if you're cooking atop planks from former Guinness beer barrels, you'll know it.
And if you've fallen in love with heart-pine flooring, salvaged lumber is the only way you'll have such beauty in your kitchen since the old-growth longleaf pine is no longer around in any quantity. The same is true for the beautiful American chestnut. Much of the reclaimed wood was originally harvested from the 1700s through the late 1800s, when the old-growth forests were exhausted. And that's not a replaceable resource since old growth equals slow growth. It grew slowly due to larger trees above acting as a canopy and limiting sunlight and rainfall. That slowly grown wood is much denser and stronger than other wood, such as that from sustainable forests, which grows faster.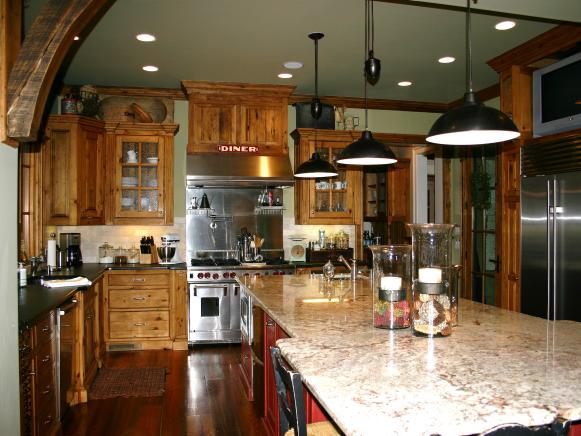 Reclaimed wood floors take center stage in this rustic-inspired kitchen with wood cabinetry, stainless steel appliances, and a large island with pendant lighting.
In the 1970s, some hardy and enterprising people started realizing that some good wood was being thrown away. So they offered to cart it away from demolished structures such as mills and warehouses (and even scraping it from the bottom of Lake Michigan), saving wood destined for the dumpster and reusing it for building or renovating homes and businesses. The business has been growing every since, David says.
With numerous dealers to choose from, potential buyers should do their homework first. Reclaimed wood has often had more than one previous incarnation and it behooves the customer to know just what those past lives entailed. The quality of the wood, says David, depends on its source.
"We would never reclaim wood from a tannery, because all the toxic chemicals used in the process permeate that structure," David says. "There should be a connection between the people bringing down the lumber and the people selling it to you."
Those people should also kiln-dry their wood, heating it to a specific temperature for a specific amount of time, for two important reasons, says David.
"That wood could have been out in the rain for two years," he notes. "And the other reason is to kill any bugs. The blight fungus that killed the American chestnut could still be in there. Run screaming from any dealer who doesn't kiln-dry their wood."
David stresses protecting your beautiful floor once it's laid down, too. Moisture and grit are the two things he warns against, and a professional-grade polyurethane coating can take care of both worries.
And, since there are no industrywide standards on the grades of wood, you should select a company that publishes its grading system so you have on paper or in a computer file just what is promised.
The Reclaimed Wood Council is working on standards for the industry, but in the meantime, buyer beware — even better, be a researcher before buying.
Bill and Betsy Peabody of Lake Sunapee, N.H., put reclaimed Douglas fir floors throughout most of their timber-frame house at their architect's suggestion. Betsy says that they were sold by the color and richness of recycled wood, as well as its softer qualities.
"It's easy on your legs," she says. The Peabodys built the house not once, but twice. They were just starting to move in when the newly finished house burned to the ground.
The Peabodys, their son (who built the house) and the architects, O'Neil Pennoyer Architects, repeated the whole process again, reclaimed lumber and all, and moved in a year later. Barring any other such unfortunate incidents, their floors have perhaps as much as another 100 years of use — and beauty — in them, enough for several generations.
Duluth Timber Company
www.duluthtimber.com
Mountain Lumber
www.mountainlumber.com
Goodwin Heart Pine Company
www.heartpine.com
Appalachian Woods
www.appalachianwoods.com
Push Hard Lumber Company
www.pushhardlumber.com
Pioneer Millworks
www.pioneermillworks.com
The Woods Company
www.thewoodscompany.com
Please note that this Scottsdale Real Estate Blog is for informational purposes and not intended to take the place of a licensed Scottsdale Real Estate Agent. The Szabo Group offers first class real estate services to clients in the Scottsdale Greater Phoenix Metropolitan Area in the buying and selling of Luxury homes in Arizona. Award winning Realtors and Re/MAX top producers and best real estate agent for Luxury Homes in Scottsdale, The Szabo group delivers experience, knowledge, dedication and proven results. Contact Joe Szabo at 480.688.2020, [email protected] or visit www.scottsdalerealestateteam.com to find out more about Scottsdale Homes for Sale and Estates for Sale in Scottsdale and to search the Scottsdale MLS for Scottsdale Home Listings.