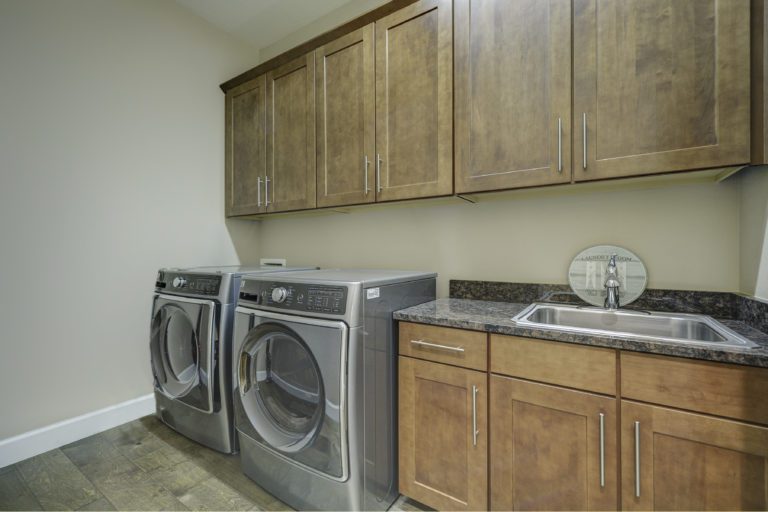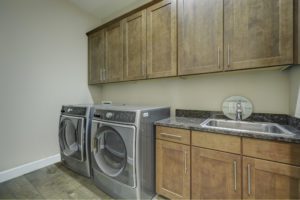 Although it's a necessary evil, doing the laundry is often ranked as one of everyone's least favorite chores. There are so many different brands, styles, and features available, too. Should you go with a front-load or top-load washing machine? High-efficiency (HE) or regular washer? Gas or electric dryer? And which brand of washer and dryer should you choose?
We'll advise you on how to buy a washer and dryer, including features to favor and which model is best for your needs.
The type of washer and dryer you get will depend largely on the space in your home. For example, laundry might be allocated to a narrow closet in your home, making your only option a stackable washer and dryer set. These units tend to be smaller, meaning you might not be able to fit your large comforters in your machine, though they are convenient for limited spaces. Compact dryers are also ideal for smaller spaces and those who need specific features. Dryers are available as gas or electric, so which you purchase will be a result of what your house supports.
Standard washers are often (but not always) 27 or 27.5 inches wide, with a capacity from 3.1 to 6.2 cubic feet. How much laundry they hold will depend on the style: A front-load washer will handle more clothes and bulky items, such as comforters, than top-loaders with agitators. Though, on average, you'll usually fit between 5 and 10 pounds of clothes at one time. Compact machines are typically 24 inches wide and have up to 3.0 cubic feet of capacity, though they're often closer to 2.2 or 2.4 cubic feet. You can generally fit between 4 and 8 pounds of clothes in their drums.
Washer and dryers are big appliances. You might be wondering if you'll be able to get them into your home easily. Doorways and hallways in most homes can handle items that can fit through a space 30 to 31 inches wide. Regardless of the type of machines you end up purchasing, be sure to account for an extra 4 to 6 inches behind the washer and dryer for the hook-ups, plus an inch or so around the sides and top for airflow and making them easier to remove. There aren't standard measurements for height or depth, either, so you'll want to make note of those. Don't forget that your top-loader will need around 20 inches to lift, while a front-loader's door needs 20 to 25 inches of clearance. Double-check that your choice of front-loaders are stackable, as not all of them are.
Capacity is important when choosing an accompanying dryer as well. The first thing you'll notice is that dryers hold more than washers. That's because your clothes fluff up and take up more space as they dry. What you don't want is a dryer that holds less laundry than your washer — otherwise, you'll be drying in shifts. To avoid this, just look for a dryer with about double the capacity of your washer. That might not be strictly possible with compact models: Bosch's compact washers have 2.2 cubic feet of space, while their dryers have 4 cubic feet. As long as you're pretty close to double the size, you shouldn't have to overload your dryer.
The washing bins on top-loaders are so deep that it may be hard for shorter people to reach the bottom to retrieve clothes unless you choose a shallow dryer. When perusing them in the store, open the top and see if you can touch the bottom comfortably. If you have to lean in too much and you find yourself on your tippy-toes, a top-loader probably isn't for you. Do you really want to stand on your toes to do laundry for the next 10 years?
Many top-load models today have foregone the inner agitator (the big spinning rod inside the machine) for a hollow bin. Some even have a stainless steel tub. The benefit of these is that they can handle higher spin speeds. Ultimately, this means it will take less time for your clothes to dry. Front-loaders still have greater maximum spin speeds, so they'll make drying even more efficient.
Front-loading machines tend to be more expensive and have a ton of features, even on the most basic models. It can be hard to find one for under $500. Front-loaders require regular maintenance on the sensors — wiping down once in a while to keep them in good working order. Some models could potentially attract mold. This is an easy fix: Either occasionally wipe the front area where water can accumulate or leave the door open after use. Yes, the light may stay on for a minute or two if the door is left open, but it may shut off, or you can turn the washer off.
The other issue to consider is bending down to open the doors. Of course, the manufacturers took this into consideration and offer pedestals that the washer and dryer can be placed upon, making them taller and much easier to use. Though, if you struggle to bend down, you'll want to address this before purchasing one. Some also have drawers underneath for storing detergent and fabric softener. Unfortunately, these aren't included in the price and generally cost a few hundred bucks extra. Occasionally, some deals offer a discount on the pedestals when buying the washer and dryer, but don't count on it.
Please note that this Scottsdale Real Estate Blog is for informational purposes and not intended to take the place of a licensed Scottsdale Real Estate Agent. The Szabo Group offers first-class real estate services to clients in the Scottsdale Greater Phoenix Metropolitan Area in the buying and selling of Luxury homes in Arizona. Award-winning Realtors and Re/MAX top producers and best real estate agent for Luxury Homes in Scottsdale, The Szabo group delivers experience, knowledge, dedication and proven results. Contact Joe Szabo at 480.688.2020, [email protected] or visit www.scottsdalerealestateteam.com to find out more about Scottsdale Homes for Sale and Estates for Sale in Scottsdale and to search the Scottsdale MLS for Scottsdale Home Listings.