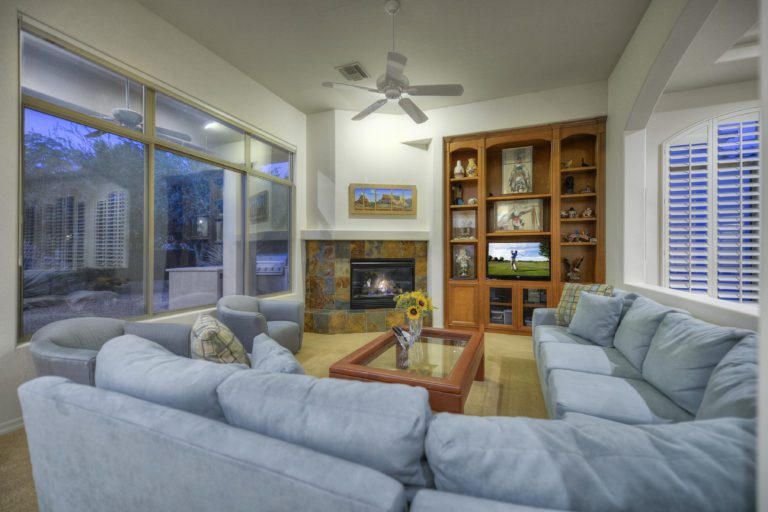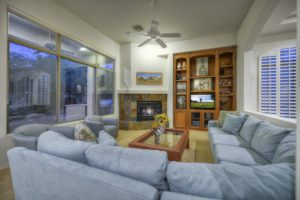 By Joe Szabo, Scottsdale Real Estate Team
Adding your own touches, and perhaps getting rid of the previous tenant's, helps make a new place feel like home. Just make sure you understand the terms of your rental lease agreement before modifying anything. Some landlords allow tenants to paint the walls, while others don't want so much as a nail in them. Here are ways to cozy up your rental space without fear of losing your deposit.
Freshen up
Weird smells happen, whether it's smoke or something funkier. Try to find the source of any unsavory odors, because masking them with fragrances may only make it worse. If you aren't sure of the source, put white vinegar in a bowl and circulate air throughout the rental by turning on a fan and opening windows and doors. You can also combine equal parts of water and white vinegar as a neutralizing spray. You can also sprinkle baking soda over carpet and other fabrics to help neutralize smells. And if the aroma is coming from the garbage disposal, grinding up lemon or orange peels will do the trick. If your rental lease allows it, painting the walls can also be a great way to get rid of those all-too-common musky or smoky smells – and give you a fresh color palette.
Find your style
Not sure whether you're contemporary or traditional, country or cottage? Decorating sites let you explore design trends and find the style that suits you best. An eclectic mix of styles — like sleek modern furniture with vintage accessories — can help strike a comfortable balance and really make your place feel like home. The key is finding what inspires you and incorporating elements of it throughout.
Make your temporary mark
Even if you can't make permanent changes, there are plenty of ways to personalize a rental:
Change up window dressings if your lease allows it. Switching out basic aluminum mini blinds for flowing curtains or even a modern print can transform the look of a space.
Add a rug or two. Rentals often come with less-than-desirable flooring. A fun rug — even laid on top of carpet — can detract the eye from what's beneath it. Use rugs with distinct colors and textures to make them pop.
Try removable wallpaper or decals, which allows you to add personality to your space without making any permanent changes.
Simple touches like throw pillows are a great way to add personal flair without a huge investment.
Maximize small spaces
There are plenty of simple ways to optimize your space and make it appear larger:
Think about flow and furniture placement. Whether you want to apply the Chinese philosophy of feng shui or would just like to create a space that works best for your lifestyle, consider the location and position of your furniture. Resist the urge to push everything against a wall and opt instead to place certain pieces diagonally, such as putting a loveseat in a corner.
Let there be light. Even if your rental doesn't have great natural or overhead lighting, you can brighten up your space (and mood) with a range of lighting fixtures, from trendy corded chandeliers to minimalist floor lamps.
Add mirrors. They can do wonders for rooms with limited space or lighting, helping to replicate the feel of a window.
Get smart with storage
There's no such thing as too much storage, and most rentals rarely have enough of it. Some tips:
Take advantage of unused space. Areas like the back of a door or under a bed are great places for storage. Behind-the-door shoe holders, for example, can double as organizers for numerous small items, from makeup to mail.
Go tall. The higher the bookcase, the more storage you'll have. Keeping the horizontal footprint small will make your place look larger and save room for the furniture pieces you really want.
Limit the stuff. Moving is an ideal time to pare down your belongings and donate or get rid of what you don't need. The less stuff you have, the bigger (and more organized) your place will appear.
Plant a container garden
Nothing breathes life into a place quite like plants, and container gardening works well in even the tiniest of spaces. Learn how to grow one of your own.
Show off the place
The place won't really feel like home until you open it to friends and family. Hosting a party is also the ultimate motivator to get your space into shape. Worried about entertaining in tight quarters?
Edit your guest list. You don't have to invite everyone you know, especially if you're limited on square footage. Make sure you'll have enough room for guests to move around without stepping on each other.
Keep the space open. If you have multiple rooms, you may want to move some of the bulkier furniture to an area guests won't see.
Assume spills will happen. And the smaller the space, the greater likelihood of it. If you have white carpeting and don't know any red wine removal techniques, consider serving white wine or beer. Cheers on finding your new place!
Please note that this Scottsdale Real Estate Blog is for informational purposes and not intended to take the place of a licensed Scottsdale Real Estate Agent. The Szabo Group offers first class real estate services to clients in the Scottsdale Greater Phoenix Metropolitan Area in the buying and selling of Luxury homes in Arizona. Award winning Realtors and Re/MAX top producers and best real estate agent for Luxury Homes in Scottsdale, The Szabo group delivers experience, knowledge, dedication and proven results. Contact Joe Szabo at 480.688.2020, info@ScottsdaleRealEstateTeam.com or visit www.scottsdalerealestateteam.com to find out more about Scottsdale Homes for Sale and Estates for Sale in Scottsdale and to search the Scottsdale MLS for Scottsdale Home Listings.