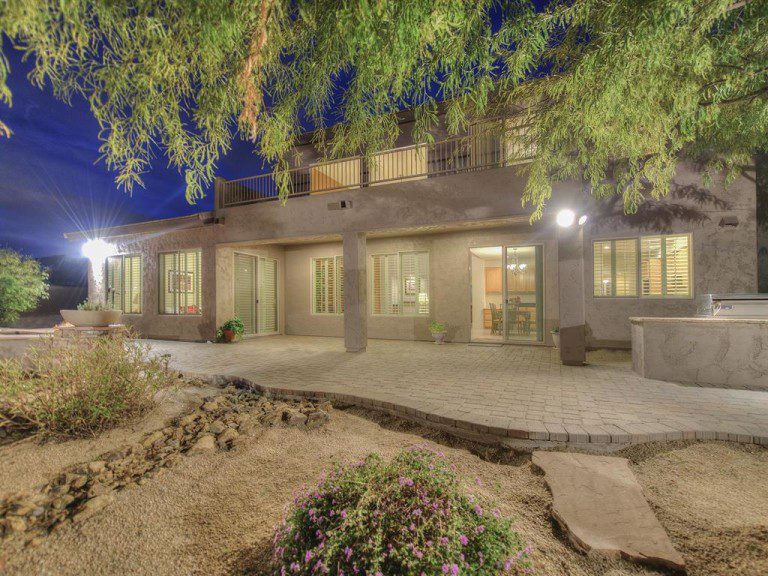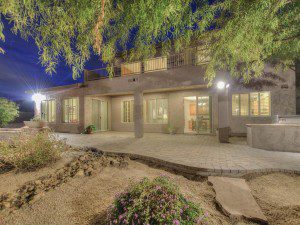 By Joe Szabo, Scottsdale Real Estate Team
Landscape lighting can turn a visitor from feeling wary to welcome. It can change the rest of the yard from "Nightmare on Elm Street" to "Some Enchanted Evening," all with the flip of a switch.
The first step in this transformation is to educate yourself about the possibilities. Because photos rarely do justice illustrating the amazing possibilities of landscape lighting, keep an eye out for good examples when you're out for an evening stroll or drive.
The strong lights typically used for entrances and to illuminate large areas, such as driveways and decks, are powered by a 120-volt current. A qualified electrician must wire them directly to your circuit box and the cables, held within a protective conduit, must be buried at least 18 inches below ground. If you have these fixtures, make sure they are UL-listed and approved for outdoor use. The 120-v outdoor lights are also preferred for security applications, especially when combined with motion detection.
When less light is sufficient, low-voltage fixtures (12- to 15-v) are the norm. These include accent lights, path lights, and small floodlights. The fixtures are smaller and less obtrusive, use less energy, and are far less worrisome when in wet locations. They can also be plugged into an outdoor receptacle, making them ideal for do-it-yourself installations. The wiring does not require tools, and the cables do not need to be buried.
Solar-powered outdoor lights, a third option, are of course dependent upon exposure to the sun, and are variable with regard to output and when they turn on. They are best used to light paths where they are exposed to full sun throughout the day. Don't put them in the shade!
Planning for outdoor lighting
Plot out your ideas on graph paper. Draw the footprint of your house to an 1/8-inch scale and sketch in all major landscape elements, including fences, decks, tree, paths, driveways and garden beds. Include the location of any existing or proposed outdoor receptacles as well.
Make notes about what you'd like to illuminate and then decide which fixtures will do the job best. Try to use a variety of lighting techniques. Avoid overly bright and dark areas, and avoid glare for both visitors and your neighbors. Do not place path lights too closely together to avoid the "runway" look. You'll also have to decide about fixture style, of which there are many!
Please note that this Scottsdale Real Estate Blog is for informational purposes and not intended to take the place of a licensed Scottsdale Real Estate Agent. The Szabo Group offers first class real estate services to clients in the Scottsdale Greater Phoenix Metropolitan Area in the buying and selling of Luxury homes in Arizona. Award winning Realtors and Re/MAX top producers and best real estate agent for Luxury Homes in Scottsdale, The Szabo group delivers experience, knowledge, dedication and proven results. Contact Joe Szabo at 480.688.2020, [email protected] or visit www.scottsdalerealestateteam.com to find out more about Scottsdale Homes for Sale and Estates for Sale in Scottsdale and to search the Scottsdale MLS for Scottsdale Home Listings.