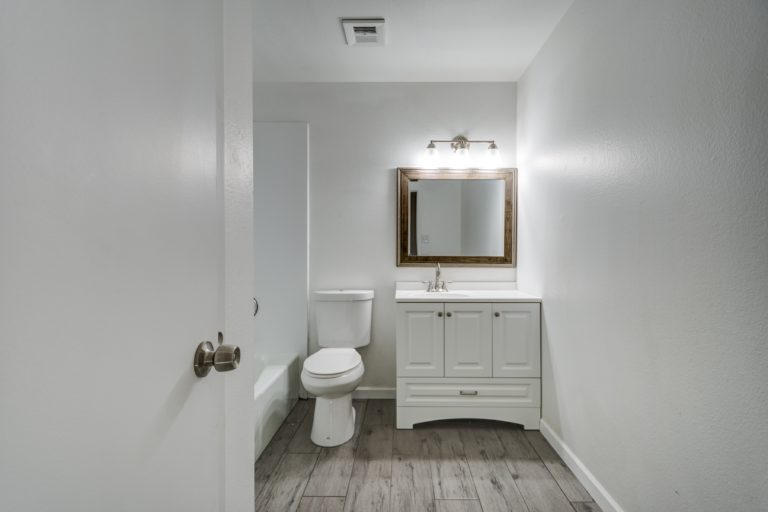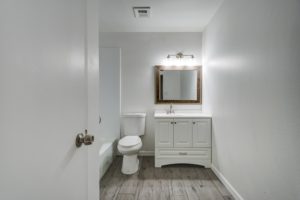 By Joe Szabo, Scottsdale Real Estate Team
If your home was built before 1970, you likely have one bathroom for your entire household. This probably means that everyone scrounges for counter space and fights over shower time, leaving you wishing for another bathroom.
But how hard is it to add one? What kind of design do you need? Where would you even find room for it in your home?
We posed all these questions and more to Lora Lindberg and Debbie Cederlind, house flipping pros and owners of Seattle-based Urban Squirrel. Here's their expert advice on adding a bathroom to your home.
Location, location, location
According to Lindberg and Cederlind, finding a good location for your extra bathroom is half the battle — and completely depends on your home's layout.
When the designers were restoring a 1920s craftsman in Seattle, they added a powder room to the main floor to increase accessibility for guests who may not be able to use the stairs to get to the main bath.
"First, we called our plumber. He had to figure out how to get water lines and waste lines [to the powder room]. We had to make sure it worked before we framed it in," Lindberg recalls.
To find a good spot in your own home, look at where the existing water and waste lines are, and make sure you have an existing wall that's at least 2 feet by 4 feet.
"The best scenario is keeping all your water in one area of the home," advises Cederlind. "If you're totally moving it to another side of the home, proximity to the waste lines is always important."
Another thing to keep in mind, the designers say, is that you have to run water and waste lines between floors, which can make adding a bathroom upstairs rather tricky, but not impossible.
"Look at existing plumbing, then see if you can put another bathroom above or below and still tie into the existing waste lines. That's key," says Cederlind.
Homeowners with single-story layouts will have the easiest time adding in a bathroom because they can simply run the water and waste lines through a crawl space below.
But the duo says that no matter how many stories your home has, you still have to factor in an exhaust fan, which must vent to the home's exterior, and the proper slope for the waste line, which must run downhill.
Additionally, Cederlind and Lindberg always make sure they include a tub somewhere in the home, which can boost resale value. Master showers with double heads or seating are nice, but it's important to have a tub somewhere in case you — or a future buyer — have kids.
You also need to think about what kind of natural light, if any, you can bring into the bathroom.
"I'm a big fan of ventilation, like an open window," says Cederlind. "We always try to incorporate that. Everything has to be ducted with fans now, but there's something about cracking open a window in a bathroom. If you have an outside wall in your new bathroom space, adding a window for natural light is well worth it."
Build to code  
Your city or state might have different building codes than what Lindberg or Cederlind adhere to in Seattle, but you should always ensure that your bathroom configuration is legal and that you have the correct amount of space around the fixtures.
To really make sure your bathroom is up to code, it's best to get a permit for the work.
"Having a permit for your work usually makes buyers feel better, because they know the work was inspected. We've had to rip out a lot of poorly done DIY projects in the homes we remodel and start from scratch," Cederlind says.
Although getting a permit and working to code might take more time, it's worth it in the end. Plus, it can guarantee that whoever is doing the work does it the right way.
"We know our contractors, and they always do things to code, whether we get a permit or not. But if I were a homeowner hiring contractors for the first time, I'd want to know they're being checked," Lindberg says.
Cederlind and Lindberg also advise working with licensed, bonded, and insured contractors so you're protected in case anything goes awry.
When it comes to design, make it luxe
When Cederlind and Lindberg designed their powder room, their ultimate goal was to make it fun and luxurious.
Because the space was so small, they hung a wall-mounted toilet and sink, which they rescued from the basement bathroom, and installed a pocket door to maximize space.
They made the small space feel large and luxe with jewel-box paneling, a glamorous chandelier, and a bold paint color.
"Designers like to go bold in powder rooms because they're small, so it doesn't take a lot of effort. Guests are mostly going to use it, so it's a fun place to experiment and make them feel special," Cederlind says.
When it comes to design, Cederlind and Lindberg suggest neutral, classic tones for tiles and fixtures, mixed with bold rugs, candles, and paint colors.
But no matter how you design your extra bathroom, it's going to add value.
Please note that this Scottsdale Real Estate Blog is for informational purposes and not intended to take the place of a licensed Scottsdale Real Estate Agent. The Szabo Group offers first class real estate services to clients in the Scottsdale Greater Phoenix Metropolitan Area in the buying and selling of Luxury homes in Arizona. Award winning Realtors and Re/MAX top producers and best real estate agent for Luxury Homes in Scottsdale, The Szabo group delivers experience, knowledge, dedication and proven results. Contact Joe Szabo at 480.688.2020, [email protected] or visit www.scottsdalerealestateteam.com to find out more about Scottsdale Homes for Sale and Estates for Sale in Scottsdale and to search the Scottsdale MLS for Scottsdale Home Listings.