Purge Paper. It's easy to let papers pile up in your home office. Get control of the clutter before it takes over your space. Go through every piece of paper in your office by using the System of Three: shred/toss it, file it or take action from it. File your important paperwork in a color-coded filing system.
Color-Code Your Filing System.

A well-organized filing system is a good indication of a functional office space. To organize, separate the filing system into five color-coded categories:
Green – Financial

Red – Medical

Orange – Personal

Yellow – Insurance

Blue – House
Label each hanging folder according to your needs.
Create a Mail Station.

In order to maintain control of the paper coming into the home office, create a mail station. Make a folder for incoming and outgoing mail, mail to file, bills and a folder for every family member.
As soon as the mail comes in, file it in the mail station. Then once a week, take a few minutes and go through each folder.
Create a Printing Station.

Designate a space in your office to house the printer and printer supplies. If you have a wireless printer, it doesn't need to go on your desk. By placing it in a cabinet or other area in your office, you will gain much more space on your desk for other items.

Store in Containers.

Store all your office supplies in containers, drawers, baskets and bins. Putting all these supplies out of sight will give your office a decluttered look.

Use a Label Maker.

Invest in a good label maker and label your files, drawers and boxes for an easy way to organize your office. Whenever someone needs something, you will know exactly where it is.

Categorize.

Organize your office into categories, placing like items together. By doing this, your office will become more functional. For example, look in your mail drawer next time you need stamps.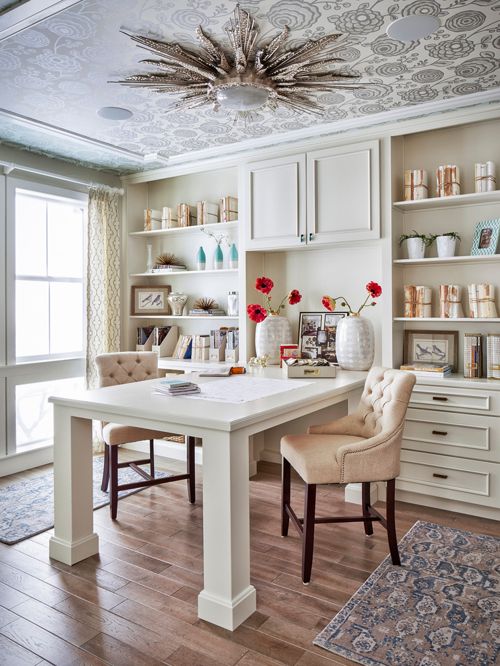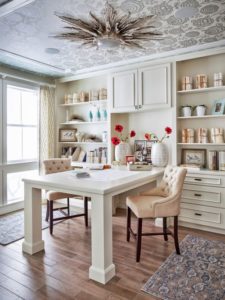 Common Categories:
Stickies (sticky notes, tabs, stickers, etc.)

Tools (straight cutter, staple, staple remover, hole puncher)

Budget (checkbook, calculator, bill calendar)

Writing Tools (markers, pens, pencils)

Mail (envelopes, stamps, address labels)

Labeling (labeler and label tape)
Organize Your Books.

You can organize books by genre, color or size depending on your preference. Organizing by color will add a stunning design element while giving your space a clutter-free, organized look.

Create Life Binders.

Organize your most important papers in binders for easy grab-and-go in case of an emergency. For example, if there was a medical emergency, you could grab your medical binder and have all the information you need immediately.
Here are some top binder categories:
Medical – This binder is where your family's medical records are kept. If you ever need to go to a new doctor or if you have a complex medical diagnosis, everything is organized in one spot.
Pet – This binder should contain your pets' medical records, shot records and medications.
Auto – This binder is designated for all car repairs, maintenance records and car insurance papers.
Manuals – Store your manuals in one place in this binder. You can even separate the binder by sub-categories, such as appliances, electronics, garden and house.
House – Store all house-related information here, such as maintenance, pest control, security system and contact numbers for handymen.
Personal – This binder can store anything else that doesn't fit in another category or file.
Utilize Wall Space.

This is often the one step people miss when organizing their office. Use your wall space to hang filing systems, calendars, whiteboards, shelving and more.  There is so much more space available when you go vertical.
Please note that this Scottsdale Real Estate Blog is for informational purposes and not intended to take the place of a licensed Scottsdale Real Estate Agent.
The Szabo Group offers first class real estate services to clients in the Scottsdale Greater Phoenix Metropolitan Area in the buying and selling of Luxury homes in Arizona. Award winning Realtors and Re/MAX top producers and best real estate agent for Luxury Homes in Scottsdale, The Szabo group delivers experience, knowledge, dedication and proven results. Contact Joe Szabo at 480.688.2020, info@ScottsdaleRealEstateTeam.com or visit www.scottsdalerealestateteam.com to find out more about Scottsdale Homes for Sale and Estates for Sale in Scottsdale and to search the Scottsdale MLS for Scottsdale Home Listings.