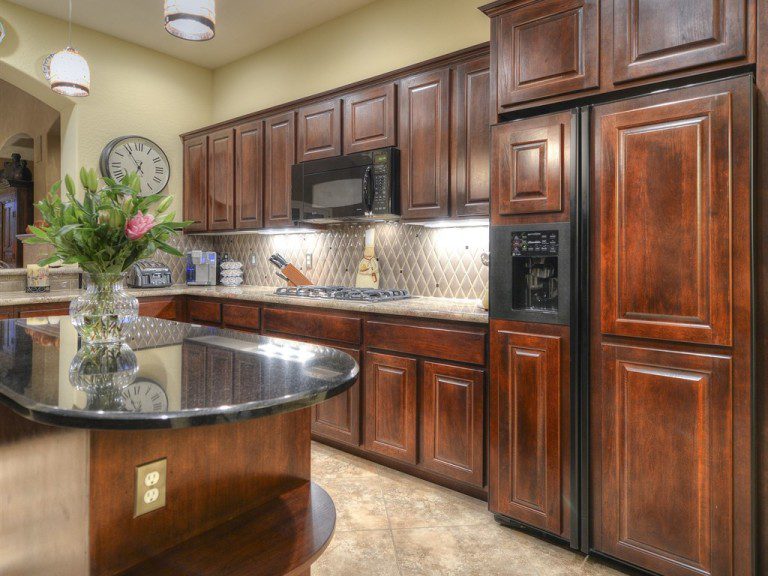 By Joe Szabo, Scottsdale Real Estate Team
You've sought out all types of storage solutions for your home. You've used hooks and bookshelves, storage containers, etageres, and even the tried-and-true tension rod.
Now that you're out of storage options for your home, you've turned to the idea of open shelving. What took you so long? It looks fantastic in nearly every room in the house. Yes, even the kitchen. Here are some favorite ways to utilize open shelving as an elegant solution for several rooms in your home.
The kitchen
Kitchens wear this storage solution particularly well. First, remember you don't need to use open shelving everywhere. This type of storage generally looks best when it's complemented by cabinets and drawers. Open shelving can serve as an accent above the sink, or as panels to break up rows of mundane cabinetry.
Place items you use every day on the open shelves. Storing your morning coffee mug, utensils or dinner plates on open shelving means quicker access for you during your morning rush, and an easier time for your guests to find an extra fork. Make sure to stow the things you reach for more often on the lower shelves, and decorative items toward the top.
If you're worried about dust or dirt, keep the shelving units away from dusty areas like windows or entries, and instead locate them more centrally in the kitchen.
The bathroom
Often a space where extra storage is most valuable, bathrooms are a great place to try out open shelving. Because most bathrooms are designed to be clean, sleek spaces, open shelving helps to reinforce that aesthetic while providing ample storage for your everyday products.
While open shelving might not be the best storage solution for everyone (those with kids and curious pets, take heed), it's a fantastic way to open up your bathroom and elevate the room's style.
Use small corners for square shelving to hold apothecary jars full of cotton balls, cotton swabs, and other bathroom necessities. Instead of art or another mirror, install three long shelves on the wall and place accessories like vases, greenery, pictures, or other trinkets to inspire an energetic morning or a calming bedtime wind-down ritual.
The bedroom
When you've run out of closet space and under-the-bed storage options, it's time to look to the bedroom walls. Favorite ways to use open shelving in the bedroom are directly above the bed in lieu of a headboard, above a vanity or desk, and in a reading corner adjacent to a wingback chair or loveseat.
If you opt for open shelving overhead instead of a headboard, make sure you install it at a comfortable height so as not to go bump in the night. Consider installing lighting right below the shelving to provide extra task lighting for late-night reading.
By placing the open shelving near statement furniture, you eliminate the need for art or wall mirrors, and instead can use that space for extra storage needs. If you're feeling adventurous, rustic wood or industrial metal shelving are stunning options.
The dining room
Think of open shelving as a modern alternative to a china cabinet. If you choose to use open shelving in your dining room, take note of a few points.
Second, don't overcrowd the shelves. Dining rooms are a more formal space than say, the kitchen, so you don't need to overload your shelves with many different pieces. Instead, choose a row of goods you'd like to display and stick with it.
Finally, blend the shelving in with the wall. Making sure the open shelving is flush against the wall keeps the aesthetic clean and streamlined. When in doubt, opt for white shelving.
Please note that this Scottsdale Real Estate Blog is for informational purposes and not intended to take the place of a licensed Scottsdale Real Estate Agent. The Szabo Group offers first class real estate services to clients in the Scottsdale Greater Phoenix Metropolitan Area in the buying and selling of Luxury homes in Arizona. Award winning Realtors and Re/MAX top producers and best real estate agent for Luxury Homes in Scottsdale, The Szabo group delivers experience, knowledge, dedication and proven results. Contact Joe Szabo at 480.688.2020, info@ScottsdaleRealEstateTeam.com or visit www.scottsdalerealestateteam.com to find out more about Scottsdale Homes for Sale and Estates for Sale in Scottsdale and to search the Scottsdale MLS for Scottsdale Home Listings.