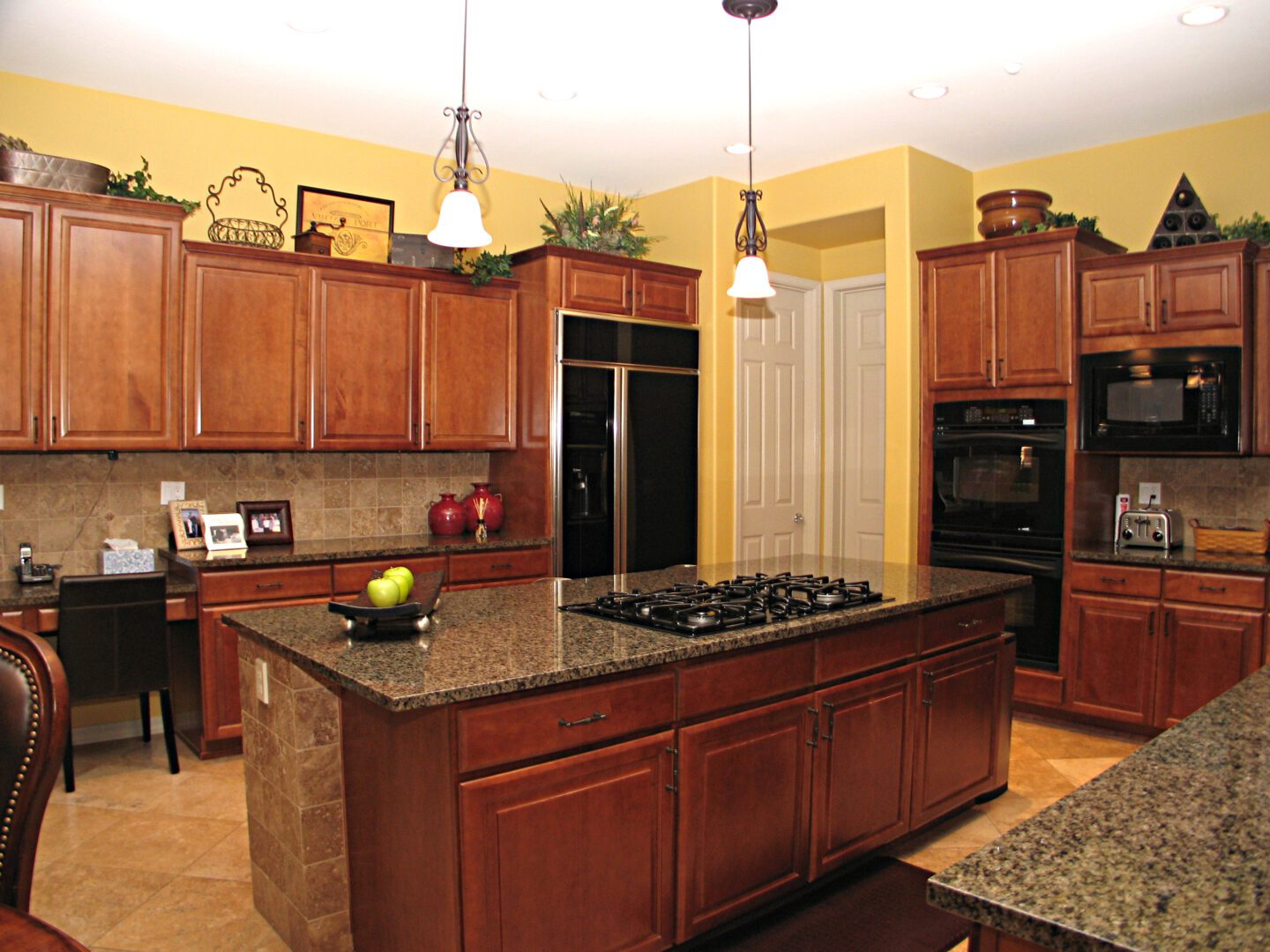 By Joe Szabo, Scottsdale Real Estate Team
1. Let There be Light!
LED bulbs have been improving for some time now in terms of both energy efficiency and effectiveness as a light source. Thanks to their slim profile, LEDs are the natural choice as effective accent lighting to highlight cabinetry and other features in your kitchen. Alternatively a strip of LED lights work equally as well as task lighting. If you think that your kitchen could use a certain something to breathe new life into it, but you don't want to go down the route of a full redesign, it's definitely worth seeing what's out there in terms of new lighting options. What's more, LED lighting is particularly effective at bringing a warm glow to even the most traditional style Arizona kitchen.
2. Ecologically-Sound Butcher Block Counter Tops
As a countertop, the warmth of natural wood and its neutral tone means that it sits equally at home in a contemporary or rustic style kitchen. You can now get hold of some great 'butcher block' style options that won't necessarily cost you the earth. It's safe to say that this type of countertop is fast catching up to marble in the popularity stakes. Red oak and maple are perennial favorites but you'll also see some highly attractive 'ecologically sound' options out there – crafted from materials such as Lyptus – originating from renewable forests.
3. Quartzite: the New Alternative to Marble?
Another material that's recently been making steady inroads when it comes to countertops is quartzite. The appearance is very similar to marble but its durability is such that there aren't the same issues with scratches and staining.
4. The Application of Hydraulics
Tired of walking into open head height cabinet doors? If recent innovations are anything to go by, the problem might soon be a thing of the past! Some manufacturers are beginning to introduce hydraulic cabinet doors that fold upwards and out of your way with the touch of a button.
5. Hands Free Technology
It seems that automatic taps are now making their way into the kitchen in a big way. They're hygienic too: thanks to motion-activated faucets, you don't have to touch the tap unit with dirty hands.
6. Going Retro With the Faucets
Speaking of taps, it seems that you're no longer restricted just to chrome. Brass is making its way into the ranges offered by many kitchen manufacturers as well. Brass faucets represent the perfect combination of modern technology with traditional style.
7. A Splash of Color with your Appliances
When it comes to appliances, stainless steel is probably never going to lose its appeal totally. Let's face it though, refrigerators and other appliances are often big hefty items. Why not seek to make the most of them if you can? The best way of doing this is with a bright colorful appliance.
8. Glass is Back
Designers are utilizing technology to come up with some fantastic designs in glass. Nowhere is this more evident than with the range of glass backsplashes that's available out there. You can let your imagination run riot and what's more, a colorful backsplash can be used to enhance either a modern or traditional kitchen with equally impressive results.
9. It's all about Multimedia
The fact is that for several years now, we've been doing more and more in our kitchen space. Why go work in the study if everything you need's on a laptop or tablet? Why move into the living room after dinner when you've got a plasma screen in the kitchen? Wi fi, remote speakers, faster broadband, you name it; all of these trends combine to ensure that the amount of time many of us are spending in the kitchen is increasing all the time. The best thing is that you're now much more likely to be in the kitchen for the purposes of fun rather than chores. Expect this trend to continue.
10. Kitchens: the Entertainment Space of Choice?
Given that the kitchen is now a prime place to be, it's not surprising that it often becomes the room of choice for entertaining our guests. While the gadgets in our kitchens are getting more advanced all the time, many of us are doing more to make the space less 'clinical'. Think more in terms warmer shades rather than pure black or white when it comes to cabinetry. It's all about making your kitchen more welcoming as a place to socialize.
Please note that this Scottsdale Real Estate Blog is for informational purposes and not intended to take the place of a licensed Scottsdale Real Estate Agent. The Szabo Group offers first class real estate services to clients in the Scottsdale Greater Phoenix Metropolitan Area in the buying and selling of Luxury homes in Arizona. Award winning Realtors and Re/MAX top producers and best real estate agent for Luxury Homes in Scottsdale, The Szabo group delivers experience, knowledge, dedication and proven results. Contact Joe Szabo at 480.688.2020, info@ScottsdaleRealEstateTeam.com or visit www.scottsdalerealestateteam.com to find out more about Scottsdale Homes for Sale and Estates for Sale in Scottsdale and to search the Scottsdale MLS for Scottsdale Home Listings.