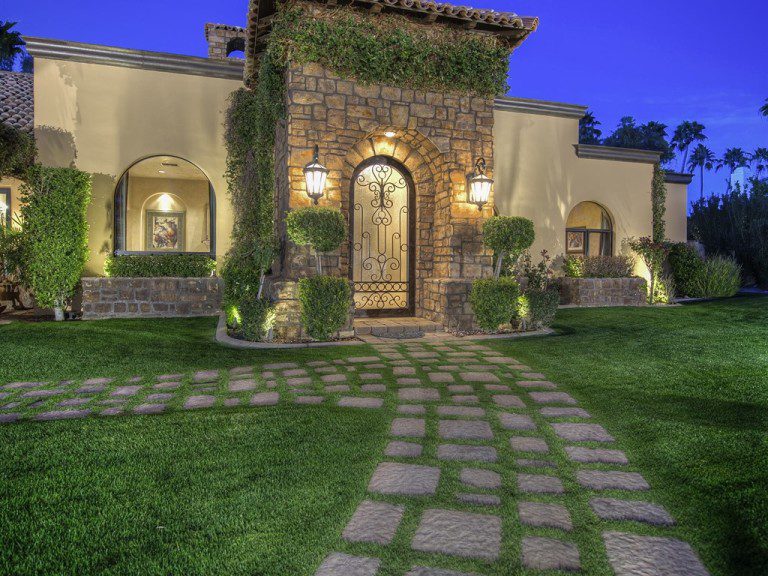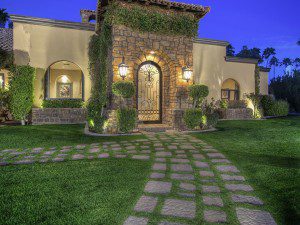 By Joe Szabo, Scottsdale Real Estate Team
Other sellers in your area are dressing up the lawn with little flowerbeds and a good trim, but why settle? Follow these five tips to set your home apart from the competition.
Get a competitive edge
Many sellers know that a clean-cut edge can turn even the most mundane lawn into a manicured carpet of green. Set yourself apart and bring a bit of architectural structure to your landscape by installing a brick mowing strip. Not only will this make your lawn look 100 percent nicer, the hard and level boundary between your lawn and landscaping makes subsequent mowings and trimmings a breeze.
A less durable, but easier and more cost-effective method, is to create your edge with landscaping timbers that have been staked in place. Plastic edges are the cheapest solution of all, but be warned: They also look cheap, and can even lead buyers to dismiss your home as tacky.
Refresh your mailbox
Replacing your mailbox is a classic approach to achieving curb appeal, but why stop there? You'll already be deep in the trenches with a shovel in hand, so you might as well plant a welcoming mailbox garden to capture potential buyers from their very first glance.
When designing your mailbox garden, choose plants that will not become overgrown or require too much upkeep. Dwarf, compact shrubs are good choices because they stay smaller and require less pruning.
Groundcovers such as Liriope, daylilies and Agapanthus are useful because they don't get too tall, and quickly fill in, eventually eliminating the need for mulch. Place taller plants along the back of the bed, and leave a space towards the front where you can plant a fewseasonally appropriate annuals. Just don't overdo it, since annuals might fizzle out before the house has been sold.
Bring beauty to your doorstep
Placing a container garden at your doorstep is a quick and affordable way to liven things up, but since the front door is where the agent pauses to fumble around for a key and discuss the home with her clients, set the tone for that conversation with something bold: Two big stately glazed ceramic pots to each side of the door, each filled with spectacular foliage plants.
While flowers seem to scream "Look at me!" in desperation, foliage plants exude grace and confidence. Plant them with something low-maintenance so that they thrive during the stressful move. Choose pots and plants that complement the colors and style of the house: A minimalist planting of snake plant or horsetail in sleek red pots may be appropriate for a mid-century modern home with a red door, but would be out of place on a Victorian porch.
Prune the landscape
Notice that I said to prune not just the shrubs, but the entire landscape. It's common knowledge that you should give your landscape plantings a trim before selling a home, but in the case of so-called 'trash trees' and overgrown foundation plantings, those hedge trimmers just aren't enough. Anything this big should be removed by a professional so that you can focus on the important stuff.
Now is also the time to evaluate the effectiveness of your landscape as a whole — not just to you, but everyone else. That vegetable patch or above-ground pool taking up your lawn might be paradise on earth to you and your family, but most prospective buyers will only see weeds and maintenance.
However, some features, such as paved paths or patios, can actually bring value to the property because they make life easier without costing much time or effort.
Make emotional connections with plants
Cookies in the oven are supposed to make buyers associate your home with their fondest memories, but well-chosen plants turn a house into someone's home. Fragrant roses, jasmines and herbs will perfume the entry with nostalgia and make your house memorable to buyers. However, avoid placing strong-smelling plants too close to the entry, as this can be off-putting to some.
Another trick is to incorporate plants that create a connection to the best features of your property. If it's a waterfront property in the deep South, use palm trees to frame the view and create a sense of paradise. If the property offers a nice view of a prairie, plant a groundcover of ornamental grasses to connect the yard to the beauty beyond. Don't skimp on the price either, because the bigger and nicer the plants, the bigger the impact.
Please note that this Scottsdale Real Estate Blog is for informational purposes and not intended to take the place of a licensed Scottsdale Real Estate Agent. The Szabo Group offers first class real estate services to clients in the Scottsdale Greater Phoenix Metropolitan Area in the buying and selling of Luxury homes in Arizona. Award winning Realtors and Re/MAX top producers and best real estate agent for Luxury Homes in Scottsdale, The Szabo group delivers experience, knowledge, dedication and proven results. Contact Joe Szabo at 480.688.2020, [email protected] or visit www.scottsdalerealestateteam.com to find out more about Scottsdale Homes for Sale and Estates for Sale in Scottsdale and to search the Scottsdale MLS for Scottsdale Home Listings.