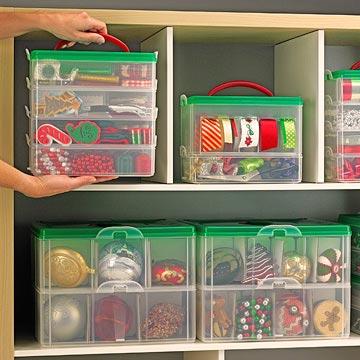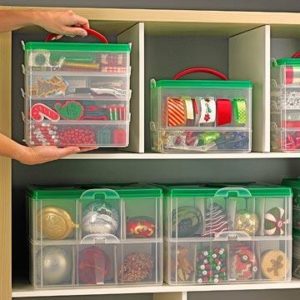 Organization usually makes life easier and less stressful. But it can be even more important — perhaps even essential — before, during and after a major holiday. Just imagine what it would be like to haul out poorly labeled boxes of haphazardly packed holiday supplies in a last-minute attempt to find what you need. Before you know it, you may be drowning in a sea of musty tablecloths, burned-out lights and broken ornaments — without having accomplished your holiday preparation goals.
Taking the steps to get everything in order ahead of time can help you avoid these situations and have much more fun with every holiday. For example, when Christmas ornaments are organized and easy to find, there's more time left to enjoy the process of hanging them on the tree. And the same goes for other aspects of the holiday seasons — from parties and family dinners to gift giving. Simple actions like making lists, setting deadlines and choosing the right storage containers can help ensure you have the best time possible. And putting it all in order again afterward sets the stage for next year's celebrations.
Start planning for the holiday early — at least a month in advance. Begin by filling out a centralized, all-encompassing holiday calendar for the weeks leading up to, during and after the holiday. Include everything you already know about or that's already been scheduled, such as travel plans, guest arrival days, pageants, parties and work functions. Continue to pencil in events as they are announced and planned, and only accept invitations for open dates. Make sure to block off shopping and preparation days, and factor in deadlines for shopping, shipping and baking, just so you don't miss anything. Also, here's a tip for relieving stress: On your calendar, be sure to mark a few "off" days to rest.
Holidays usually last longer than just one day. What's more, many include an elaborate series of events that require many different levels of planning. So for optimal holiday organization, it's a good idea to make separate, categorized to-do lists. During the winter holidays, for example, you could make a gift shopping list, itemized by person. Also, try making a list of rooms or locations that need to be decorated, as well as a related list of decorations that need to be purchased. You can create lists for baking projects, travel plans, and people to whom you need to send cards and correspondence, too. Plan holiday menus first, then make the grocery list. You get the idea. To minimize the chance that you'll forget anything, always have these lists with you when you are heading out to the store or the mall.
Now that you've done some planning, the actual physical work can begin. However, after you trudge into the garage or cellar and pull out the decorations and other holiday stuff, pause for a bit. Before anything goes up, this is a good time to take inventory and assess what you've got. Many of us have been using the same holiday items for years, whether we like them or not. Here's a simple sorting tip: If you hate it, give it away. If it's broken, throw it away. In other words, don't let an ugly tree skirt take up space or broken tree lights sit around in a tangled mess. (Now also would be an excellent time to test everything with electrical or moving parts, by the way.) Get rid of anything that's crumpled or soiled. Now that you know what you've got that's usable, you can add to your to-do list of new decorations that need to be purchased. To make next year easier, it's a good idea to repeat this inventory step at the end of the holiday season, too.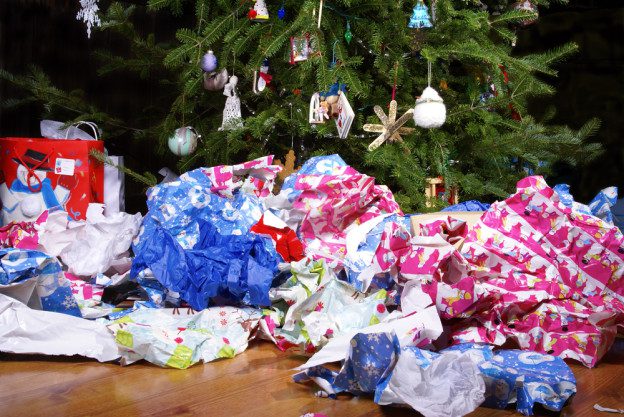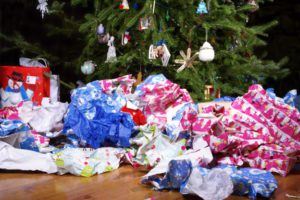 News flash: You don't have to organize, decorate and plan everything on your own. Try delegating tasks to family members. Not only does it break up the work, but it creates responsibility for others and can make holiday planning a fun family activity. Get the kids involved, especially. Holiday planning for you is a burden — for them, it may be very exciting. They can make decorations, help put them up, and maybe even assist you with the baking. Chore swapping is another time-saving idea. Do you love to bake Christmas cookies, but hate to decorate? Does your best friend love decorating but can only burn a baked good? Then swap tasks — you bake for two, and she can decorate for two. That way, you're both happy.
Please note that this Scottsdale Real Estate Blog is for informational purposes and not intended to take the place of a licensed Scottsdale Real Estate Agent. The Szabo Group offers first class real estate services to clients in the Scottsdale Greater Phoenix Metropolitan Area in the buying and selling of Luxury homes in Arizona. Award winning Realtors and Re/MAX top producers and best real estate agent for Luxury Homes in Scottsdale, The Szabo group delivers experience, knowledge, dedication and proven results. Contact Joe Szabo at 480.688.2020, info@ScottsdaleRealEstateTeam.com or visit www.scottsdalerealestateteam.com to find out more about Scottsdale Homes for Sale and Estates for Sale in Scottsdale and to search the Scottsdale MLS for Scottsdale Home Listings.