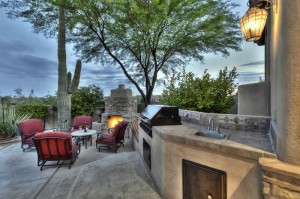 By Joe Szabo, Scottsdale Real Estate Team
In some ways, the buyer-real estate agent relationship is similar to a romantic one. In either situation, the relationship's success or failure depends a lot on picking the "right" partner from the beginning. Chemistry and communications also play an important role.
Here's how you can find the best real estate agent "match" and nurture that relationship to achieve your goal: buying your dream home.
Do your homework
Today, buyers start researching properties online well before they contact an agent. This early research period should also be the time to have your feelers out for a good agent. In fact, the best time to connect with an agent is when you've got some knowledge of your local market but need more input, a second opinion and a professional's guidance.
Asking friends, family and coworkers for referrals can be helpful for finding an agent. Posting what you're looking for in an agent on social media might also help lead you to the best real estate "mate."
Take it slowly
Would you introduce to your parents someone you've only had one or two dates with? Probably not. Before getting serious with a potential mate, you'd get to know them, learn about their history and understand your compatibility.
It's not too different in the real estate agent-buyer relationship. Buying a home is an extremely emotional time. Your real estate agent will be front and center with you through ups, downs and trying times. Through the buying process, your agent might learn a lot about your personal life as well as your finances. For these reasons, take the time to ensure you have the best person by your side. If you rush into a relationship with the wrong agent, you'll regret it later.
Pay attention to chemistry
An agent could come highly recommended and be thoroughly experienced. But with any relationship, chemistry (or lack of it) comes into play. When you first talk to an agent, ask yourself: Is this someone you'd want to spend time with? Does the agent "get" you? Will you feel comfortable sharing your financial and other personal information with him? If you answer "no," keep looking for someone you click with.
Avoid the blame game
In today's often-competitive real estate markets, it's extremely unlikely you'll get the first or even the third home you try to buy. This may cause buyers to get stressed out or upset after losing in a bidding situation or when faced with a seller who's just "not that into you."
Unfortunately, buyers sometimes take out their anger and frustration with the market on their real estate agent. But don't assume that the fact your bid wasn't accepted is your agent's fault. The agent can't control the seller or the seller's agent any more than you can. Pick the best agent for your needs; trust your agent to do the job; treat the agent as you'd want to be treated; and chalk up a losing bid to experience.
Practice patience
As with romantic relationships, there may be times when your agent tries your patience. Maybe you've been looking for a month now and still haven't found your dream place. Whatever the situation, keep in mind that buying the right home shouldn't be rushed. Give the process, and your agent, time. On the other hand, if your agent seems to be neglecting you, speak up.
Communicate clearly
This is probably the most important step to any successful relationship: maintaining open, honest communications. With your real estate agent, be upfront from the start about how you like to work and what you might expect from them. Express concerns you have along the way. Above all, give the agent constructive feedback that will help him succeed.
In most cases, you'll be spending a lot of time with your agent during the home buying process. So choose wisely. Picking the wrong agent can add to the stress, frustration and uncertainty of buying a home. On the other hand, choosing the right agent can make the process significantly easier and more successful.
Please note that this Scottsdale Real Estate Blog is for informational purposes and not intended to take the place of a licensed Scottsdale Real Estate Agent. The Szabo Group offers first class real estate services to clients in the Scottsdale Greater Phoenix Metropolitan Area in the buying and selling of Luxury homes in Arizona. Award winning Realtors and Re/MAX top producers and best real estate agent for Luxury Homes in Scottsdale, The Szabo group delivers experience, knowledge, dedication and proven results. Contact Joe Szabo at 480.688.2020, info@ScottsdaleRealEstateTeam.com or visit www.scottsdalerealestateteam.com to find out more about Scottsdale Homes for Sale and Estates for Sale in Scottsdale and to search the Scottsdale MLS for Scottsdale Home Listings.