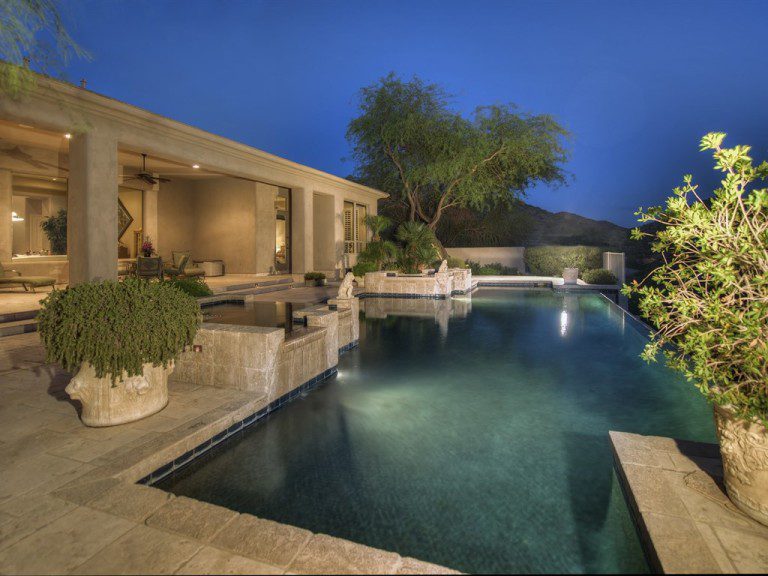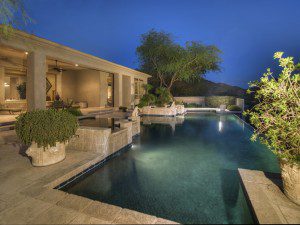 By Joe Szabo, Scottsdale Real Estate Team
You've got your sunscreen out, your watermelon sliced, and your grill smoking. No matter if you're on a balcony, patio or urban roof deck, outdoor entertaining is the best.
While you're gathering supplies to enjoy a lemonade or ice cold brew with friends and neighbors, pick up a few decorative add-ons to enhance your outdoor space. Setting the mood for a party in the sun or under the stars is easy with these tips and treasures.
Classic bistro lights seal the deal
Hang a strand or two of Edison bulb string lights above your table or in the entry way to your patio. These classic string lights blend with almost any style of furnishings and work year-round.
Adding lights is a simple way to create ambiance — and since it isn't permanent, it's great for renters. They create a flattering light for your vainest of guests, and provide a gorgeous glow as the sun sets.
Snake eyes: decor and games are one and the same
These giant dice make for a cheeky center piece, and will inevitably add a lot of laughs — and possibly some competition — to your cookout.
Or for a no-cost decor-and-party-game combo, fold tons of paper planes in vibrant colors to populate the table. They'll take flight later in the night, and guests of all ages can take aim at the horizon — or each other.
Bring the beach with hanging lanterns
Hanging hurricane lanterns or these nautical lanterns modeled on vintage glass canning vessels creates a seaside vibe no matter where you're celebrating. Candlelight is essential to your gathering, and hanging lanterns are perfect because they elevate the mood and won't blow out.
Take a walk to easy seat
Temporary seating is a must when entertaining outdoors. These red-stripped canvas poufs are ideal if you've got a smaller outdoor area.
A few of these placed in conversation clusters encourage a casual atmosphere while providing a comfy place to sip. Guests can scoot over easily to make room without having to handle clunky metal chairs or heavier seats. Poufs and large pillows are also easy to store away inside and bring out when you've got a party-crasher later on.
One-of-a-kind pillows, everywhere
When in doubt, just throw tons of pillows at your outdoor area. This abstract and summery design by a maker on Society6 is an affordable way to bedeck your deck with custom artworks.
A stack of five or six pillows on a canvas drop cloth or outdoor mat make for a coveted horizontal hang in the rays. No need for your patio to feel matchy-matchy — grab tons of different colors and styles of pillows and throws so folks can create their own plush arrangement.
Waste not, paper cutlery
Make big waves with small details in your plates and cutlery. You can stay stylish and eco-friendly with this delightful compostable pack of forks and knives.
No one wants to lug dishes and silverware outside and then back inside for the dishwasher. Have your guests toss these in the bin and recycle on your way downstairs tomorrow. An easier clean up and you can save the environment? Yes, please!
Chic and tiny table for two on the fire escape
From New York to Paris, this Euro-designed miniature wonder is exactly what we dreamed of. A table for two, perfect for sipping wine and people watching, or an opportunity to fly solo with coffee and a good book.
This attachable shelf is an ideal solution for morning meditation or evening imbibing on your balcony or fire escape. No matter how tight the quarters, you can create a cozy moment to share with friends.
A vertical garden: easier than you think
This modular garden container attaches easily to an interior or exterior wall in your home. Wally One is one of the smaller and streamlined versions. Start with one pocket and grow a vibrant plant or herb garden.
If your patio or deck is close to the kitchen, you can be the urban farmer you always envied, heading out to snag a pinch of basil or thyme. You can always order more pockets to expand your green thumb efforts all around your home.
Want to try these and other hot outdoor trends in your own backyard or patio? Zillow Digs and hayneedle.com are teaming up to give one person a $5,000 shopping spree to hayneedle.com to create their own outdoor oasis. Enter now for your chance to win.
Please note that this Scottsdale Real Estate Blog is for informational purposes and not intended to take the place of a licensed Scottsdale Real Estate Agent. The Szabo Group offers first class real estate services to clients in the Scottsdale Greater Phoenix Metropolitan Area in the buying and selling of Luxury homes in Arizona. Award winning Realtors and Re/MAX top producers and best real estate agent for Luxury Homes in Scottsdale, The Szabo group delivers experience, knowledge, dedication and proven results. Contact Joe Szabo at 480.688.2020, [email protected] or visit www.scottsdalerealestateteam.com to find out more about Scottsdale Homes for Sale and Estates for Sale in Scottsdale and to search the Scottsdale MLS for Scottsdale Home Listings.