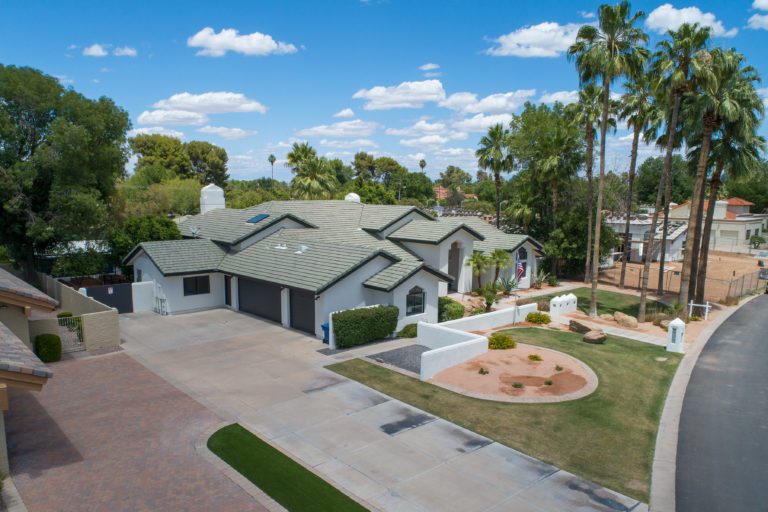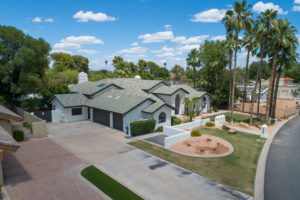 Choosing a new or replacement roof is a big-budget project that has a big impact on your home's curb appeal. You'll be living with the roof for a few decades (hopefully!), so spend time reviewing your roofing options and coordinating roof colors with the color of your home. In general, dark-color roofs retain heat and are well-suited to cold-weather climates; conversely, light and white roofs, which reflect heat, are good choices for warmer regions. Dark-color roofs recede to minimize a home's visual mass and downplay roof-peak height differences; lighter roofs do the opposite, causing homes to look bigger and roofs to look taller. Here are a few other things to consider when choosing a color for your home's roof.
Look to your home's unchangeable elements, such as chimneys, stone facades, and brick exteriors, for inspiration when choosing a roof color. Select shingles, tiles, or shakes that blend, match, or complement the colors showcased in these substantial structures. Set roofing samples against an area of your home where exterior siding, brick or stonework, and painted trim intersect. Check and recheck the samples at various times of the day to see how surfaces and colors partner in sun and shadow before finalizing your selection. Still not sure? Take a drive around town, noting the roofs on homes similar in style and color to your own. Some reliable color combinations include the following: dark gray or black shingles capping white, gray, yellow, and blue homes; a brown, gray, or black roof topping yellow, green, and red homes; and brown shingles or earth-tone blends crowning green, brown, cream, and tan exteriors.
Complement, Contrast, or Match
Roof color affects how your home appears to passersby. Matching the roof color to a home's exterior color creates an abode that steps quietly into view. Choose a roof color that offers a high contrast to a home's paint color to fashion a captivating residential silhouette. Select complementary partners, such as a brown roof on sage-green home, and you'll devise a fetching facade that is understatedly pleasing to the eye. If your home's exterior is highly detailed with decorative millwork or stone facades, choose a low-contrast roof to keep your home from appearing too busy. Use brightly colored roofs to energize ho-hum homes, but opt for neutral shingles if you're getting ready to sell your home — just like inside, neutral colors appeal to the widest range of home buyers.
Look beyond asphalt and architectural shingles and consider alternative materials when selecting roofing materials. Cedar, redwood, and pine shingles and shakes bring natural wood tones and textures that work nicely with historical, cottage, and contemporary homes. Clay, concrete, and slate tiles offer a wide array of colors, color blends, and shapes that create roofs that complement Colonial-, Mediterranean-, European-, and Mission-style homes. Aluminum and steel roofing, available in seamed panels, corrugated sheets, and shingle designs, come in various hues and work especially well on country, contemporary, and cottage-style homes (think of forest green metal roof cladding a log cabin or a white painted farmhouse). Copper roofs bring distinctive chromes and old-world patinas that harmonize with historical and European-inspired dwellings. These alternate materials can also be used to highlight your home's distinctive architectural feature; use them for roofs that set off porticos, porches, bay or bow windows, and dormers. While color and style can boost your curb appeal, be sure to choose a roofing material that best withstands the elements your region faces.
Please note that this Scottsdale Real Estate Blog is for informational purposes and not intended to take the place of a licensed Scottsdale Real Estate Agent. The Szabo Group offers first class real estate services to clients in the Scottsdale Greater Phoenix Metropolitan Area in the buying and selling of Luxury homes in Arizona. Award winning Realtors and Re/MAX top producers and best real estate agent for Luxury Homes in Scottsdale, The Szabo group delivers experience, knowledge, dedication and proven results. Contact Joe Szabo at 480.688.2020, [email protected] or visit www.scottsdalerealestateteam.com to find out more about Scottsdale Homes for Sale and Estates for Sale in Scottsdale and to search the Scottsdale MLS for Scottsdale Home Listings.