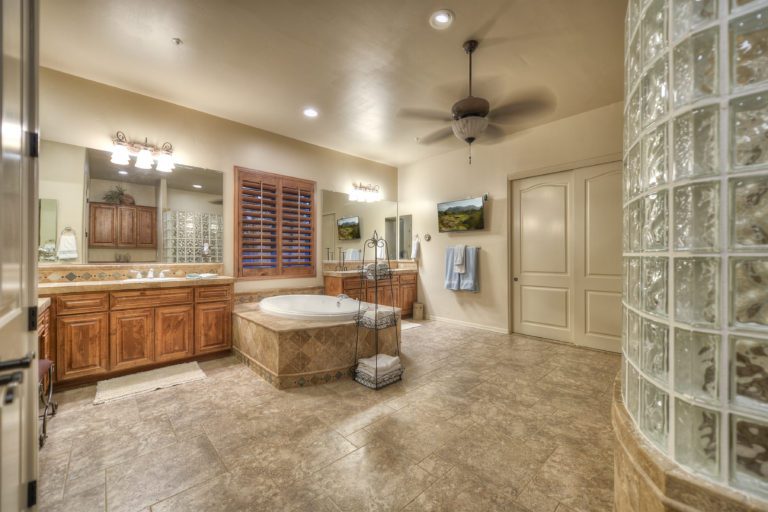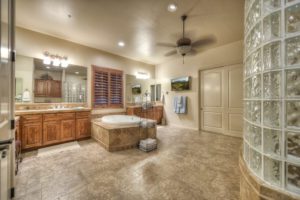 By Joe Szabo, Scottsdale Real Estate Team
The current trend of turning household bathrooms into spa-like retreats isn't a bad one, per se.
Whether waking up with a hot shower or relaxing before bed in a soothing bath, everyone appreciates a crisp, clean palette and great lighting for getting prepped. And neutrals make sense for installed features like bathtubs and sinks — things that are difficult and expensive to change.
But a bathroom has the potential to be so much more than just a white box. The bathrooms we've designed, both for clients and in our own homes, have been spaces for color, personality, and a little bit of that sometimes dirty word: whimsy.
Giving the bathrooms in your home more character makes for a quick, inexpensive, and exciting transformation. Here are a few of our favorite decorating tricks. Perhaps they can work in your home, too.
Paint it black. Or blue. Or how about pink?
While your bathroom's tile and fixtures may be neutral, there's no reason the walls should be. In fact, you can get away with bold, high-contrast colors in bathrooms precisely because there's so much white to balance it out.
Concerned that dark walls will make the room gloomy? Worry not — you'll be safe thanks to the gleaming white tile and countertop.
You can go particularly bold with color in powder rooms. These small spaces generally have little in the way of architectural details, so high-impact paint will go a long way, making them memorable at minimal expense.
One thing to remember: Exercise caution when selecting hues, as the paint color will bounce around the room and onto your skin.
Acidic green can make you look sickly, orange will give you an artificial tan, and a bright blue will drain color from your face. Besides making that first glance in the mirror a bit jarring, the wrong color can cause makeup application challenges.
Get that paper
What if you're totally over paint? It's time to graduate to wallpaper.
The wide range of styles and patterns gives you remarkable freedom to redefine your bathroom. Wallpaper works particularly well in small spaces, where the color palette is tightly controlled, and the walls may be at least partially covered with built-ins, mirrors, or tile.
The right pattern can make the room feel more cohesive and, in some cases, help raise the ceiling height to reduce claustrophobia.
Use linear patterns — stripes, plaids, checks — to establish structure in rooms that lack architecture or have low ceilings. Organic patterns, like overscale florals or abstracts, can soften a room that has a busier floor plan or feels unwelcoming.
While you have quite a bit of flexibility in wallpaper composition for powder rooms, bathrooms with showers are a good fit for vinyl papers and their moisture-resistant properties. As always, installation matters, and working with a professional paper hanger will give you the longest-lasting results.
Furniture for function and fun
In larger bathrooms or combined bathroom and dressing rooms, you may have a chance to introduce free-standing furniture.
Built-in vanities and storage pieces can overwhelm a bathroom and make it a bit monotonous. To combat this with a little style, we've used  small dressers to add enclosed storage space, and bookshelves or smaller tables create a space for towels and toiletries.
While bathrooms are frequently where we get dressed, many of them lack a place to sit down when doing so. Adding a small chair or stool — even a funky old armchair — improves function and style.
When bringing furniture into the bathroom, keep scale in mind. Even in relatively large rooms, open wall space may be in short supply, and there's the real risk of creating unnecessary obstacles. For best results, prioritize a tidy footprint.
Make bold statements with artwork
Sticking with neutral colors? Wallpaper not for you? No room for a funky armchair?
OK, last chance: Give your bathroom some punch with great art.
We've found that most people play it safe in bathrooms with small, framed prints or skip the art entirely. Nonsense! Go for impact with larger pieces — integrate something sculptural or even cover a wall with paint-by-numbers.
Also, it goes without saying, but yes, your most precious pieces should stay in drier spots.
Please note that this Scottsdale Real Estate Blog is for informational purposes and not intended to take the place of a licensed Scottsdale Real Estate Agent. The Szabo Group offers first class real estate services to clients in the Scottsdale Greater Phoenix Metropolitan Area in the buying and selling of Luxury homes in Arizona. Award winning Realtors and Re/MAX top producers and best real estate agent for Luxury Homes in Scottsdale, The Szabo group delivers experience, knowledge, dedication and proven results. Contact Joe Szabo at 480.688.2020, [email protected] or visit www.scottsdalerealestateteam.com to find out more about Scottsdale Homes for Sale and Estates for Sale in Scottsdale and to search the Scottsdale MLS for Scottsdale Home Listings.