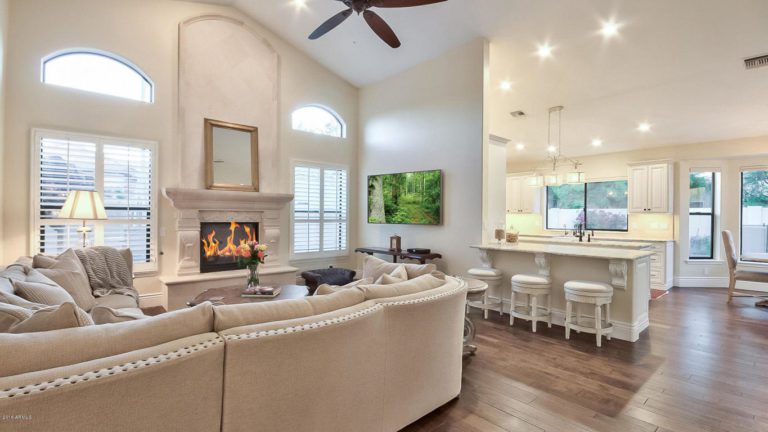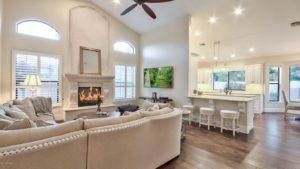 By Joe Szabo, Scottsdale Real Estate Team
Painting projects are a fantastic and easy way to update and refresh the look of your home.
If you're hoping to economize on your upcoming painting projects, here are some easy and painless ways to do it.
Use mistints
Every store that sells paint has mistints — paints that the store mixed to a specific color for a customer, and then the customer either never picked them up, or returned them.
These paints are marked down significantly so that the store can sell them quickly, sometimes at a discount of 50 to 75 percent — or even more.
You might be wondering what the chances are of getting the color you want when you shop for mistints. Well, it really depends on how specific you are about the color you want. If you're looking for a very specific shade, then mistints may not be the right choice.
But if you have a general color scheme in mind and aren't terribly invested in a specific color, mistints are the way to go.  They can literally save you hundreds of dollars.
Pro tip:  Shop for your mistints at high-end and specialty paint stores, rather than big-box home improvement stores. You are likely to find a better selection of colors, and some unbelievable discounts on ultra-high-quality paint
Pick the right paint the first time
Perhaps you're wondering if you really need to prime your surface? The general guideline is that you don't need to prime if the existing paint on your walls is in good shape, and the new color is similar in shade to the old color.
In all other cases, you should prime the surface first. You will be much happier with the quality of your finished paint job if you do so.
Then there are all the different types of paint to choose from. Do you want flat, satin, eggshell, semi-gloss, or gloss?  Consider the following advantages and disadvantages of the different paint textures.
Flat
Works best for: Interior walls and ceilings, and, in particular, walls that have many imperfections
Advantages: Covers imperfections very well, and is easy to touch up later on
Disadvantages: Does not wash well, so wouldn't be a good choice for kitchens or high-traffic areas
Eggshell
Works best for: Living room, bedroom, and dining room walls
Advantages: Easy to maintain, as it's generally both washable and easy to touch up
Disadvantages: Not a good choice for high-moisture areas
Satin
Works best for: High-traffic areas of the home, such as kitchens, bathrooms, hallways, and family room
Advantages: Easy to keep clean, as it's washable
Disadvantages: Not so easy to touch up, as is the case with most gloss paints
Semi-gloss & gloss
Works best for: Trim work, molding, cabinets, kitchens, and bathrooms; also a good choice for exterior paint
Advantages: Provides great coverage for smooth surfaces such as finished wood surfaces; very washable and durable
Disadvantages: Not a good choice for textured surfaces or those with many imperfections
Once you've decided on the type of paint, be sure to pick the right color. Have you ever had to re-paint an entire room because the color just didn't look like the color on the tiny little swatch you got from the store? Maybe it was a lot brighter, or darker, or just not the perfect shade.
To avoid this scenario, you can always buy a sample can of paint, and paint a swatch on the wall to see what it will look like.
Or, try this pro tip …
Pro tip: Make your own giant paint swatch with a sample can of the color you have in mind, and a big sheet of paper. You can move it around as much as you like to see the color in different parts of the room, and at different times of day.
To touch up or not to touch up?
Sometimes it makes sense to touch up your walls or ceilings, rather than incurring the expense and labor of re-painting the entire room. But it isn't as easy as you might think to get a perfect match, even if you have some of the original paint leftover.
The color or sheen of the paint can change over time, whether it's the painted wall changing from sun exposure, or the paint in the can losing some of its original color over time.
Here are some tips to make sure your touch-up job matches the original as closely as possible:
Try to use the same applicator for the touch-up that you used for the original paint job. If you painted with a roller, then touch up with a roller. Likewise, if you painted with a brush, you'll want to touch up with a brush.
Use a light hand with the touch-up. Apply the touch-up paint very sparingly, and feather it into the existing wall.
If you have a lot of areas to touch up on one wall, consider just re-painting the one wall. It will be quicker and cheaper than re-painting the entire room, and if the color is slightly different, it won't be as noticeable on such a large scale.
Pro tip: If you don't have enough of the original paint on hand to complete your touch-up, you can bring a sample of the paint to the paint store, and they will do a color match for you, usually at no extra cost.
These tips should help you to not only save money on your paint jobs, but also give you the satisfaction of getting the great results you're hoping for.
Please note that this Scottsdale Real Estate Blog is for informational purposes and not intended to take the place of a licensed Scottsdale Real Estate Agent. The Szabo Group offers first class real estate services to clients in the Scottsdale Greater Phoenix Metropolitan Area in the buying and selling of Luxury homes in Arizona. Award winning Realtors and Re/MAX top producers and best real estate agent for Luxury Homes in Scottsdale, The Szabo group delivers experience, knowledge, dedication and proven results. Contact Joe Szabo at 480.688.2020, [email protected] or visit www.scottsdalerealestateteam.com to find out more about Scottsdale Homes for Sale and Estates for Sale in Scottsdale and to search the Scottsdale MLS for Scottsdale Home Listings.