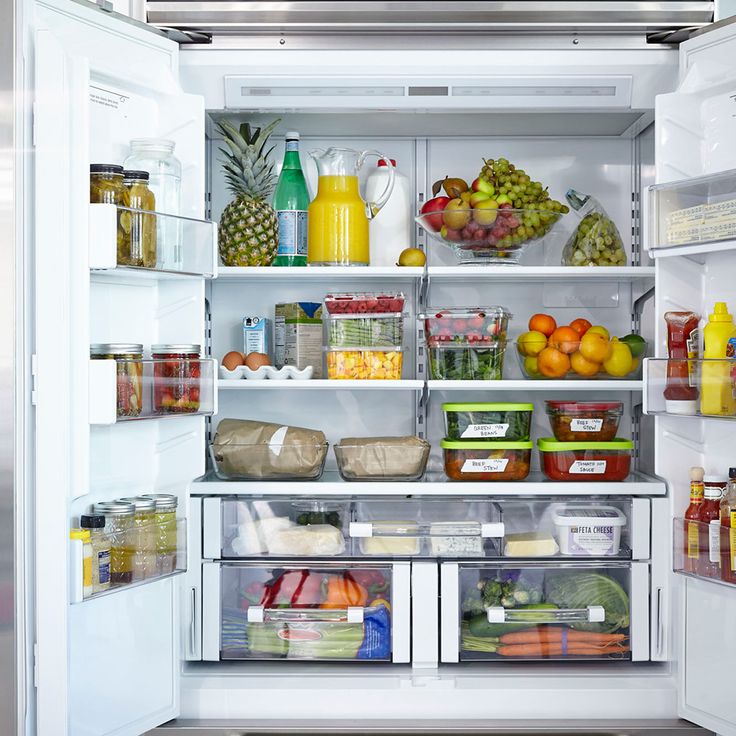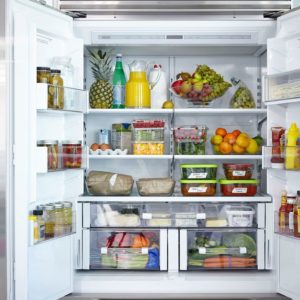 It is just mesmerizing to look at well-organized, color-coordinated refrigerator. (Try not to get lost in the perfectly placed peppers above.) But actually, an organized fridge also saves time and money. If you know exactly what's inside, grocery shopping and mealtimes become way more efficient, with less food waste and unpleasant smells.
We  recommend prioritizing the foods that people reach for most. From there, categorize the items into groups and place them in clear containers (key word: clear) for a more uniform look. The rest is up you: Stock up on different storage solutions to help combat rolling soda cans, overloaded snack drawers, and your growing wine stash.
When placing items on shelves, consider what makes most sense for you — and for the food itself. Most people keep milk on the top shelf or in the door but it should go on the back of the bottom shelf where it's coldest. Same goes for eggs: Store eggs in their original cartons on middle or top shelves where temperatures are more consistent. Reserve the fridge door for condiments, butters, soft cheeses, and processed juices.
If you have young children, stick their go-to snacks at eye level so they can easily grab them without making a mess. You can reserve a special bin for each kid or throw all the snacks in one spot for people to pick from because, well, sharing is caring.
When you buy something new — a fresh gallon of milk, for example — rotate the older items to the front so that they can be used before the expiration date. Keep an eye – not just a nose — on leftovers: Westmoreland recommends tossing fish after one to two days, meat after two to three days, and veggies or grains after five to seven days.
Please note that this Scottsdale Real Estate Blog is for informational purposes and not intended to take the place of a licensed Scottsdale Real Estate Agent. The Szabo Group offers first class real estate services to clients in the Scottsdale Greater Phoenix Metropolitan Area in the buying and selling of Luxury homes in Arizona. Award winning Realtors and Re/MAX top producers and best real estate agent for Luxury Homes in Scottsdale, The Szabo group delivers experience, knowledge, dedication and proven results. Contact Joe Szabo at 480.688.2020, [email protected] or visit www.scottsdalerealestateteam.com to find out more about Scottsdale Homes for Sale and Estates for Sale in Scottsdale and to search the Scottsdale MLS for Scottsdale Home Listings.