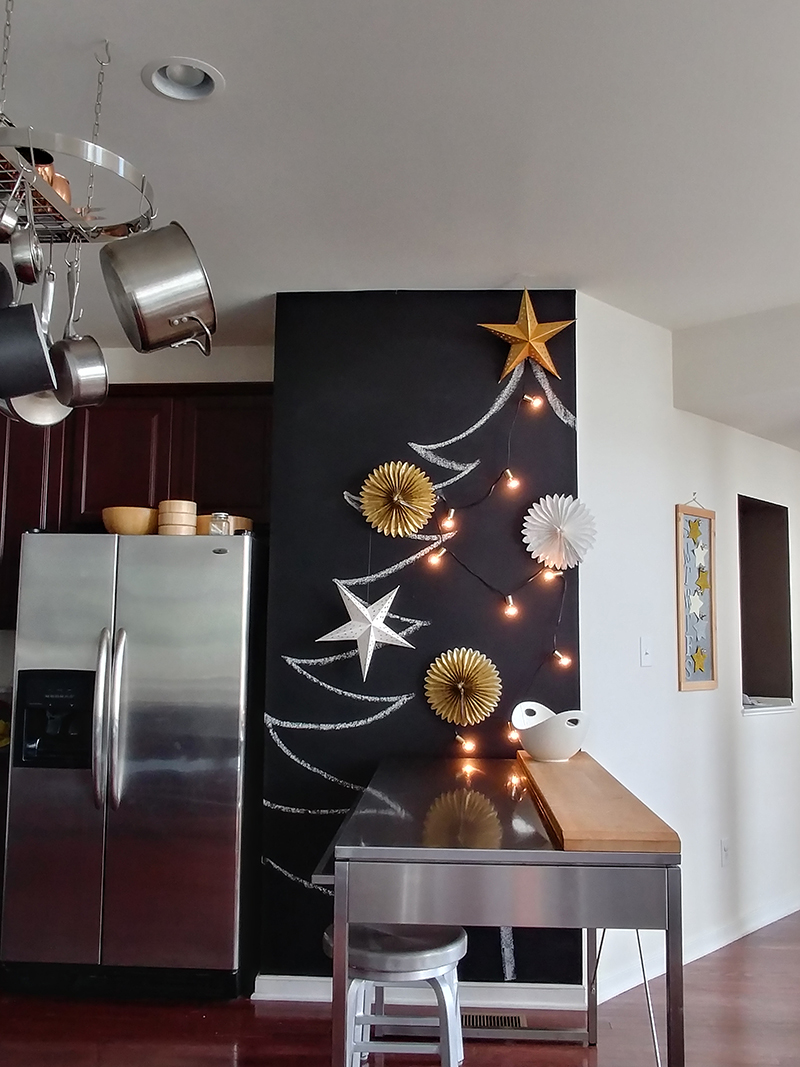 By Joe Szabo, Scottsdale Real Estate Team
Hold your holiday decor horses! Before you purchase gobs of tinsel and piles of twinkle lights, take another look at items you already have — they may be the holiday embellishment you've been looking for.
By hunting through your cabinets and closets, you can easily repurpose common household items into yuletide decor for your abode. Need a little inspiration? These design experts share how they style up everyday objects into festive flourishes.
Dig through the craft closet
"Bust out the burlap! I've been known to use burlap for anything from tablecloths to a Christmas tree skirt. It's so versatile and lends an organic, rustic vibe."
— Brooke Wagner, Brooke Wagner Design
"Roll out brown or black butcher paper on your table like a runner. It somehow elevates everything you set on it. Plus, you can write your guests names on it in black marker (or chalk marker for black paper) instead of place cards."
— Jenn Muirhead, Jennifer Muirhead Interiors
"Paint a wall with chalkboard paint. It's the perfect themed accent wall that's fun and creative, and it gets the kids involved, too."
— Melissa Martin Molitor, MMM Designs-Interiors
"Tie ribbon on everything! Thread it through chandeliers or banisters. Or put festive printed fabric in picture frames and scatter them throughout the house."
— Katie Schroder, Atelier Interior Design
Scour the kitchen cupboards
"Place a set of teacups on a pretty tray, and fill each cup with a succulent or small flower arrangement. Or create a centerpiece by placing candles on a serving tray or cake stand."
— Gita Jacobson, In The Deets
"Fill a large glass serving bowl — or maybe a punch bowl or trifle bowl — with whatever seasonal item you want. Just use the same thing so it looks purposeful and pretty."
— Jenn Muirhead, Jennifer Muirhead Interiors
"Take an ordinary flower vase, and stick glass ornaments inside with a string of white lights. It's a pretty display that's simple and creative!"
— Wendy Berry, W Design Interiors
Ransack the fridge
"Dried fruit garland is still classic and sweet. Take a needle and thread to some popcorn, cranberries or dried sliced oranges, and string it up wherever you want to!"
— Jenn Muirhead, Jennifer Muirhead Interiors
"Cut up fresh fruit and put it in a pitcher before adding flowers for a centerpiece. Throw in some cloves and cinnamon sticks for added flair. For a dash of festivity, use oranges with cloves in them for place card settings."
— Christine Estep, Jackson Thomas Interiors
Sift through the closet
"Use a vintage plaid throw as a tablecloth or runner. Or decorate a small tabletop tree with jewelry or ribbon."
— Katie Schroder, Atelier Interior Design
"Repurpose one of your favorite scarves as a cozy centerpiece runner."
— Gita Jacobson, In The Deets
Forage in the yard
"Instead of placing a star at the top of my Christmas tree, I'll take a handful of fallen sticks and tie them together at the top of the tree with a raffia bow. I'll also layer pine cones throughout my tree to balance out the glass ornaments for an organic, natural feel.
— Wendy Berry, W Design Interiors
"I gather sticks cedar branches, along with magnolia, holly, boxwood and pine. I spread them around the bases of containers or arrange them in colorful tea tins. It's an easy way to bring in greenery without spending too much money."
— Susan Jamieson, Bridget Beari Designs

"I love to add a garland of fresh greens around my dining room chandelier and hang ornaments from it. The fresh scent mixed with holiday cooking is wonderful."
— Jennifer Stoner, Jennifer Stoner Interiors
Look everywhere!
"Scatter some festive items that aren't necessarily holiday themed. For example, we'll set out some naturally shed antlers in the fall or a tuxedo hat around Christmas. I'll mix in a few of these types of things that feel seasonally appropriate but aren't necessarily traditional holiday decor."
— Summer Thornton, Summer Thornton Design
"Give a corner of your home a holiday touch with just a handful of tweaks. We made a sitting area more festive by adding new pillows (they needn't have an overt holiday motif – a wintery look works just as well), some evergreen cuttings from the yard (with a few sprigs of berries), a stack of wrapped gifts, a scarf and bow for our deer, and a teddy bear found in the attic."
– Chris Stout-Hazard, Roger + Chris
"Gather objects with a similar color scheme. I pull out all of my white and silver anything and group them together — candle holders, vases, pots, ribbon. Then I go to my neighbors' yards for magnolia and holly cuttings and get laurel out of my own yard. I just keep everything green, white and silver — jumbled together it works."
— Lesley Glotzl
"Repurpose a metallic vessel into a vase for displaying rich greenery or arrangements of holiday objects. A brass champagne cooler, a bright silver trophy cup or even small copper mugs could work perfectly. Add fresh pops of red with cranberries, pomegranates, deep-red apples or even a few red roses."
— Kerrie Kelly, Kerrie Kelly Design Lab
Please note that this Scottsdale Real Estate Blog is for informational purposes and not intended to take the place of a licensed Scottsdale Real Estate Agent. The Szabo Group offers first class real estate services to clients in the Scottsdale Greater Phoenix Metropolitan Area in the buying and selling of Luxury homes in Arizona. Award winning Realtors and Re/MAX top producers and best real estate agent for Luxury Homes in Scottsdale, The Szabo group delivers experience, knowledge, dedication and proven results. Contact Joe Szabo at 480.688.2020, [email protected] or visit www.scottsdalerealestateteam.com to find out more about Scottsdale Homes for Sale and Estates for Sale in Scottsdale and to search the Scottsdale MLS for Scottsdale Home Listings.