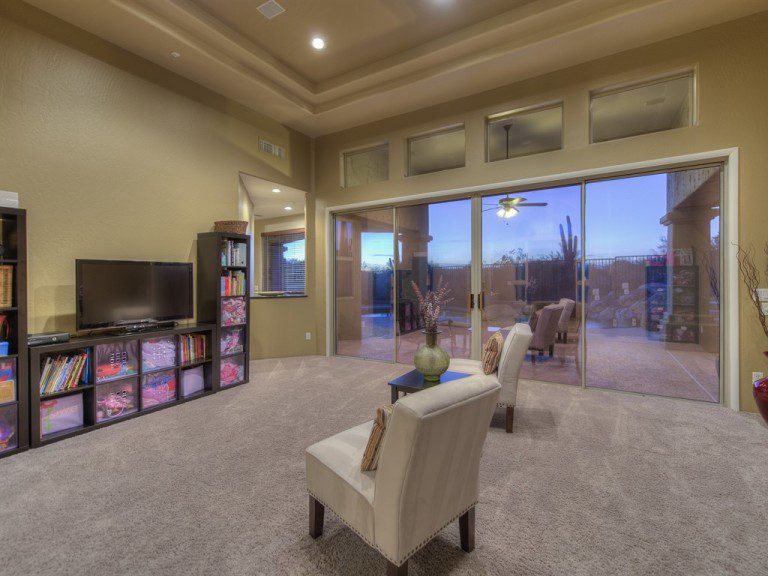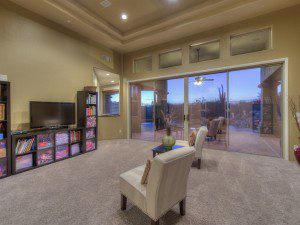 By Joe Szabo, Scottsdale Real Estate Team
What would you do with a spare room? In the past half-century, the answer to this question has dramatically changed the role of home in our lives.
"In 1970, the word 'telecommuting' had not been invented, workout rooms consisted of a tricked-out piece of elastic tied to your doorknob, and it was unheard of to have anything in your house akin to a movie theater," write Zillow CEO Spencer Rascoff and Chief Economist Stan Humphries in "Zillow Talk: The New Rules of Real Estate."
Fast forward to today and not only have we brought a host of commercial activities into our homes — there seems to be no limit.
Sky's the limit
Le Palais Royal, the most expensive home for sale in Florida, is the first private residence to have an IMAX® movie theater.
"[The owner] wanted the best of the best," said listing agent William P.D. Pierce of Coldwell Banker Miami Beach. "IMAX said they don't do private home theaters, but two years later they signed an agreement."
The screen alone is 27 feet wide and 18 feet tall. It uses two projectors that weigh 6 tons, creating a first-class 3-D viewing experience for up to 18 guests. Best part: The theater shows movies as they're playing in public theaters.
"What is live today is live in the palace," Pierce said. "I certainly see this as a new trend. People crave technology and demand more luxury inside their personal residence."
A $14.3 million home for sale in Tarpon Springs is also breaking new ground with a 3,000-square-foot indoor "village," housing a movie theater, bookstore, cigar room, music room and ice-cream shop — all under one roof.
"The owner wanted one room as his pet project," said listing agent Robyn Gunn of Sotheby's International Realty. "He has children and wanted to have the ultimate family home where there would be no need to go anywhere else."
Reality check
According to Paul Emrath, vice president of Survey and Housing Policy Research for the National Association of Home Builders, the desire for "specialty rooms" has increased among U.S. home buyers surveyed in the past decade. Buyers wanting media rooms, for example, has jumped from 30 percent in 2004 to 40 percent in 2012.
"If 40 percent of your buyers want something, that's an awful lot of buyers out there," he said. "Even if just 10 percent of people want something, it will be a niche."
Emrath notes, however, that it's unclear when this niche will become mainstream. While 40 percent want a media room, less than 10 percent say it's essential in their next home.
Gordon Stephenson, real estate broker and owner of Seattle brokerage Real Property Associates, isn't surprised by this.
"When you start your home search, you say sure it would be nice to have all these things," he explained. "But as reality sets in, you realize each of those amenities is going to add to X amount to the cost. You realize it's not worth that extra money or that you'd rather spend it on a better location perhaps."
Even for those who can afford extra amenities, Stephenson isn't sure the long-term payoff is worth it. He's seen scores of homes built in the '70s with saunas, for example, that are rarely used.
"Invariably, the sauna is covered in dust and Christmas decorations," he said. "It hasn't been used since the Nixon administration."
When dreams meet reality
Regardless of whether people end up using their spare rooms, the fact that they're dreaming about them is significant.
"Homes are now much more than the places we lay our heads at night," write Rascoff and Humphries in their new book. "And they aren't just 'where the heart is' anymore, either. Homes are the object our heart's desire."
People fantasize about super-sizing their houses, watch dozens of home-related TV shows and snoop on Zillow to see how much their neighbor's home is worth. All of these things, Rascoff and Humphries note, didn't exist 50 years ago.
"There's no question that our culture is real estate-obsessed," they write.
Please note that this Scottsdale Real Estate Blog is for informational purposes and not intended to take the place of a licensed Scottsdale Real Estate Agent. The Szabo Group offers first class real estate services to clients in the Scottsdale Greater Phoenix Metropolitan Area in the buying and selling of Luxury homes in Arizona. Award winning Realtors and Re/MAX top producers and best real estate agent for Luxury Homes in Scottsdale, The Szabo group delivers experience, knowledge, dedication and proven results. Contact Joe Szabo at 480.688.2020, [email protected] or visit www.scottsdalerealestateteam.com to find out more about Scottsdale Homes for Sale and Estates for Sale in Scottsdale and to search the Scottsdale MLS for Scottsdale Home Listings.