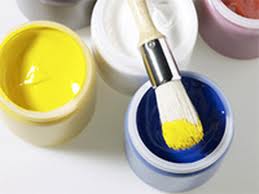 By Joe Szabo, Scottsdale Real Estate Team
Many Scottsdale homeowners shudder at the thought of interior painting. It is considering a chore: tedious, boring and not much fun. However, by utilizing the following tips, you can decrease painting time and get to the activities that you prefer. Of course you can save the most time by calling a Scottsdale interior painting contractor, but if you are determined to D.Y.I., then use the following to minimize time spent holding a brush.
1. Don't try to do it all in one day. Set aside some time a day or two ahead of painting day to prep the area that you will be painting. Some of these preparations include moving furniture, laying down protective sheeting, taping trim and electrical outlets and gathering all painting supplies into one place.
2. Don't try to paint over damaged walls. Continuing on the first step, check your walls before you get ready to paint. Look for holes, cracks or other damaged areas. You may need to use a drywall repair kit and do some sanding before you are ready to paint.
3. Use the right materials! Certain paint brushes are made for certain kinds of paint and help ensure an even application. Oil-based paints need natural bristles; water-based or latex paints work best with synthetic bristles. For large areas, try using a foam roller. Your Scottsdale paint store should have a wide selection of brushes to go with your paint.
4. If you want a professional look, call your Scottsdale painting contractor. But for a nicer application of the paint, consider using a primer on your walls. This helps keep older color from "bleeding" through, especially if the new paint is lighter than the old. Many paints have a primer built in already, eliminating the need for this step.
5. When prepping the room for painting, it may be helpful to use painter's tape to keep paint off of molding, electrical outlets, door handles and window frames. This is easily recognizable by it's blue color and once the paint dries, you can simply peel it off for sharp lines.
6. Remember, paint is messy no matter how well you prepare for it. Just for backup, keep a roll of paper towels or old rags handy. It is easier to wipe up spilled paint than trying to deal with it after it has dried!
7. Don't just toss any left over paint. Keep it tightly sealed in a cool dark place to use for touch ups. Even if you just keep a small container of it, you will be happy later on when you see normal wear and tear happen.
Please note that this Scottsdale Real Estate Blog is for informational purposes and not intended to take the place of a licensed Scottsdale Real Estate Agent. The Szabo Group offers first class real estate services to clients in the Scottsdale Greater Phoenix Metropolitan Area in the buying and selling of Luxury homes in Arizona. Award winning Realtors and Re/MAX top producers and best real estate agent for Luxury Homes in Scottsdale, The Szabo group delivers experience, knowledge, dedication and proven results. Contact Joe Szabo at 480.688.2020, [email protected] or visit www.scottsdalerealestateteam.com to find out more about Scottsdale Homes for Sale and Estates for Sale in Scottsdale and to search the Scottsdale MLS for Scottsdale Home Listings.