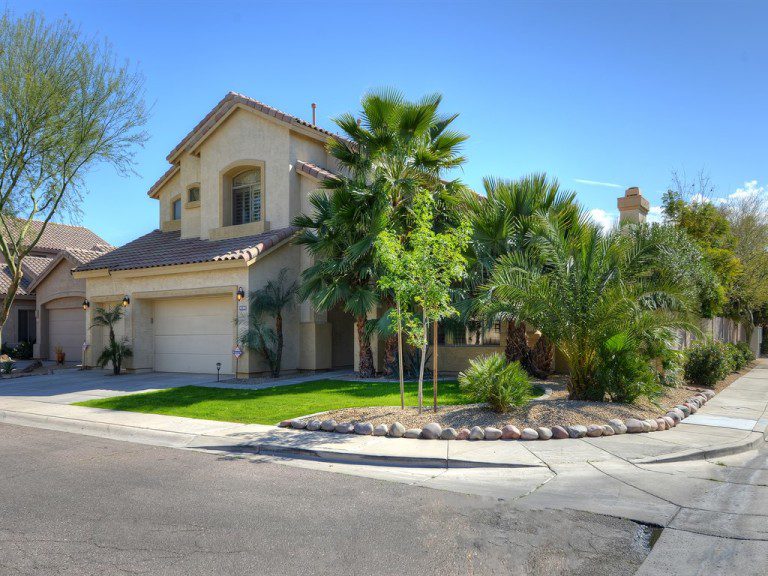 By Joe Szabo, Scottsdale Real Estate Team
Location, school ratings, number of bedrooms, outdoor spaces. These are the things potential homeowners focus on when they start house hunting. They're all important factors, for sure. Even more crucial: How will you pay for your home?
Home loans are not a one-size-fits-all proposition. They differ based on their type, such as fixed or adjustable rate, and their loan term. Loans also vary in interest rate and annual percentage rate (APR).
To ensure you're getting the best home loan for your situation, you'll want to do your homework, talk to reputable credit counselors and lenders and follow these tips:
Fixed or adjustable?
There are two main types of mortgages: fixed rate and adjustable rate.
Most homeowners today opt for fixed-rate mortgages. With a fixed-rate mortgage, you are locked in to a set interest rate, resulting in monthly mortgage payments that remain the same for the entire term of the loan. The No. 1 benefit of this type of mortgage is inflation protection. If mortgage rates go up, your rate will not follow suit. Conversely, if rates drop, your interest rate will not drop. (Of course, you could refinance your mortgage if rates dropped significantly.)
Most lenders offer 15- and 30-year fixed mortgages, and some also offer 20-year terms. The longer the term of your fixed mortgage, the lower your monthly payment because you're paying over many years. With a 30-year term, however, you will end up paying more interest over time.
A 15-year fixed mortgage will have a higher monthly payment because you're paying for fewer years. On the other hand, you're building equity at a faster rate and will pay less interest over the life of your loan. The shorter the term of your loan, the lower your interest rate will likely be.
An adjustable-rate mortgage (ARM) is a loan with an interest rate that will change over the life of the loan. ARMs have adjustment periods that determine how often their interest rates can change and they have initial "fixed" periods during which their interest rates won't change at all — most often 3, 5 or 7 years. After this period, rates can readjust. These loans are often considered riskier because the interest rate and payments can increase when the loan adjusts. However, if you're planning to live in your home for a shorter period of time, these loans may make sense for you, especially because you're likely to obtain a lower interest rate than with a fixed mortgage.
Clear up your finances and credit rating
Even before you start shopping for a mortgage, you need to take a good, honest look at your finances. Most financial experts agree that your mortgage payment — including taxes and insurance — should not exceed 30 percent of your take-home pay. Yes, you may get a raise down the road — or you may not. Your mortgage payment should correspond with your current financial reality.
You'll also want to check your credit rating. Why? Because your credit rating may be the most important piece of financial information you have to obtain a mortgage at the best possible interest rate. Checking your credit rating before you find your ideal home will give you time to correct reporting errors and to clean up less-than-spectacular ratings. It can take up to 90 days to get erroneous information off your report, so don't delay.
Shop for several quotes
Home loans are available from commercial banks, mortgage companies, thrift institutions and credit unions. You'll want to get quotes from several different lenders to make sure you're getting the best price. If you don't want to shop for loans yourself, you may decide to work through a mortgage broker. Rather than lending money directly, brokers find lenders for clients. Working through a broker may give you access to an even broader selection of loan products and terms. Brokers are not obligated to find the best deal for you unless they have a contract with you and are working as your agent. Consequently, if you go the broker route, you'll want to talk with several, just as you should with banks or credit unions.
Get ratings and reviews
After you've narrowed down the list of lenders or brokers you're interested in working with, you should check into their backgrounds. How long have they been in business? If found online, are they accessible? Can they provide third-party reviews and ratings? This unbiased feedback from people who have worked directly with the lenders can prove invaluable when separating the great from the not-so-good.
Once you settle on a lender, you'll want to get pre-approved. Through this process, the lender will determine how much you can afford to spend on your new home. You can get a pre-approval letter in minutes through Zillow. Fill out this form, pick your pre-approval lender, and if you meet the lender's guidelines, you'll get your pre-approval letter that you can print and email. In a competitive market, pre-approval letters are almost essential. If you make an offer on a house without a pre-approval, your offer will not be taken as seriously as an offer from another person with a pre-approval and you could lose your dream home. Most bank-owned properties require a pre-approval letter from a lender before an offer can be accepted.
Please note that this Scottsdale Real Estate Blog is for informational purposes and not intended to take the place of a licensed Scottsdale Real Estate Agent. The Szabo Group offers first class real estate services to clients in the Scottsdale Greater Phoenix Metropolitan Area in the buying and selling of Luxury homes in Arizona. Award winning Realtors and Re/MAX top producers and best real estate agent for Luxury Homes in Scottsdale, The Szabo group delivers experience, knowledge, dedication and proven results. Contact Joe Szabo at 480.688.2020, info@ScottsdaleRealEstateTeam.com or visit www.scottsdalerealestateteam.com to find out more about Scottsdale Homes for Sale and Estates for Sale in Scottsdale and to search the Scottsdale MLS for Scottsdale Home Listings.