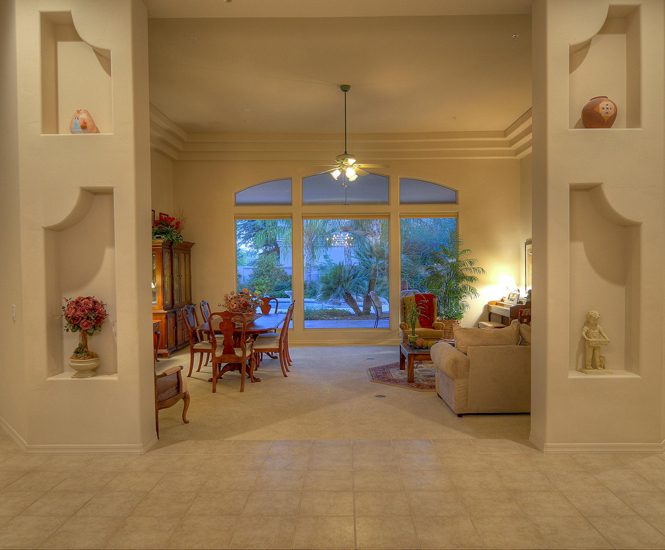 By Joe Szabo, Scottsdale Real Estate Team
Material Options – Novelty Floorings
There are many offbeat flooring options available that can take your home from fun to fabulous!  Some, like rubber, have been around for a while, while others, like cork, have become more popular recently for environmental reasons.  Here is a helpful summation of the types of novelty flooring available.
Rubber
Rubber is available in tile form, as well as rolls and runners.  Many colors and patterns are also offered.
It's a good insulator and warm to the foot.
It's durable and water/burn resistant.
It's naturally resilient and sound absorbent.
Some recycled rubber may contain latex, which is an allergen.  Ask about the contents before purchase.
It's usually inexpensive.
It's easy to install and maintain.
It's susceptible to grease and oil stains.
Its appearance can be unappealing.
Cork
Cork is a natural, environmentally friendly product.
Cork should be sealed to protect against dirt and moisture.
It's available in a variety of colors and patterns in tiles, sheets, and strip flooring.  It can also be installed over existing wood, ceramic, or concrete flooring.
It's durable and easy to maintain.
It's resilient and comfortable underfoot.
It's non-slip, even when wet.
It offers sound and heat insulation.
It's insect-resistant.
It's easy to install.
It can, however, dent and tear.
It can't be used over radiant heat because the tiles will lift.
It requires re-finishing with polyurethane every eight years.
Bamboo
Bamboo is another natural, environmentally friendly flooring.
It's usually unfinished or pre-finished.  The finishing products may contain allergens, so check with the manufacturer before purchase.
It's supplied with tongue and groove configurations that can be glued, stapled, or nailed down.
The vertical laminate style is harder than oak and maple; the horizontal style is almost as hard as red oak.
It rarely expands or contracts due to humidity, but wet areas should be avoided.
It can be used with radiant heat.
Quality can vary widely, so check for references and warranties.
Coconut Palm
Coconut palm is another renewable resource.  It comes in three-ply planks.
It's very durable, harder than red oak and hard maple.
No formaldehyde is used in its manufacture.
It shouldn't be used in very moist areas, like bathrooms.
Leather
Leather for flooring is specially dyed and tanned for resilience, needing only an annual wax buffing for maintenance.
Tiles are available in many colors, sizes, textures, and shapes.
It shouldn't be placed in moist or busy areas, or those with direct sunlight.
It's warm, comfortable, and smells nice.
It's beautiful.
It's sound absorbent.
It's durable and its appearance improves with age.
It's expensive.
Metal
Metal has traditionally been found in industrial settings, but has recently become fashionable in domestic ones.
Metal tiles come in a variety of colors, shapes, and sizes.  They can work on their own or serve as accents for other flooring materials, like wood, stone, or ceramic.
It's usually made from recycled material, so it's environmentally friendly.
It's easy to maintain.
It lends a modern look to any home.
It's cold and noisy.
Some varieties rust.
The Szabo Group offers first class real estate services to clients in the Scottsdale Greater Phoenix Metropolitan Area.  Award winning Realtors and Re/MAX top producers, The Szabo group delivers experience, knowledge, dedication and proven results. Contact Joe Szabo at 480.688.2020, info@ScottsdaleRealEstateTeam.com or visit www.scottsdalerealestateteam.com to find out more about Scottsdale Homes for Sale and Estates for Sale in Scottsdale, Arizona.