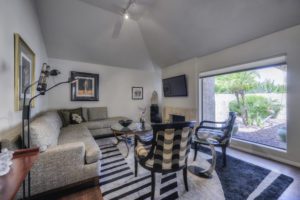 Keeping the whole family in mind as you contemplate new flooring options for your kitchen and breakfast room (both the two- and four-legged ones!). After doing some research, I stumbled on luxuryhousingtrends.com that offers some smart points about kitchen flooring options. Hope my Cliffs Notes version helps you out!
HARDWOOD: It may be stunning underfoot, but have you watched a dog run into room with hardwood flooring? All that slipping and sliding cannot be comfortable, nor can the claws be good on it, either. Hardwood and other similar surfaces are best saved for the day when your home isn't facing wear and tear that comes with three children and a dog. If, however, you're willing to take the risk, be sure it's protected with a hard urethane finish. Most planks come prefinished and can stand up to claws, but the floors will require more maintenance and refinishing sooner than they would if your house were pet- and kiddo-free.
CERAMIC STONE/TILE: Practically impervious to claw scratches and potential damage from spillage or other pet-related accidents, glazed tiles clean easily, so they're easy to keep looking good year in and year out.  The downside? They're not comfortable for Fido to lie on. If you go with this option, buy a cushy dog bed so he can stay comfortable. LAMINATE: It may resist scratches well, but it's a very hard surface for our furry friends. Like hardwood, consider putting down some rugs for extra warmth and traction if you opt for laminate. These materials resist scratches well, but they are very hard and slippery for our clawed friends.  They also aren't very comfortable to rest upon.  If you buy laminates, you should definitely invest in some rugs, but truly, the slippery factor makes laminate one of the worst options for people with pets.
Whatever flooring type you choose, you can minimize problems by keeping your pet's nails trimmed.  Also, sweep or vacuum the floor weekly, and wipe up any stains or spills promptly.  To further protect your floor, choose water bowls with wide bases, or consider a pet placemat to keep the eating area clean.
Please note that this Scottsdale Real Estate Blog is for informational purposes and not intended to take the place of a licensed Scottsdale Real Estate Agent. The Szabo Group offers first-class real estate services to clients in the Scottsdale Greater Phoenix Metropolitan Area in the buying and selling of Luxury homes in Arizona. Award-winning Realtors and Re/MAX top producers and best real estate agent for Luxury Homes in Scottsdale, The Szabo group delivers experience, knowledge, dedication and proven results. Contact Joe Szabo at 480.688.2020, [email protected] or visit www.scottsdalerealestateteam.com to find out more about Scottsdale Homes for Sale and Estates for Sale in Scottsdale and to search the Scottsdale MLS for Scottsdale Home Listings.