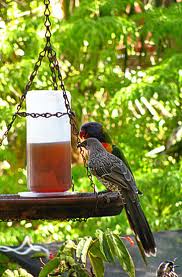 By Joe Szabo, Scottsdale Real Estate Team
You might be surprised at how easy it is to approach backyard birds, especially if they are accustomed to seeing people in the yard while they feed or bathe. Practice easing into position close to your feeders and remain still until the birds return. Bird photography is both fun and challenging, but it requires a modicum of patience. Learn to judge light and use it to your advantage. Morning and evening light is soft and pleasing to the eye as opposed to harsh mid-day sunlight. In open shade, use an electronic flash. If possible, turn it down just a bit from full power and use it to fill in shadow areas and provide a "catchlight" in the bird's eye. Be conscious of getting distracting background clutter in your photographs. Often, just one step to the left or right may yield a smooth, colorful background. Compose the bird; leaving room for him to look, fly or walk into the picture without being cramped in the frame. A songbird is a small target, so practice working in as closely as possible to your subject. Do not become discouraged if at first you do not produce many good images. The more experience you have the better your images will turn out.
Professional bird photographers use a variety of techniques and tricks, and you can apply some of them in your own backyard. Strategically place your feeders and birdbath close to bushes and trees, behind which you can hide. Place carefully selected natural landing perches, such as a potted shrub with red berries near them, and catch the birds as they light on the perches before they head to the food or water. Use a blind or natural lean-to to break up your silhouette. Avoid fast, jerky movement, and if you must move, take short, slow steps. Watch your nesting birds and note when they begin bringing food back to the nest site. Without disturbing the birds or in any way disrupting their activity, hide somewhere along the return path. You will be rewarded with images of parents with prey and, in some cases, parents feeding fledglings near the nest. Never remove vegetation to photograph birds at a nest, as such action may allow too much sunlight or predators to reach the nest – either can be fatal to young birds.
Backyard bird photography is a rewarding personal experience, and it indirectly serves to benefit nature. Providing habitat, housing, food and water to the birds in your yard is more than a benevolent gesture. It fosters a sense of sharing, encouragement to improve our natural environment, and compassion for animals.
And besides, it is just plain fun!
Please note that this Scottsdale Real Estate Blog is for informational purposes and not intended to take the place of a licensed Scottsdale Real Estate Agent. The Szabo Group offers first class real estate services to clients in the Scottsdale Greater Phoenix Metropolitan Area in the buying and selling of Luxury homes in Arizona. Award winning Realtors and Re/MAX top producers and best real estate agent for Luxury Homes in Scottsdale, The Szabo group delivers experience, knowledge, dedication and proven results. Contact Joe Szabo at 480.688.2020, [email protected] or visit www.scottsdalerealestateteam.com to find out more about Scottsdale Homes for Sale and Estates for Sale in Scottsdale and to search the Scottsdale MLS for Scottsdale Home Listings.