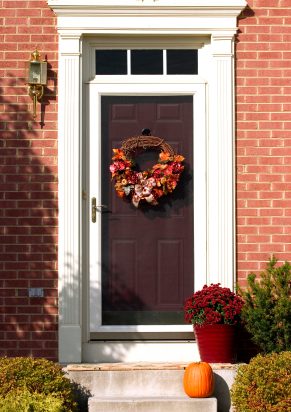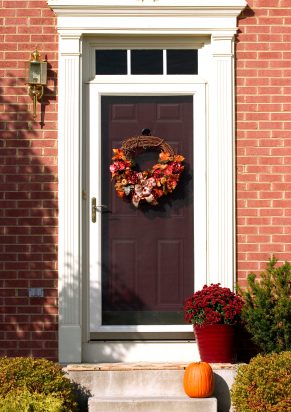 1. Liven Up the Landscaping
Not only does good landscaping give you the highest return on your money, but it also can literally transform the exterior look and feel of your home. You can hire a landscaper or do it yourself. Whatever you choose to do, make sure you turn your yard into a colorful sanctuary.
2. Improve Your Outside Entryway
Make your front door the focus of your home's curb appeal. You might want to repaint it with a stylish color or if you are looking for an antique look, you could sand and stain it. Finish the look with updated lights, potted plants on either side of the door and a new, high-end knocker and handle.
3. Have a Welcoming Walkway
The front walkway is critical to drawing the buyer in the door, so it has to pop. If you install something that is high-end, like brick pavers, you are sure to get points with buyers. If your pathway is curved, highlight the movement by lining it with lights or flowering plants.
4. Freshen the Foyer
What do people see first when they enter your home? Consider that the foyer is the first impression of your home's interior, so make sure it doesn't block the line of sight to any marketable rooms or views. Remove bulky furniture, paint it a neutral color, upgrade the lighting, and have fun with things like high-end entry tile or even marble flooring.
5. Light It Up Right
The right lighting can make a small home appear larger or a dark home seem sunny and cheery. The wrong lighting can make your home feel dark and dreary. Installing brighter, modern light fixtures not only highlights your home's best features, but the right style of fixtures can also create a more current look.
The Szabo Group offers first class real estate services to clients in the Scottsdale Greater Phoenix Metropolitan Area. If you are looking to buy or sell real estate in Scottsdale, Arizona, contact Scottsdale Real Estate Agent Joe Szabo.  Award winning Realtors and Re/MAX top producers for Scottsdale, Arizona, The Szabo Group delivers experience, knowledge, dedication and proven results. Contact Joe Szabo at 480.688.2020 or visit www.scottsdalerealestateteam.com for more information.