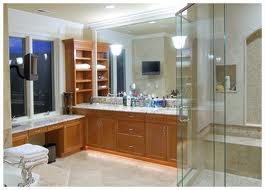 By Joe Szabo, Scottsdale Real Estate Team
As you slip deeper into the bubbling, effervescent silky water, warming and moistening your body, your fingers trace the limestone tub. The lights dimmed low, you willingly release the pent up tension of the busy week; with work and kids, you haven't had a chance to get away.
As you fall further into a calming state of meditation, your trance is broken once your mind begins to question when you were last at a spa. A few months ago? A year? Who cares — your bathroom's your retreat now.
Not surprisingly, many Scottsdale residents have been ditching the hotel-based day spa and creating that spa experience right in their own bathrooms — for years, even — and they only continue to do so, especially with bathrooms growing in size.
But this doesn't mean day spas don't spark inspiration for homeowners just looking for an easier, more accessible means to de-stress and get away from it all — in their bathrooms.
"The bathroom is more than just a place to brush your teeth," says Jeremy Smith of Central Arizona Supply in Scottsdale. "It's now a place where you can take time to relax.
"What has really made it more spa-like and people creating more of a spa experience has definitely been led by people going to hotels," Smith says, "and seeing these hotels have changed the way they do bathrooms."
Paige Snodgrass, a showroom consultant at the Ferguson Bath, Kitchen & Lighting Gallery in Scottsdale, has witnessed this trend over the past year as well.
"Eight of every 10 clients I work with are trying to make (their master baths) more of a spa," Snodgrass says. "This is truly a retreat for them."
Both agree that homeowners are now spending the extra cash on themselves, to get what they want instead of merely what they need, to make more long-term goals with their master baths to make it that "special room," as Snodgrass puts it.
"It's the way of thinking that's changed," Smith says. "Now it is much more, 'What do I want in this bathroom for myself?' "
Creating the experience can be as minimal as replacing a shower head to a complete, more elaborate remodel.
One shower head to consider is the Raindance AIR Series from Hansgrohe, which is an AIR-injected shower that adds one part air to every two parts water. Depending on the head and finish, you can purchase this item from $120 to more than $5,000.
"With this new technology, it feels like you're standing in the rain, which is actually relaxing," Smith says.
Over the past year, one change Smith has witnessed is an increase in freestanding bath sales. He says in the past, 90 percent of Central Arizona Supply's sales were comprised of regular bathtubs. Now, it has become a battle of the baths with freestanding tubs taking 50 percent of the business.
"Freestanding can free up to two or three feet of space, making your current bathroom bigger," Smith says. "So, that's the reason you're seeing this trend — as well as they're beautiful, so it's an aesthetic thing."
But the regular bathtubs are fighting back — with the Jason Hydrotherapy tub.
"Since (the Jason Hydrotherapy tub) came out four months ago, our tub sales have gone through the roof," Smith says, "and that has really balanced the freestanding baths we've been selling more of."
Jason Hydrotherapy tubs, priced at $14,790, are unique in that they are the only tubs that use Microsilk, which are oxygen-rich microbubbles. These clouds of oxygen penetrate deep into your pores for a more thorough cleansing, moisturizing your skin. They also keep your bathwater warm, so you don't have to add more hot water. It's also "a technology they've been using to clean clams," Smith adds.
Snodgrass calls bathtubs similar to the Jason Hydrotherapy tub "combination tubs." These tubs have jets and air bubbles, and the purchaser can have the "best of both worlds," she says. The No. 1 reason why customers will opt for these tubs in their spa bath? According to Snodgrass, it's all about the health and stress-reducing benefits.
"The main reason people will put combination tubs in their master bath is for the therapeutic reasons to aid in mental wellness and help your mood," she says.
Other unique products Smith and Snodgrass have been selling in their respective showrooms include the Numi toilet, which comes complete with feet warming capabilities, a deodorizer, a heated seat, an integrated air dryer and more. "People love it," Snodgrass adds. This product is perfect for those who want to spend more time in their bathrooms.
On the other hand, there's the Electric Mirror waterproof  TV. This amenity can be found in luxury hotels and can help complete the spa experience in your master bath, but it can also help those multitasking individuals maintain efficiency in the mornings.
A master bath remodel into a spa-like experience can range anywhere from $2,000 to $15,000. It just all depends on what you want and how much you want to spend.
Please note that this Scottsdale Real Estate Blog is for informational purposes and not intended to take the place of a licensed Scottsdale Real Estate Agent. The Szabo Group offers first class real estate services to clients in the Scottsdale Greater Phoenix Metropolitan Area in the buying and selling of Luxury homes in Arizona. Award winning Realtors and Re/MAX top producers and best real estate agent for Luxury Homes in Scottsdale, The Szabo group delivers experience, knowledge, dedication and proven results. Contact Joe Szabo at 480.688.2020, [email protected] or visit www.scottsdalerealestateteam.com to find out more about Scottsdale Homes for Sale and Estates for Sale in Scottsdale and to search the Scottsdale MLS for Scottsdale Home Listings.