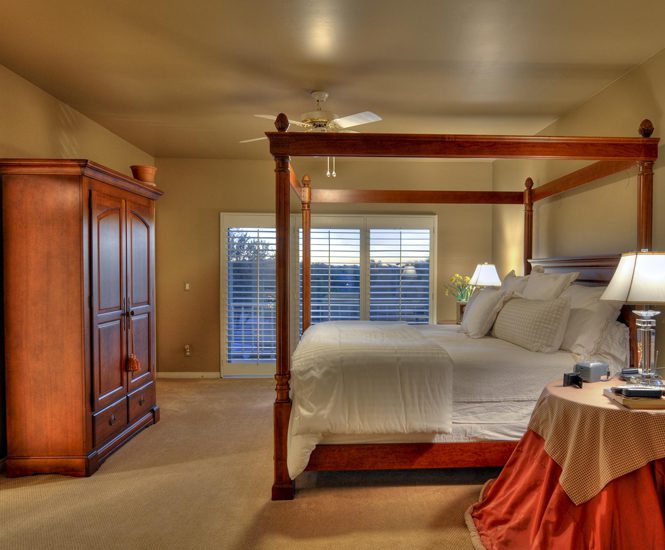 By Joe Szabo, Scottsdale Real Estate Team
Since you spend one-third of your life sleeping, your bedroom's feng shui is very important.  And the key to your bedroom's feng shui, of course, is your bed. The ideal placement for your bed is the room's Command Position (facing the entrance, with equal room on both sides and a solid wall behind it), but not directly in line with the door.  This causes sha chi.
The side of the bed should also not be directly exposed to chi coming in from the door, as this can cause health problems.  Don't place your bed under an exposed beam, ceiling fan, or other causes of sha chi.  If necessary, use a mirror to provide a view of the entrance while you sleep.  If placing your bed by a window is unavoidable, hang a faceted crystal or a guardian image nearby, so it can watch over you while you sleep.  The bed should be placed so that a wall traps neither side.  That arrangement ensures that both partners in a relationship have equal freedom; it also helps ensure that single people aren't blocked access to future partners.
Placing your bed against a wall that has a fuse box, stove, or toilet on the other side is also a source of sha chi.
If it's not possible to avoid sha chi, there are plenty of feng shui cures available to protect against it: hanging crystal balls, using low furniture as buffers, colors to alter energy, or mirrors to reflect it.  It all depends on the circumstances.
A bed with a solid headboard and frame will help make your life more secure.  Chi should be able to flow freely around and under the bed to help you sleep.  If you have a king-size bed, place a long piece of red fabric down the split between the two box springs and tuck it underneath.  This will help ensure that you and your partner won't become divided.  If you've recently separated from a partner, buy a new mattress and bedding because the old ones will have absorbed a lot of chi from the relationship.
Anything you store under your bed can affect you while you sleep, so it's best to keep the area empty.  Don't bring your work belongings or exercise equipment in to the bedroom because their energy can also affect you while you sleep.  If you must have a TV in your bedroom, keep it covered or in a cabinet while you sleep.  Your bed should always be the room's focus of attention.  The area across from your bed should have pictures or artwork that represent your ambitions. Romantic relationships are all about pairing, so placing lots of pairs of things in your bedroom – and in all the Marriage areas throughout your house – will help strengthen your current relationship, or attract a partner if you're single.
The Szabo Group offers first class real estate services to clients in the Scottsdale Greater Phoenix Metropolitan Area.  Award winning Realtors and Re/MAX top producers, The Szabo group delivers experience, knowledge, dedication and proven results. Contact Joe Szabo at 480.688.2020, [email protected] or visit www.scottsdalerealestateteam.com to find out more about Scottsdale Homes for Sale and Estates for Sale in Scottsdale, Arizona.