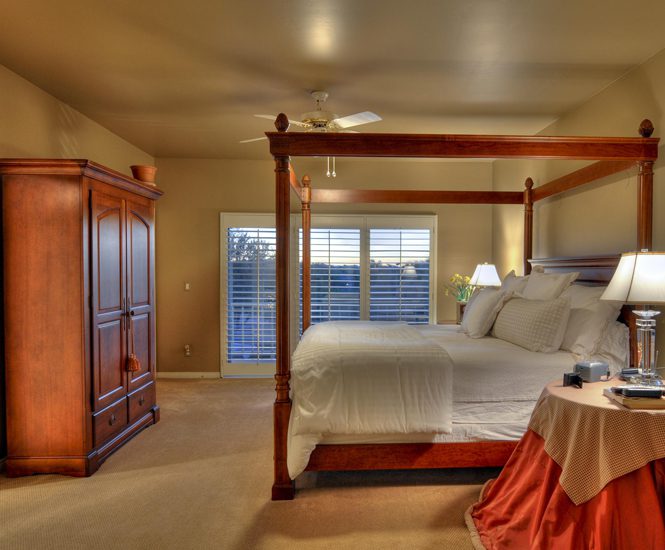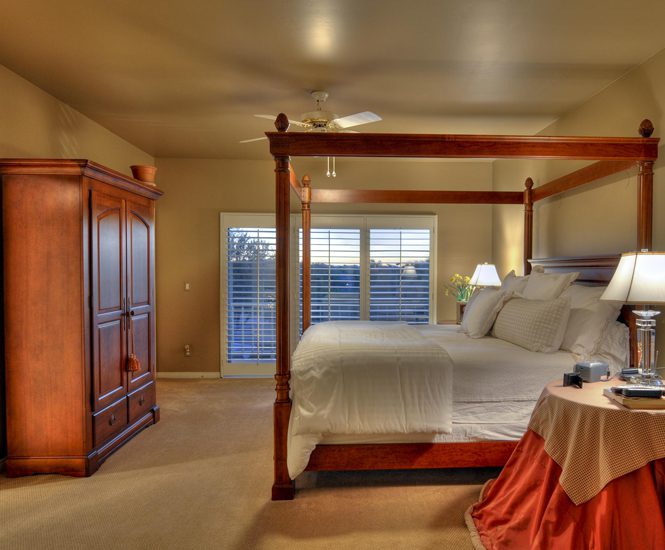 By Joe Szabo, Scottsdale Real Estate Team
A bedroom is a room that is completely your own, and should reflect you more than just about any other room, especially if this is where you will be spending a majority of you time. Your bedroom should be what you want to see when you open your eyes in the morning. Do you like cool, calming colors to ease you into the day, or warm bright colors to give you a jump start? Here are some things to consider when decorating the master bedroom.
1. The height of the master bead headboard should be seen above the pillows of the bed. A slip cover of a contrasting color and smaller pillows can help visually enhance this.
2. A bed skirt to match the quilt or headboard will cover the frame of the bed and offer a more flow to the room. Some newer beads do not need a bed skirt at all, but a box spring cover.
3.  Pillows are a nice decorative accessory. If this is your style, decide weather you want a more simple or formal style; a simpler style might have just a few, bigger pillows, while a more elegant style might a smaller, more detailed pillows.  However, no matter the style you choose, you do not want to have too many pillows.
4.  Different comforters can offer different looks from season to season, and can reduce some of the sun damage. Maybe try a darker color for summer and a brighter color for winter, to mix things up.
5. Small night stands might be suitable for smaller beds, however, will not compensate for larger beds. Try using a chest or larger side table for King or Queen beds, these will be more to scale.
6.  It is often a good idea to buy two sets of sheets that match your bedroom décor, because the first is bound to get worn out. And when sheets are changed in and out regularly, they last longer.
7. Try decorating the end of a bed with a chest or table. A pair of love seats or a desk can also liven a room up, add dimension, and allow for a place to sit or work in you bedroom.
8. Painting a ceiling the same color between a bedroom and a bathroom (or any other alternative space) will link them together and give the room a more open, spacious feel. Also, if you want a room to look open, but want the two spaces to be painted different colors, try picking out three colors that go well together and assign on the bedroom, one to the alternative space, and one to the connecting ceiling.
9.  Throwing a mirror toped table into the mix will add extra sparkle and shine to the room, and gives the look a creative touch. This goes especially will with vanity sets or night stands.
10.  If looking to make a room seem more romantic or add an extra touch, try putting up a faux canopy. Even if your bed is not a four-post, you can still hang large metal rings from the ceiling and drape fabric though it. To add a dramatic touch, puddle the fabric on the floor.
Please note that this Scottsdale Real Estate Blog is for informational purposes and not intended to take the place of a licensed Scottsdale Real Estate Agent. The Szabo Group offers first class real estate services to clients in the Scottsdale Greater Phoenix Metropolitan Area in the buying and selling of Luxury homes in Arizona.  Award winning Realtors and Re/MAX top producers and best real estate agent for Luxury Homes in Scottsdale, The Szabo group delivers experience, knowledge, dedication and proven results. Contact Joe Szabo at 480.688.2020, info@ScottsdaleRealEstateTeam.com or visit www.scottsdalerealestateteam.com to find out more about Scottsdale Homes for Sale and Estates for Sale in Scottsdale and to search the Scottsdale MLS for Scottsdale Home Listings.