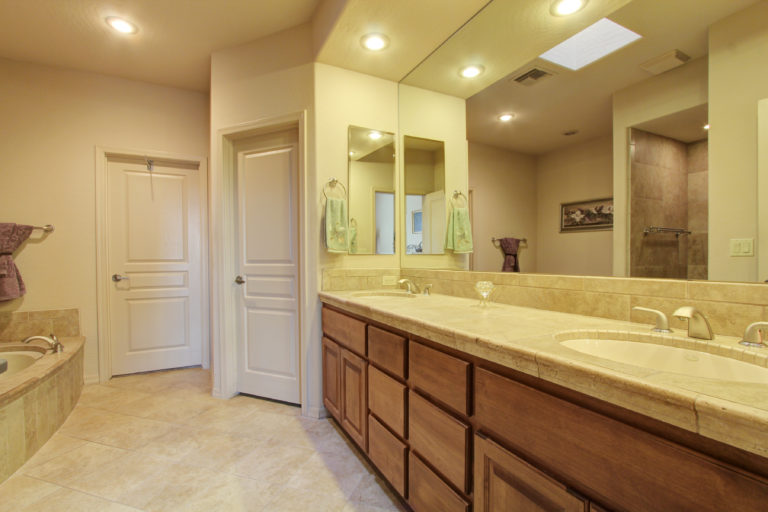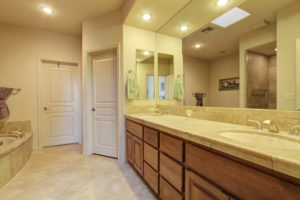 By Joe Szabo, Scottsdale Real Estate Team
If you're anything like me, you may find that it's all too easy to get caught up in the rush of flipping houses. I'll admit — buying an old house, fixing it up, and flipping it for a profit is pretty exciting. But if you get too distracted by flipping houses, it's easy to let your own home fall by the wayside.
While profitable remodeling projects can be more tempting to work on, you can still benefit from tackling projects in your own home. Remodeling your home will not only up its value, but also improve the way you feel about it. After all, who wouldn't love to cook in a newly remodeled kitchen?
Here are five easy, inexpensive projects that will really make a difference in how you feel about your home.
Add a new coat of paint
Whether you decide to paint your kitchen, bathroom, or bedroom (or all three!), a coat of paint can instantly transform the look and feel of a room. The best part about painting your own home is that you don't have to stick to neutrals, because you aren't trying to attract any buyers.
If you've been dying to paint your kitchen red or your bathroom blue, then do it! This is your chance to paint your home the colors that make you happy.
Refresh your kitchen
The kitchen is one of the most used rooms in a home, so it should be one of the first rooms you remodel. And unless you moved into a brand-new home where you were able to design your kitchen from scratch, chances are there are a few things you've been eager to change.
If you're lucky enough to have nice wood cabinets, don't worry about replacing them. A splash of paint and some new hardware can work wonders and make your kitchen look brand new, without having to spend hundreds on new cabinets.
The same goes for laminate or wood countertops. There are plenty of DIY kits you can buy to transform your countertops for a fraction of the cost.
A new backsplash is also an inexpensive way to add some life to your kitchen — plus it's a cinch to install.
Install new doorknobs, faucets, and light fixtures
While they are probably the easiest feature to overlook, new doorknobs and fixtures can make a huge difference in a room. Depending on the type of doorknobs you purchase, and considering that most homes have quite a few knobs, the price can add up pretty quickly.
If you don't have the time or money to replace all your doorknobs at once, work on replacing just a couple every month, starting with the most obvious ones.
Faucets can get pretty expensive as well, especially if you want to replace them in both your kitchen and bathroom(s). If you want to save some money, I recommend searching online or heading to the clearance section of your local home improvement store.
If you're lucky, you can find great deals on some beautiful faucets. Replacing all your faucets at once might not be feasible, so don't be afraid to take your time with this project. Before you know it, you'll be able to enjoy the luxury of attractive faucets in all your rooms.
As for light fixtures, you may already have fixtures that you like, but they just need a color update. Instead of buying new fixtures, grab a can of spray paint and go to town. It's amazing what a difference a $3 can of spray paint can make!
Revive your bathroom
A coat of paint, wainscoting, and a fresh shower curtain and linens are all super easy ways to instantly transform your old and tired bathroom.
If you're feeling a bit more ambitious, you could even replace the flooring or change up the vanity. Getting ready in the mornings will be that much more enjoyable if you can do so in a beautiful bathroom.
Boost your curb appeal
While it's always satisfying to remodel the interior of your home, you don't want to forget about the exterior. Fortunately, there are a couple of simple changes you can make to really boost your home's curb appeal.
If you can't afford to replace the front door, try painting it instead. A new porch light fixture, house numbers, and a mailbox can also make a huge difference for your home's exterior.
So, what are you waiting for? It's time to stop coming up with excuses. Go fix up those kitchen cabinets that you've hated since you moved in!
Please note that this Scottsdale Real Estate Blog is for informational purposes and not intended to take the place of a licensed Scottsdale Real Estate Agent. The Szabo Group offers first class real estate services to clients in the Scottsdale Greater Phoenix Metropolitan Area in the buying and selling of Luxury homes in Arizona. Award winning Realtors and Re/MAX top producers and best real estate agent for Luxury Homes in Scottsdale, The Szabo group delivers experience, knowledge, dedication and proven results. Contact Joe Szabo at 480.688.2020, [email protected] or visit www.scottsdalerealestateteam.com to find out more about Scottsdale Homes for Sale and Estates for Sale in Scottsdale and to search the Scottsdale MLS for Scottsdale Home Listings.