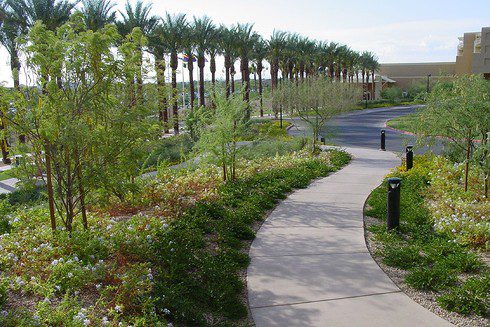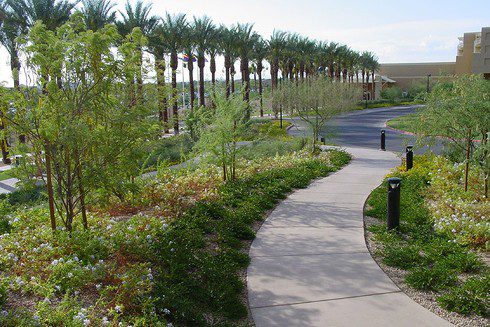 By Joe Szabo, ScottsdaleReal Estate Team Arizona
Here are some additional ideas for luxury landscaping:
Parterre Gardens
A large percentage of luxury landscapes tend to rely upon traditional European gardens for the organic symmetry and balance essential to creating a superior outdoor living experience. The parterre garden is one such form, and it works much better on a large property than it does on a smaller lot. In France, parterre gardens were originally intended for human traffic, being design around intersecting gravel pathways that allowed people to stroll through middle of the garden as they viewed it. This design is not always easy to replicate in the average Houston yard due to the size restrictions that smaller properties present to us. However, on larger properties in River Oaks and Tanglewood, for instance, there is often sufficient acreage for us to build a traditional parterre garden that provides both an aesthetic and a special area where guests can walk and congregate.
Rose Gardens
Parterre gardens are a specifically French form, however, and may not work with every type of home architecture. Custom home design today can be very eclectic, so not every property we call upon can be enhanced by a specific cultural form. Some large homes feature a blend of European styles and require luxury landscaping plans that support their overall aesthetic without relying too much on any specific European region or time period in history. These estates will always benefit from a simple, yet carefully planted and maintained rose garden. This is because roses, like fountains, have become symbolic of luxury and wealth in both canonical and popular culture. Virtually any style of home or landscape will greatly benefit from the contribution they make to the landscape.
Custom Hardscape Design
As essential as high-end aesthetics is to any luxury landscape, it is equally important that we always keep in mind that larger properties are developed for the express purpose of entertaining large groups special guests, family, and friends. Not only do landscape architects have to labor very hard to create impeccable forms and outdoor structures to please the sensibilities of these guests, but they must also make these forms and structures safe, easily accessible, and comfortable for the many people who will be attending functions that hosted at the estate. Custom paving and special hardscape design must be utilized to build such structures as motorcourt parking areas, pathways and walkways, and patio seating areas. These hardscapes require a skillful blend of special design and superior grade materials so as to compliment the surrounding terrain and the architecture of the house. The size of each structure must also be calculated on the anticipated number of guests attending specific types of events.
Please note that this Scottsdale Real Estate Blog is for informational purposes and not intended to take the place of a licensed Scottsdale Real Estate Agent. The Szabo Group offers first class real estate services to clients in the Scottsdale Greater Phoenix Metropolitan Area in the buying and selling of Luxury homes in Arizona. Award winning Realtors and Re/MAX top producers and best real estate agent for Luxury Homes in Scottsdale, The Szabo group delivers experience, knowledge, dedication and proven results. Contact Joe Szabo at 480.688.2020, [email protected] or visit www.scottsdalerealestateteam.com to find out more about Scottsdale Homes for Sale and Estates for Sale in Scottsdale and to search the Scottsdale MLS for Scottsdale Home Listings.