By Joe Szabo
How do you not laugh where you hear the name David Spade? As both an American actor, a comedian and a television personality who gained fame as a cast member from Saturday Night Live and on the television show Just Shoot Me, David Spade bring joy and laughter to the big and small screen.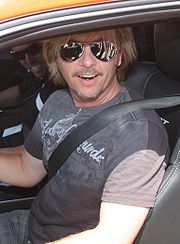 This funny man, born in chilly Michigan, went to our local Saguaro High School and attended Scottsdale Community College and briefly went on to Arizona State University.   He was a member of the Sigma Alpha Epsilon Fraternity and performed at Arizona State University's long running sketch comedy show Farce Side Comedy Hour.
No, you won't get his address from us. We respect the privacy of all our shining stars.
If you want to know more about why our shining stars choose to live here and enjoy the Scottsdale lifestyle, call us directly at 480-889-8702 or check out our site at www.scottsdalerealestateteam.com and you might just find yourself living not only under the stars but among them as well